It is clear that the quality of seed material will certainly affect the abundance and quality of the crop. This axiom is true in the case of planting potatoes, which is some time in Russia for the second bread. At first glance it may seem that this unpretentious plant, as the potato does not require a special approach to cultivation, but there it was.


Cook the seeds in the fall


First of all, you need to take it a rule to plant in the spring not the potatoes that remained after the winter, and specially selected for this purpose in the fall. It is necessary to pay attention while digging potatoes on good bushes with the largest number of smooth tubers. Probably from this family, even small potatoes are prolific. To ensure their safety during the winter will allow the landscaping to achieve that you want to not in direct sunlight and in partial shade.

Produced in the process of this poison Solonin will allow the tubers to persist longer. If such yielding bushes a bit, then the rest of the whole potato is better to choose on such basis as a large number of holes. It is important that they be located on the entire surface of the tuber.

Grow potatoes from whole tubers, cutting and even potato peelings if they remained eyes. As a rule, are selected for planting tubers of medium size or even smaller. But if from year to year to plant small potatoes, it will gradually degenerate. Experts advise not to get hung up on the size of potatoes, but at the same time recognize that large tubers are able to give a much greater yield. But then the seed potatoes will need more. This is the case when you should seriously think about cutting the tubers.


How to cut potato tubers


Scholars and practitioners believe that the proportion of tuber grows a full crop of potatoes in excess of obtained by planting whole potatoes of medium size. The view that sliced tubers can't give the right amount of nutrients for future crops, do not have a scientific basis. Any portion of the tuber, and very large potatoes and can be divided into 3-4 parts, "feels" a whole if there is the kidneys. Better if they are 2-3.

Although tuber first sprout buds located in the apical (apical) part and the rest are not active, it is not necessary to cut the potatoes lengthwise into 2 parts, dividing the top in half. Physiological characteristics of potatoes are such that other eyes to sleep until the dominant elite. If apical eyes to cut, it will start to grow more.

The only downside to planting cut potatoes that in wet weather it can be exposed to rot faster than the whole. But for the safety of the cut surface can be treated with ash. It is desirable to cut the potatoes in advance, 5 days before planting and keep it up all the time slices up in boxes in a warm ventilated area. You can even put in two layers. During this time, cut the place of weather-beaten and Zagrebel and shoots hatch. For larger farms, this method is quite time consuming, but in the garden cutting a few buckets will not be easy.
Advice 2: How to plant potato seeds
Currently, there are several ways of planting potatoes. Most often, this culture is propagated by tubers, but this method of breeding has many disadvantages. It is recommended to multiply the potatoes are not tubers, and seeds.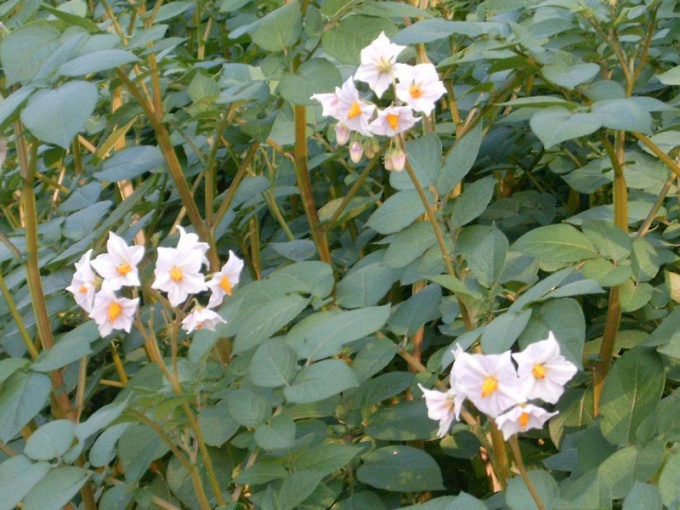 Instruction
The seed potato has a lot of advantages. First you need to say about the saving of planting material. Per 1 sq. m should be about 7 kg sets instead of 30 kg of tubers. Seedlings have good resistance against degeneration and viral diseases. The culture is practically not affected by viruses. That is why potatoes, which are grown from seed, very healthy. Also need to mention the ease of storage. Seeds will remain viable for about 20 years.
Anyone can use the technology of growing seed potatoes. The fruit of the potato is a berry. For this culture it is necessary to take the seed plot. That's where we need to plant jagodoobraznye grade. Tops is not recommended to mow. In autumn, collect the berries and put them in the post. It is best to store them in heated attic. In December you can from the ripened berries to clean seed.
Potatoes from seed you can grow in two ways – in the ground or planting seedlings. Sow the seeds in the soil can only be cultivated and fertile land. This method is popular in the southern regions. In Nechernozemie also often planted potato seedlings. If you properly care for it, it is possible from the Bush to obtain about 900 g of tubers. The seedlings need to grow indoors. The temperature should not be below 15 degrees Celsius. Seeds pre-soak for a day in the water. Well-suited for this purpose solutions of microelements and biostimulators.
In the open ground to plant seeds need in the early stages. 3-4 square meter takes about 1 g of seeds. Mix them with dry earth and plant to a depth of 1 cm. Between the rows should be a distance of about 20 cm in the soil the soil and proryhlit. Plantings need to be mulched with peat or humus. Before sprouting, it is recommended to cover them with tape. In most cases, seedlings are already beginning to emerge on day 10. Then immediately you have to do weeding of crops. Watering is carried out as needed. In the summer, should be regularly loosened and Spud crops.
Advice 3: How to put out the cabbage with potatoes
Cabbage
stewed with potatoes, belongs to the category of balanced vegetable dishes that are so loved by vegetarians. This dish can be used as a standalone or use it as a garnish for natural or ground beef. Saute potatoes with cabbage is quite simple, the secret to this side dish is in the spices that make it delicious and appetizing.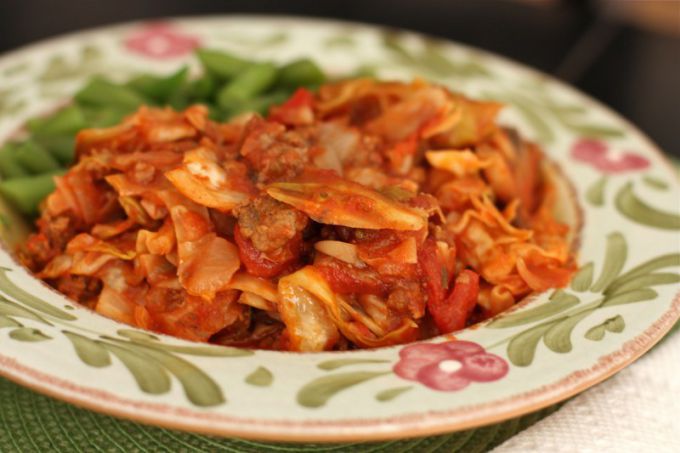 You will need
Medium-sized potatoes 4-5 pieces

Onions – 2 onions
Carrots – 1 piece
Cabbage – half of head
Greens fresh
Garlic – 3-4 cloves
Tomato paste – 2 tablespoons
Vegetable oil
Ground pepper - black and red
coriander
savory
dry Basil
oregano
marjoram
Salt
Instruction
Potatoes, peel and cut into large slices, chop the onion finely, carrot RUB on a coarse grater.
Preheat a pot or a pan with thick walls, pour the oil and start to fry onions, not forgetting to stir. To prevent it from burning. When the onion Zabolotets, toss the carrots, pan and slightly sauté.
Put the potatoes, stir. 5-8 minutes stirring constantly, continue to fry together with onions and carrots. Take a glass of water, dissolve in it the tomato paste, add a quarter teaspoon of sugar, stir and pour into the potatoes. Add the spices, salt, cover and simmer, stirring occasionally, about 10 minutes.
Shred the cabbage, lightly add salt and pepper and shake it, put on top of potatoes, cover and simmer another 15-20 minutes, until it becomes soft. Mix
the cabbage
with the potatoes and leave to stand under the lid closed for another 5 minutes. Spoon the finished dish portioned plates, sprinkle with finely chopped greens and garlic.
Advice 4: How to plant potatoes
Potato - the second bread. In Russia it is on every plot. But how to plant potatoesto get a good harvest? Here there are subtleties.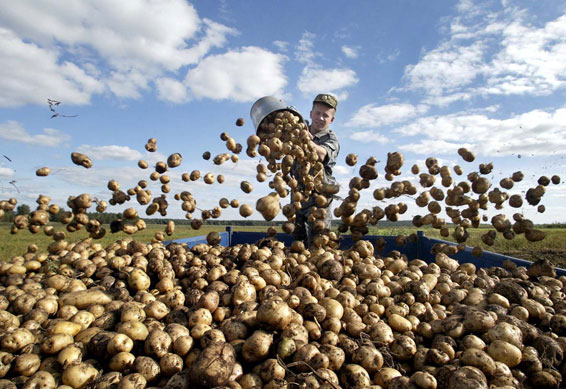 Instruction
In mid-April start to sprout potatoes. To better tubers sprouted, they should be folded in plastic bags at 50-80 pieces and put in enough warm, lit room. Soon the potatoes will begin to sprout and even adventitious roots. To plant potatoes usually start when flowering birch. This means that the earth will get warm enough.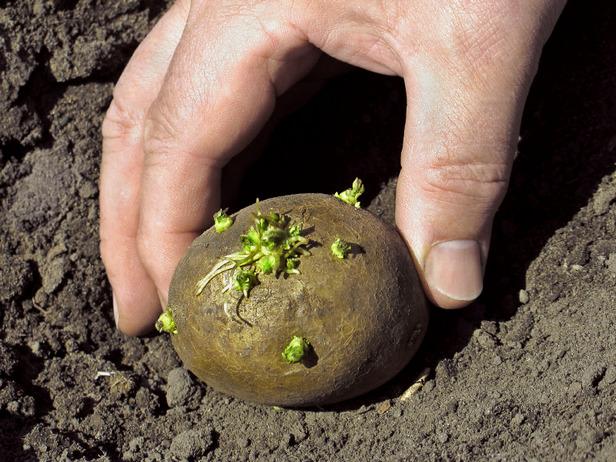 When the time comes for planting potatoes, dig the field, so that the earth became loose. Shape on the field furrows with a size of 10-12 cm Distance between them should be approximately 70-80 cm Furrow can be done berestovica, any improvised tools, even feet.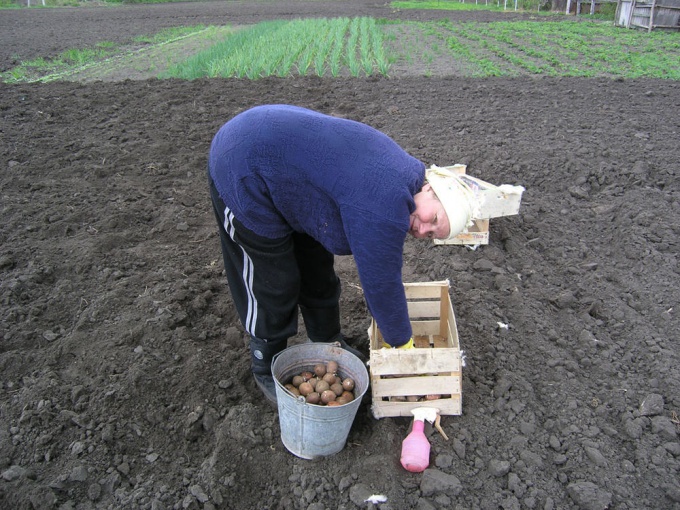 Put in furrow seed tubers with the shoots facing up. Distance between tubers should be 30-35 cm and Then grown bushes will develop freely and will give a good harvest. After all the potatoes laid in furrows, it is necessary to cover it with dust. Better to do it than a shovel, and a rake. Should be a level field, without ridges - they appear when hilling. Potatoes will be in the ground at a depth of 6-10 cm, this will allow her to warm up.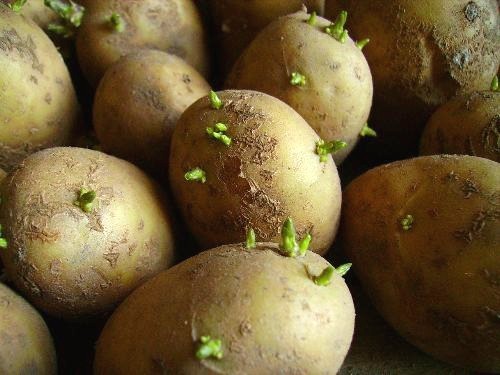 On top of the potatoes put the fertilizer - compost, rotted manure, peat, ash, mineral fertilizers. When it rains, they fall into the ground and will nourish the tubers. The fact that the shoots of potatoes that spring up, and the roots appear just above the tuber. Therefore, they will get a sufficient amount of nutrients.