You will need
- pleated skirt;
- thread with needles;
- scissors;
- a sewing machine.
Instruction
Take
a skirt
, long enough to make it happen dress. If she had long been hanging in the closet, wash it and iron. Inspect the product from all sides in order to detect holes or other defects that need to be addressed. Please note elastic skirt - from long storage it may have lost elasticity and yellow. Carefully tweak the parts requiring repair or replacement.
Carefully strut bottom hem. Ironed a skirt, put on a flat surface, smooth out all the creases pleats. It is even better to stretch the rubber band of the product and secure it in this position, the power buttons - this increases the confidence that you will be cutting the dress right. If the skirt has only one seam, place it back severely in the middle. Side seams should remain in its place.
On each side of the product cut a strip width of about 15 centimeters. Do not go to gum skirt - Express 30 inches to make the sleeves in the wings. Treat all cuts with serger or zigzag. Future turn the dress inside out and do the side seams. Bottom of sleeves can just bend, and it is better to sew on the bias tape. The same procedure repeat with the bottom of the product. Iron all the new seams you made.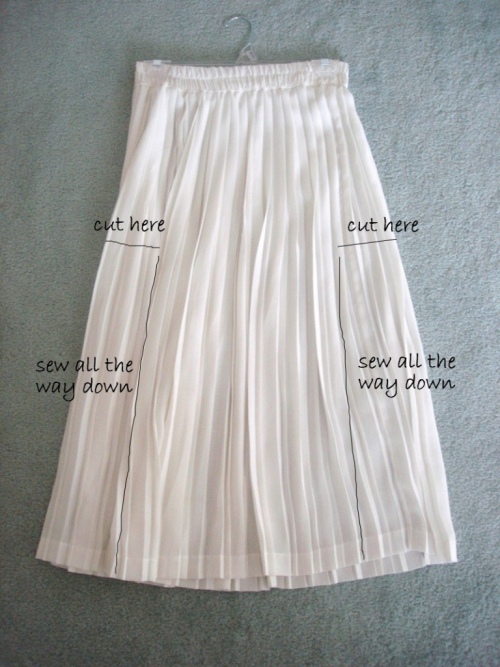 If you don't like how the neck looks, which is the belt skirt, the tab on her handmade lace or any other decorative element.

This dress from the skirt choose a suitable strap or stitch the belt. To decorate the neckline of bands in the Department of sewing accessories select beautiful fantasy flower, and even better several. Put them on pins and change according to your mood or depending on the occasion and the day when you wear this dress.