Bright floral print on the dress – a godsend for women who want to look feminine and romantic. Clothing with large or small pattern allows you to stand out from the crowd and automatically attract attention. It is through floral dress can always be different. But it is necessary to replenish your wardrobe with several outfits with a fashionable print as well as make a win-win combination of clothes with shoes and accessories.


What combination of gown with floral pattern


Today in fashion floral total look. As you can guess from the name, this trend involves the use of floral print in several or even all items of clothing, shoes and accessories. For this way do not need to choose one things to achieve harmony. On the contrary, designers are advised to use unexpected combinations of colors and graphics. However, the bold floral total look is not for every day, besides an abundance of bold patterns visually makes the figure bulky.

With proper selection of the ensemble of dress with a floral print would be appropriate in the office and at the party. Depending on the case, you can choose a fitted cocktail dress, sundress easy fit jumper skirt or dress with fluffy skirt, decorated with a pattern. Hollywood stars often wear dresses with floral prints.

Floral prints for many of us associated with summer, so naturally will look to the ensemble of dresses with pattern and lace-up wedges. They can be plain and colored, but then the used colors should match the colors of the colorful outfit. Ideal shoes on the platform of wood or straw-colored, it will make the image truly summer.

In order not to look ridiculous, you should not choose a dress with a print jacket or cardigan with the same pattern. It is best to dilute the image of the solid things in neutral colors.


Rules to wear clothing with flower print


When choosing dresses with floral prints be sure to consider the structure of the figure. For curvy girls will find outfits with small flowers, which are evenly distributed in tissue. If the figure is close to the ideal, you can afford a dress with big roses, violets or irises. To make the image complete help stylish jewelry, plain belt.

When buying a dress with a floral pattern you need to remember that the brighter and bigger the flowers on the fabric, the easier it should be cut. Otherwise you risk to get lost in the background print. To pick up the dress accessories with patterns, but it should be only one detail – the rim, clutch or bracelet to choose from.

Perfectly colorful dresses with accessories and shoes neutral colors – white, beige, gray and black. Bright colors can be used, but they must match the shades present in the print. Floral patterns go well with denim, leather and lace.
Advice 2: What to wear with a skirt with floral print
It turns out, to find bright accessories to a plain along much easier than to create a perfect combination of blouses and skirts
with a floral print
. However if you follow simple tips experts, success is guaranteed.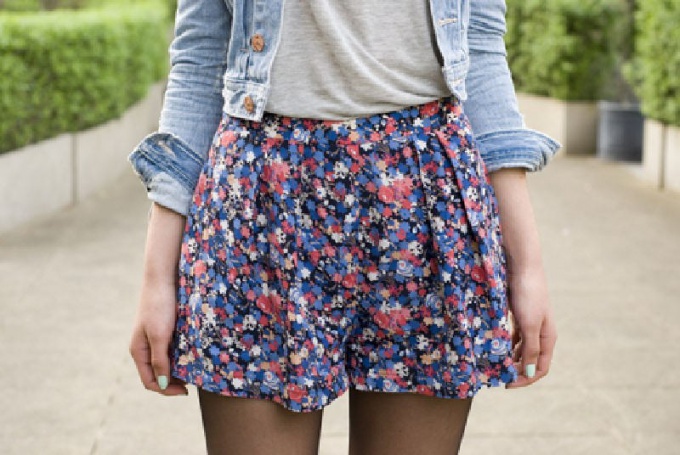 To look stylish, you need to update your wardrobe to include a skirt with a floral print. She already keeps in the trend. Only stylists warn that to pick up a decent pair of multi-colored skirt would not be so easy. But worth a try!


Recommendations of stylists


It turns out, wearing a bright floral print. It is strictly forbidden to wear blouse and skirt with the same print. The view that this combination creates the semblance of a gown – not an argument. Then there is a new problem – how to pick up to it along decent jewelry, shoes or solid color jacket. Otherwise, the pattern will merge and will look like real pajamas.

White and black is the classic option in harmony, it would seem, with any print. However, experts advise to choose one-the top to a printed skirt like this that will perfectly repeat, at least a single color of variegated pattern skirt.

Several different bright floral prints in clothes is too much. Print needs to be a focus, which is on the basis of one tone. To him and should choose the other add-ons.

You should pay attention to the cut of the garment. If the skirt is bright and lush, it is impossible to wear to her magnificent blouse with sleeves in the shape of a flashlight and neckline, decorated with flounces. The top needs to be simpler and more modest.


Experiments for the brave


The combination of several prints in its image – option for lovers of extravagance. It is necessary to have a very fine taste to choose the related prints of different brightness. Sometimes it makes sense to try on a blouse and skirt with the same print but different sizes of the picture. For example, the blouse in the small flower, and the skirt is the same but larger. It should be noted that the large flowers visually enhance the figure. If hips are narrow and the chest is lush, then this option is just perfect. Otherwise it is better large flowers move up.

To the separation between the skirt and the blouse with the same print was clearly delineated, it is possible to Supplement the kit with a belt. Don't forget that wide belt visually reduces the figure, splitting it in two.

Harmoniously will look in a set of three related colors. Thus, in one spectrum are blue-green, green and green-yellow. That is, if the skirt is blue-green, green top yellow top would look good green jacket. The image can be more calm, pastel colours. But it is much easier to combine one colorful thing – a skirt with garments in neutral tones. The latter are white, beige, grey, black.

Skirt in small flower goes perfectly with a plain top, denim jacket or vest. Even if the colors do not correspond to tone denim. This is the case when democratic denim balances the bright image.
Advice 3: What to wear with summer dresses striped
Striped dress is a versatile outfit. Thanks to all sorts of unique combinations of stripes, you can choose the most suitable option for any event and every occasion. It is popular due to Coco Chanel. But despite the passage of time, striped dress remains as relevant. To not only look stylish, but also beneficial to adjust some of the features of its shape, this dress should be worn correctly.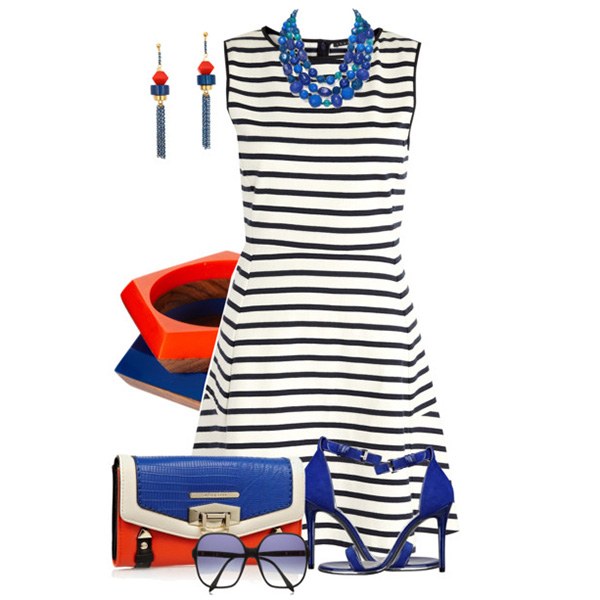 What to wear with a summer dress striped


Despite the traditional view that horizontal stripes visually expands the figure, it is safe to say that this print with the right choice of models suitable for all girls with any type of shape. However wearing dresses in the horizontal bar has its secrets. For example, owners of magnificent forms you must choose the dress, not too figure-hugging, and strip and the desired narrow and rare. Wide strip in this case is more appropriate in combination with cardigans, blazers or jackets.

Very fresh and elegant it will look blue striped dress, combined with red details. This combination is a symbol of sea style, it is particularly relevant will be the heat.

It is desirable to complement the dress with a striped print and solid things, able to focus on the main part of the image. It can be blazers, jackets, boleros, scarves and wraps, depending on the occasion and mood. Classic colors for accessories will be black, white and red.

Long summer dress with stripes always attracts attention to its owner without the slightest effort on her part. Particularly impressive look such dresses, when the top and bottom is made in one color but with different patterns. A similar outfit will visually divide the figure in half, emphasizing the waist and chest, and hidden from prying eyes far from the perfect shape of thighs and legs.

Summer knit dress, striped, blue, or red, is the perfect complement to a denim shirt tied in a knot below the chest or at the waist, and better if it is a couple of sizes bigger than you need. Way to complement a bulk beach straw bag or a small shoulder bag. Footwear better to pick up woven flat shoes or low heels. If it is the same dress to complement the white jacket, bright ballet flats and a handbag on a thin strap, you can safely go on a romantic date.


Color combinations


Dress in a black-and-white stripes are best worn with bright monochromatic clothing. For example, with a red jacket and purple shoes. Also nice combination of black and white stripes with black, white, gray clothing, beige, khaki, sand and any other neutral color.

Dress with colorful stripes can match the monochrome thing, the right color to one of the strips. For example, the outfit in red, white, and yellow stripes can be worn with red, white, and yellow clothing or shoes. Cautious way out, if the colored stripe to combine with a white or beige things.

It is preferable to wear a striped dress with a plain clothes. If you wish to dilute the strip of a different pattern, you can use a different stripe, polka dot or flower. Stripes with polka dots gives a fairly mild blend with a hint of vintage is a valid option for parties or walks in the day. Floral print combining stripes should be very careful. One of the drawings should be dominant. So, contrast wide stripes it is better to combine with a light soft floral pattern. Conversely, large and bright colors, you can combine only with a barely noticeable thin strip.

To combine in one ensemble of stripes and plaid, wild prints or complicated designs are not recommended.