Instruction
At the end of grade 9 all students pass the final state certification or pass the exams. All students have to pass at least 4 examinations that are mandatory among them are mathematics and Russian language, and the other student chooses independently from the entire list of items that he studies at school. Among these items, you can select the exam in literature, geography, history, social studies, foreign languages (English, German, French and Spanish), physics, chemistry, biology, computer science and information technology.
In addition, taking math and Russian language after grade 9 all students are required to format GUIA final tests and assignments are conducted as a single exam for all Russian schoolchildren. As to my other classes, the student decides for himself: you can choose GIA or to pass the exam in their school in the usual manner, for example, on the tickets or in the form of written exam, project, and so on.
Sometimes the school itself encourages its students to take CLASSES in other subjects or explain that they don't have to do it. Choose GIA for other subjects or not also depends on, whether the student remains in school after grade 9. If not, the results of the DPA it may require for admission to the College or school. In this case, you need to choose those items that are relevant in these schools. When moving to a different school in the 10th grade also sometimes requires the results of GIA across the four items.
Sometimes schools have a certain profile can assign students additional exam, then the students have to pass three compulsory subjects and one or two by choice. The total number of exams for grade 9 should not exceed five.
Note
To apply for the exams in the form of GIA and specify the number of these examinations before March 1 of the current year. Too late to make changes to the statement will be available.

Winners of the national Olympiads are exempt from passing the exam on the subject of the Olympics.

If a student does not pass at least one of the compulsory subjects, a certificate of completion of 9th grade will not give him. However, he can try his luck a second time in the same year and retake the exam in a few days. If the attempt fails, such a student can only issue a certificate of completion of 9th grade. Or in 10th grade or in College a student will not take. He will have two choices – either to stay in school for a second year and complete the program grade 9 again, or leave a school, independent study and retake the exams next year.
Advice 2 : That pass at the end of grade 9
In order to obtain a certificate of primary secondary education, all pupils of schools after grade 9 exams. This form of control helps to identify training students to determine their level of knowledge.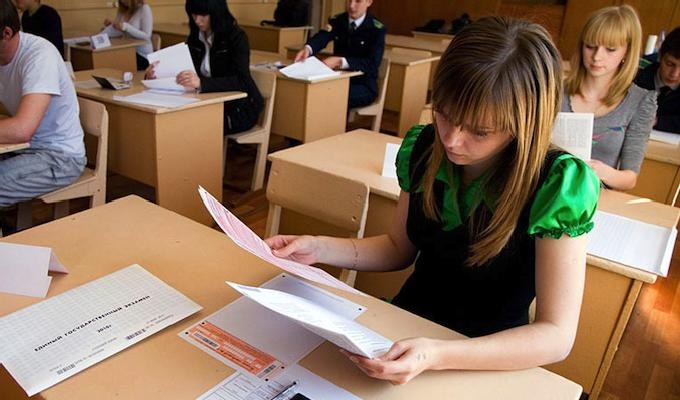 Instruction
Exams in the 9th class are important level of education for each student. After secondary school, the teenager can decide whether he wants to continue his education in high school or secondary institution or is ready to go to work. Education after grade 9 becomes unnecessary for every citizen of Russia, so students should take seriously the preparation for this form of certification. In addition, the school administration is also studying closely the successes and scores of students after grade 9 to decide which of them is worth taking at 10-11.
Every student of grade 9 at the end of the year must pass at least 4 exams, and in the lyceums and gymnasiums, schools with profound studying of subjects often add a fifth exam in the relevant discipline. At the same time for all students is compulsory subjects are Russian and mathematics, as well as a selection of items - here, students can take any subjects from the list studied in school.
Russian language and mathematics shall be the students in the form of SFE - state final examination. This format of delivery is uniform for all students and includes written assignments with a choice of response or private response to the student. They are held across the country in a strictly specified date, each exam has several options KIMS - test materials so that the students do not know which option will get on the exam to them. After the exam answer sheets are sent for review, so the results become known only in a few days.
In the form of GIA, you can take other items but this is optional. Most students electives prefers to donate to home school their teachers on the tickets. However, there are instances when all the exams you need to pass in the format of the DPA, for example, when the student leaves school and enters College or the College of creative or musical College. In these schools required the results not only in mathematics and Russian, but also profile for these subjects.
GIA you need to pass and to enroll in grade 10 some high schools and colleges. So these schools challenge their students and make selection best students. However, in a short time it is expected that such examinations will become mandatory and in other subjects. And although they mean more stress for students than a test of knowledge in the usual form, but that form the DPA allows you to prepare for the exam and find out what awaits students at the end of grade 11.