You will need
- metal object (spoon, fork, knife, a key, a metal key chain or a nail file);
- bright light.
Instruction
There are a few simple ways of testing that can help to distinguish a crystal from a regular glass. First of all, the sound. Try gently knock on the intended crystal product with a metal object. To do this, use the key, a metal nail file or key FOB. This crystal good quality sound after hitting smooth and long: it lasts on a single note for a few seconds and then is on the wane. By the way, so define marriage crystal. Have chipped or defective product, the sound will be uneven and jarring. Crystal sounds thin, clean.
Another way to define the real crystal - tactile. The crystal is heated more slowly than the glass, it stays cool. Try to compare two items in the store - one of glass and the other of the intended crystal. Hold items in his hands the same time. Feel the difference? Crystal products should remain colder than glass.
The third way to verify the quality crystal visual. If you take a crystal product in hand and look at it in bright light, it will Shine with different colors on the finest pure faces amazing play of light. In addition, the crystal is more durable than glass and cannot be scratched. Unfortunately, glass is also brittle, and with a strong impact, it will surely be broken.
In bright light within the glass structure will be visible gas bubbles formed in the manufacturing process. In addition, inside the mass of glass is also sometimes made visible - small frozen streaks. Inside the crystal such bubbles and cord should not be.
Well, the easiest way is if you choose the expensive crystal vase or a set, you can give the crystal to check the professionals, the results of this study can be trusted 100%.
Useful advice
The crystal should be washed in cool water - hot from he dark and dull.
Advice 2: How to distinguish rhinestone
Rhinestone is a truly wonderful stone. He plays in the sun like a real diamond and its purity since ancient times was associated with female virginity. Rhinestone is a great talisman to its owner, it gives protection from evil eye and evil spirits. But how not to make a wrong choice and buy a real crystal, not glass pebble? Let's find out!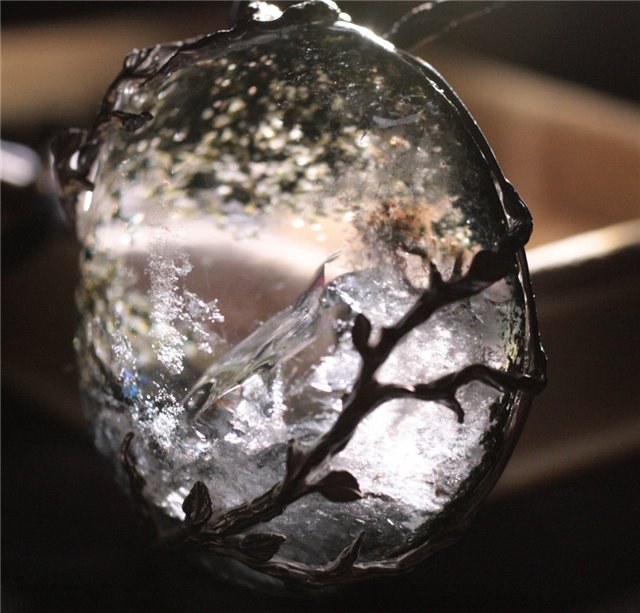 You will need
glass, sharp awl or a knife, magnifier
Instruction
Carefully look into the stone. If inside the noticeable air bubbles or specks of dust in front of you a glass fake. Rhinestone is not a fossil resin but a mineral with a solid structure, so no foreign objects and air bubbles in it. Another distinguishing feature glass fakes – the existence of sivley (this is a characteristic of the strip produced during the flow of a viscous thick liquids). Glass, solidification, may retain such traces. Therefore, if you notice that the clearance made to purchase a product is not worth it.
Rhinestone is quartz. In its structure it is much stronger than glass, so spend a little experiment. Take a sharp awl or a well-sharpened knife and try to scratch the surface of the stone. The glass is very easy to leave marks and scratches, but in order to damage the rhinestone you need to work hard. Also a test of strength, you can arrange with a hammer (not the store, of course). From the glass will not be over, and the crystal stones can only break up, if not will not be affected
Glass has a thermal conductivity above, it very quickly heats and cools. Take the stone in hand and try to warm up. If the temperature has changed quickly – before your glass, but if the stone is warmer, but still feel the difference with your body temperature – before you real crystal. Can try items on, to determine the thermal conductivity much faster.
Note
Despite the strength of quartz, he can fall to flake and crack – no mineral is immune. Do not think that this rhinestone durable thing in the world and cannot be damaged. Handle the stone carefully.
Useful advice
It is easy to determine the strength of the stone, as if to hold it on the glass surface. Insofar rhinestone durable glass, that kind of manipulation on the glass will leave a mark. But if you scratch and nothing happens – you're holding a fake.
Advice 3: How to distinguish rhinestone glass
Mountain crystal is appreciated worldwide as a material for jewelry, art products and beautiful dish. In fact, crystal is a kind of glass of very high quality. It is therefore particularly important to be able to distinguish the product from rock crystal from glass imitations.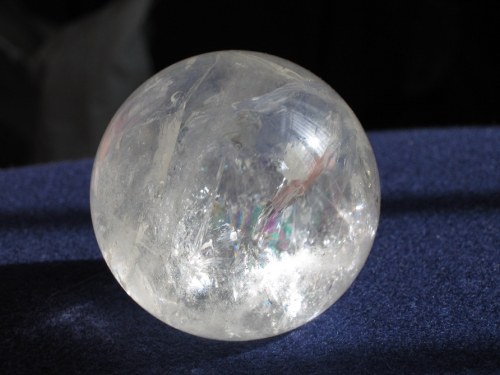 Instruction
Keep the item in your hand. Rhinestone touch very cold in contrast to conventional glass. The patricians of Ancient Rome used to heat the crystal balls to cool the hands. Therefore, the product glass will heat up in the palm of your hand much faster item from natural crystal.
Carefully consider the product. Air bubbles, small inclusions will be talking about the authenticity of the stone. Because perfectly transparent flawless products are likely to be high-quality imitations.
Crystal is a very hard mineral. On the Mohs scale, harder it only Topaz, corundum and diamond. Slide the crystal on the glass surface. It should remain scratch.
Rhinestone order of magnitude stronger than glass. However, to try it on the strength of not worth it. Crystal products can also shatter like glass.
If you buy the dishes of rock crystal, will definitely consider it in the light. Glass has white, and in daylight has no color shades.
Gently tap the glasses together. Crystal products will emit a clear, ringing, and most importantly – a long sound.
Wet fingers in water and move them on the surface of crystal products. It's supposed to mimic the ringing of a faint sound. Regular glass doesn't sound like it.
In appearance rhinestone richer and nobler than glass. According to tradition, on the crystal surface is applied called cut uncomplicated drawings. Although it is not an indicator. Considered a classic smooth champagne glasses made of crystal.
The most faithful and effective way to determine the authenticity of the crystal is the examination, during which experts with a high degree of probability will determine the fake.
Useful advice
From the hot water goblets made of rock crystal becomes turbid. Therefore, for washing use cold water, and then wipe the crystal dishes with vodka or alcohol.