You will need
- a means for washing of glasses;
- ice (freezer);
knife;
- soap solution;
- a sponge;
newspaper or viscose cloth;
the solvent (white spirit, oil fraction, etc.);
Vata;
- stain remover for clothing (if necessary).
Instruction
One of the most common modern techniques of interior decoration to create a transparent stained-glass Windows applications on glass and other smooth surfaces. With full drying special paint sticky film image that can be repeatedly re-stick. If you want to remove the old stained glass, just try to unstick the edge of the pattern and to remove a paint film.
To break a strong grip stained glass decals from glass, it is recommended to freeze ice cubes in a plastic bag. Decorated with objects of small size (glasses, vases etc) before cleaning for a while to put in the freezer. The elements of the pattern after this procedure usually disappear on their own – enough to pry them with a knife.
Remove any remaining traces of dye by any means for washing of glasses. Then Polish the surface to a Shine with a newspaper or a special cleaning cloth made of viscose.
Try to wash stained the paint if it does not depart from the glass. To choose the best method of cleaning, examine the composition of the decorative material. The dye is water based you can quickly scrub sponge, liberally soaking it first in soapy water, then clean water.
Paintings on glass are created using a mixture of different callers and synthetic solvents. In this case you need to buy a special formula for cleaning a particular series of stained glass paint. If you can not find it in the store, use the handy cleaning products. Most dyes of this kind respond well to acetone, white spirit and petroleum fractions (Quick drying Petroleum).
Useful advice
Brushes and clothes, stained with stained glass paints, you can clean on the same principle. Water-soluble contamination sasteria or rinse under warm running water, dyes based on synthetic remove solvent. Stained clothes can be washed with stain remover that is appropriate to your fabric.
Advice 2: How to clean paint from glass
Repair - business long and unpleasant, especially if you do it yourself. During the paint work on the glass can get spray paint. Scrub it with the help of improvised means.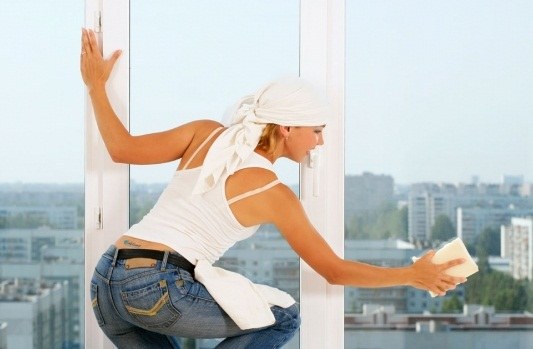 You will need
Box cutter, refined petrol, acetone, white spirit, wiper, foil, iron.
Instruction
Moisten contaminated sites Stella hot water. This will help to remove the paint. Then take a utility knife and carefully scrape spots. Use only a sharp blade, otherwise the glass will be scratches.
Buy at the hardware store mineral spirits. Moisten a cotton pad to dissolve and apply to the stain from the paint. Hold in this position for a few minutes and wipe.
Treat the stain from latex paint wiper. It is sold in walmart and major supermarkets. Spray onto stained areas of the glass and leave it for a while. Then wipe clean with a damp cloth. If the stain is not able to clean, remove mechanically by the knife.
Use cleaned gasoline. It can be bought at a hardware store. Treat the traces of paint with a cotton swab dipped in medium. If there was no gasoline, use acetone or kerosene.
Apply to contaminated land glass a piece of foil and heat with a flat iron or Hairdryer. Under the influence of high temperature paint will soften and can easily be removed. To carry out such a procedure is possible only in case, if on the glass there are large drops of paint.
After remove the paint, wash the glass. To do this, use a special tool. Spray the liquid on the glass, wipe cloth, absorbent, and Polish with a dry microfiber cloth.
Spread 1 tablespoon of 10% ammonia in several litres of clean water. Dampen a sponge and clean the glass from pollution. Then wipe with a damp cloth and Polish with a dry cloth.
Useful advice
Try to remove traces of paint as soon as possible. Fresh stains can be rubbed away with a cloth soaked in clean water.