Where to buy dry mustard
First of all, you should look for dry mustard in the grocery market, where they sell a variety of spices. In some places it may be represented by several species because of the varieties of dry mustard a lot. In Russia, for example, the most popular spicy Russian mustard, and in Europe – "Dijon" which is made from black French mustard.
Also mustard powder can be found on the shelves of grocery stores. Moreover, not only in big supermarkets, but in small frequent shops. This spice is usually sold in plastic or paper bags.
And buy some dry mustard at the pharmacy, which sells mustard. Because this product has long been used to treat a variety of diseases – from the common cold and bronchitis to hypertension.
What you can use dry mustard
First of all of dry mustard powder can be prepared the usual Russian mustard, which will be much tastier and healthier than store-bought. To do this, mix 1 tbsp. spoon of mustard powder and 2 tbsp of boiling water and then grind these ingredients into a homogeneous slurry. Then there is to add 1 teaspoon of lemon juice or vinegar, the same amount of vegetable oil and sugar. All thoroughly mixed, transfer to a glass jar and store it in the refrigerator.
Dry mustard is a constant ingredient in various sauces for meat and fish dishes. Without it, for example, it is impossible to make the usual mayonnaise. In addition, mustard powder is often added to ground beef when cooking meat dishes or used as a preservative.
Dry mustard can also be used for washing dishes or as an effective cleaning products. In combination with soda mustard powder removes dirt and grease.
In cosmetology dry mustard is part of different hair masks and body. So that the curls were thick, strong and shiny, you need times per week for 20 minutes to put on a hair mask of 2 tablespoons of ground mustard, the same quantity of decoction of herbs and 1 tbsp of good cognac. This mask should be rubbed into the scalp and to distribute on all length of hair. After the allotted time it should just wash off with warm water.
Mustard - a real klaesi of vitamins, minerals and biologically active substances. In its composition includes calcium, iron, potassium, polyunsaturated fatty acids, vitamins a, C, E and vitamins of group B.
In medicine mustard powder has long been used as an effective remedy against colds. At the first sign of this disease you just need to hover legs in hot water with mustard powder. Then put on socks and go to bed under the blanket.
Advice 2: How to make mustard from the seeds
Mustard is prepared in two ways: from the mustard powder and granules. The second method is preferable in many ways. For example, mustard from the grains more aromatic and sweeter taste, and in powder mustard no securities of mustard oil, it is made from pomace, mustard grains, and oil replaced soybean or sunflower.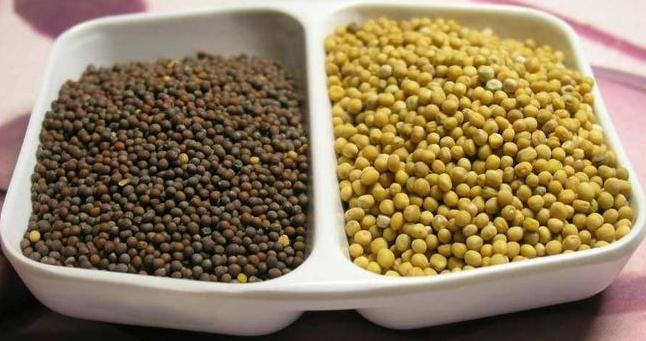 You will need
For mustard beans with spices:

180 g crushed mustard seeds,
250 ml wine vinegar,
180 g of sugar,
zest of half lemon
1 teaspoon of pounded cinnamon,
pepper,
spices (cardamom
carnation
nutmeg).
For homemade mustard with honey:
1 tbsp. crushed mustard seeds
1 tbsp. honey,
200 ml of vinegar.
For mustard in French:
400 g mustard seeds,
200 g of sugar,
300 g of vegetable oil,
1.5 teaspoons of cinnamon,
0.5 tsp cloves.
For mustard in English:
200 g crushed mustard seeds,
3 tbsp vegetable oil
150 g vinegar
2 tbsp. spoons of sugar,
3 teaspoons burnt sugar.
For the Apple mustard:
4 tablespoons of mustard seeds,
5 tbsp pureed baked apples,
2 tbsp. spoons of sugar,
150 g vinegar
2 teaspoons salt
pepper.
Instruction
Of mustard grains will specialisatie vinegar, pour it to the pounded mustard seeds, stir thoroughly and leave overnight in a warm place. Add the sugar, spices and mix again. Leave for 2-3 hours to infuse in the heat, that mustard was finally absorbed the smells of spices.
Homemade mustard with honey.Shalt grain mustard or burn holes in a coffee mill. Sift through a dense sieve. Boil the vinegar, cool.
Put the honey on a medium heat and lead to a boil, stir in the honey mustard when it's browned. Add the cooled vinegar, stir until the mixture is smooth. Pour into a jar and cap.
Mustard in French.Put in the crushed grain mustard sugar, stir, pour vegetable oil, continuing to stir, until a thick oily mass. Add crushed cinnamon, crushed cloves, dilute the mixture with cold vinegar to mustard became the consistency of a thick porridge. Pour into jars, close and leave for a week in a warm place.
Mustard in French.Put in the crushed grain mustard sugar, stir, pour vegetable oil, continuing to stir, until a thick oily mass. Add crushed cinnamon, crushed cloves, dilute the mixture with cold vinegar to mustard became the consistency of a thick porridge. Pour into jars, close and leave for a week in a warm place.
Mustard Apple.Take two to four sour apples, wash, prick skins with a fork, wrap in foil and put in preheated oven for 20-30 minutes. Ready wipe the apples through a sieve, while hot.
Add Apple puree to the mustard, mix and add the sugar. Boil the vinegar with pepper and salt, cool. Dissolve mustard with vinegar, put in a glass jar, close the lid and leave to infuse for 3 days.
Advice 3: What is dry water
Nonsense, but there are "dry water". That is far from a science person seems a linguistic pun, in fact, the hope of mankind for salvation, because "dry water" may soon be to fight the greenhouse effect and harmful gases.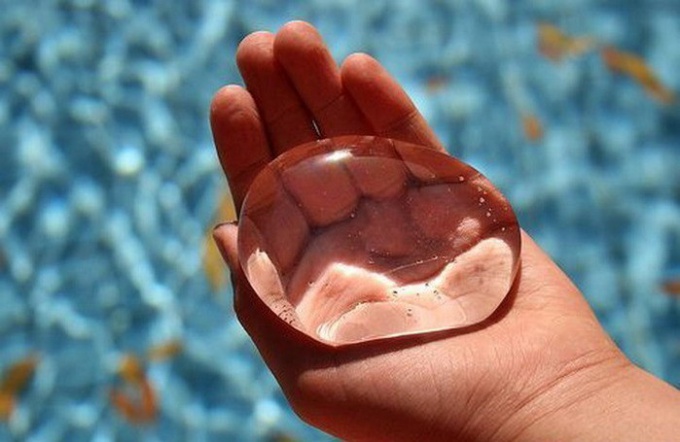 History of discovery


Fires, carried away hundreds of lives in the early 20th century was a disaster for the wooden cities of pre-revolutionary Russia and Europe. The extinguishing water fire, which had spread from roof to roof, the effect is not given, but because the inquiring minds of scientists were determined to find better means of dealing with the fire element.

In parallel with working scientists in a completely different field of knowledge. They were not interested in the security of the citizens, and applied chemical formula which could be the basis for new cosmetic products, saving the female youth. Experiments with the zinc not only failed, but caused the death of many fashionistas, who used white with him. The zinc is replaced by silicon, which has proved itself as a unique absorbent, literally sealing water while preserving its properties.

In 1968 the invention of dry water silicon water and proper patented and began to study. In fact, the connection of water and silicon occurs spontaneously at intensive stirring of the two substances, silicon (white powder) literally absorbs the water and takes the form of capsules. The water of its properties does not lose and does not change.

The cosmetics industry is really a lot bought after the discovery of the effect of "dry water", based on the mixture did powder and a variety of eye shadows, later she went into the composition of cosmetic pencils to make them soft, but not brittle.

The ability of the composition to rapidly absorb carbon dioxide, the same, which is abundantly formed during combustion, have made her one of the most popular compositions for fire fighting. In contrast to usual water dry it was easy to transport, and its effectiveness is many times higher than the efficiency of conventional water.


Modern research and development


Studies have shown already the end of the 20th century, the dry powder of water in contact with the gas forms a kind of connection - hydrates, which are useful. Methane hydrate is already known as a fuel of the future.

Moreover, the silicon compound is able to enter into a non-active reaction with methane, which in a free state threat. Today, research is underway that will help in the future to avoid disasters in mining in the mines, as well as to come up with a way to move methane in a relatively safe manner.

Today scientists and researchers are more attracted to the idea of addressing the threat of earth's civilization - the greenhouse effect - using "dry water". Thanks to silicon, which literally seals in a shallow capsule of water, carbon dioxide when working with "dry water" is almost not formed, and this means that working with it can reduce the concentration of harmful substances that Deplete the ozone layer.

A little over 10 years ago in Japan invented to keep "dry water" in liquid form, this composition unique properties: it lost fluidity, while it works well technique does not dissolve and capsulizes oil, such water does not react with soluble in ordinary water.