Instruction
Click "start" to bring up the main menu system and navigate to "All programs."
Point to Microsoft Office, and run the Word application.
Open the context menu of the toolbar, click the right mouse button and select "settings".
Click on the "Commands" dialog box settings, and then click "Insert" in the tab "Categories".
Select "equation Editor" and drag the item to any free place on the toolbar of the application window of Word.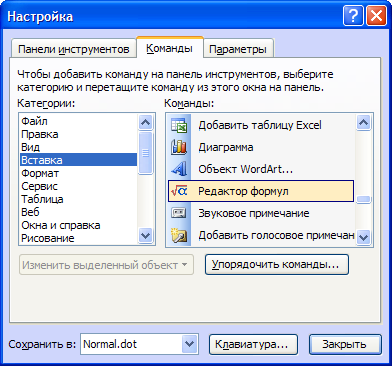 Close all open Windows programs if you cannot discovery utility "equation Editor" and expand the "add or remove programs" in control panel, operating system double click to install the required tool.
Specify the application in the list of installed programs and click "Replace".
Enter the command "Add or remove features" and confirm your selection by pressing the "Next"button.
Apply the check box on the "Advanced customization of applications" and confirm the command by pressing the "Next"button.
Open menu "Office Tools" and select "equation Editor".
Select "Run from my computer" and shut down the program.
Return to the main menu "start" and click "Execute" to edit a parameter scaling the utility of "equation Editor".
Type regedit in the Open box, and perform the simultaneous pressing function keys CTRL+A.
Enter the forceopen value in the text field of the search window and click OK to confirm the command.
Open element found forceopen double click and change the setting to 1.
Quit registry editor, and return to the main window of the office application Microsoft Word.
Click the command button the equation editor in the toolbar and adjust the scale for ease of introduction of formulas.