Pills "Jess" and "Jesse Plus"
Pills "Jess" and "Jesse Plus" designed to protect against unwanted pregnancies and treatment of certain diseases and disorders. So, these drugs are recommended for hormone-dependent fluid retention in the body of women, they also have a positive impact on the skin, cleaning it from acne. Part of the tablets include hormones estrogen and progestogen that block ovulation and contribute to a more active development and increase the viscosity of cervical mucus that protects the cervix from penetration of sperm.
Like many other hormonal contraceptives, "Jess" and "Jesse Plus" facilitate the state of women during menstruation: reduce anemia, relieve pain, promote more rapid flow of menstruation less profuse bleeding, so they are often prescribed for the treatment of severe PMS. The composition of hormones in these two drugs are the same, the concentration of active substances in them is quite low compared to other oral contraceptives.
Doctors recommend to first go through the analysis on the sensitivity before you start to use them.
The difference between "Jess" and "Jesse Plus"
The drug "Jess Plus" different from the usual "Jess" that added to levamelt of calcium, which is often simply called folate. It is a form of folic acid – one of the most important vitamins for human health, B9.
24 tablets in the pack contain hormones and other active substances, and the remaining four is often called a placebo, they contain this vitamin and some auxiliary substances cellulose, lactose monohydrate, magnesium stearate.
Formula levamelt calcium almost identical in structure to the vitamin that the person receives with food, which contributes to its digestibility. Unlike ordinary folic acid, this active form that is absorbed quickly into the bloodstream. Elevated concentrations of folate in a woman's body is very important during pregnancy, as this ingredient affects the formation of the neural tube of the fetus, and its deficiency may cause disorders of the nervous system of the child. Folate is not synthesized in the human body, and food can come in not sufficient for early pregnancy amount. As no contraceptives, including oral contraceptive pill does not give 100% guarantee of protection against pregnancy, women need to know that if accidental conception occurs, their body will be prepared.
Advice 2: Reviews about Berlex Jess
The miracle pill

Karus
Berlex Jess (Yaz) I was prescribed a gynecologist a year ago, because I had to do something. My period was irregular (cycle jump) and a very painful hospital at least once a month take. Add else are not the best at hair and skin. Now with Berlex Jess menstruation as a clock, and hair and skin is always clean. But the biggest plus for me is that they are not fattening. So, changing their former contraceptives for Jess, I just won. Than to put something better on the schedule to take pills that are completely safe for your body!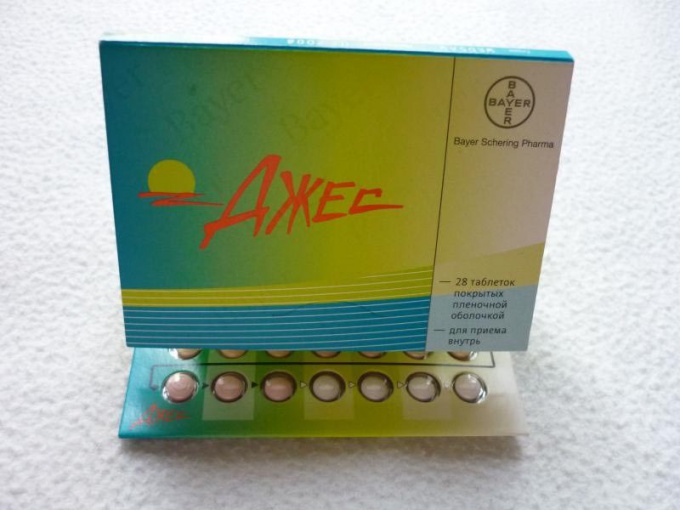 Berlex Jess is my Savior
LenaBelova55
Gynecologist for regular admission are advised to change contraception at Berlex Jess, I don't need much. Not to mention the fact that they do an excellent job with the main purpose, I noticeably feel that the skin on my face was noticeably cleaner and does not appear to be the usual rashes, and even chest became noticeably larger! Feel just a beauty! Menstrual flow usually no complications.
The choice of contraceptive
Vasilina
I long chose the contraceptives of variety. A friend advised me to try contraceptive Berlex Jess. After starting I began to ache, vomiting, the pressure was low, a complete breakdown. Long thought to quit or continue taking the pills, eventually went to the doctor the gynecologist, handed over analyses on hormones. The doctor said that Berlex Jess is not suitable for my body and prescribed a different contraceptive. So before taking the pills should consult a doctor.
Berlex thanks to Jess I am a mother
Lily Mishina
Taking hormonal contraceptives, has undermined my health, spoil the figure, what kind of pregnancy you could say, if I went to work. The doctor advised me to go to Berlex Jess, the reviews I've heard about before. A year later the figure had changed dramatically, I began to feel good. Stop taking the drug, two months later became pregnant.
Not a good experience
Salla
Contraceptives Berlex Jess I do not advise anyone. I had a very sad experience. Started taking them on the advice of a pharmacist. The first six months were happy. The cycle was normal, no longer afraid of not desired pregnancy. But then the delay - test 2 strips!!! I was just in shock! Probably ran into a fake, don't rule that out, but the risk is not anymore.
I'm happy Jess
KsenyaKopalkina
With Berlex Jess I met on the recommendation of a gynecologist when needed contraception. Like, that and at the same time the skin became cleaner and more feminine figure. Take for six months, no problem, the terrible side effects too. It seems that Breasts have increased. Skin clean - the hormones doing their job! Don't plan to change the GES to something else.
My opinion about Jess
SvetlanaShirokova85
I was prescribed contraceptive Berlex Jess gynecologist. Reviews first been reading all sorts, good and terrible, before decided to buy it. Take for almost three months, the awful side effects mentioned on the Internet, I have not. Jess is valid, the skin became much cleaner, took 1.5 kg of weight. Only periods become a little painful. I will take them yet further.
My opinion of Berlex Jess
strannicaJJ
Berlex Jess I was advised by a gynecologist in a private clinic. Before applying it took another kind of birth control pills, but the effect of the application of Jess is promised to be awesome. As a result = of the first menstruation after the start of treatment was 15, not 5 days, unpleasant discharge in between periods. In addition, I started to feel constant fatigue and weakness. Eventually stopped drinking after two months of use.
Some of the best oral contraceptives
Slaska#1
Berlrx Jess began to take on the advice of your gynecologist. Take them for the past 8 months and I can confidently say is the most reliable means now I'm no longer afraid of unwanted pregnancies. There is one drawback - reduces the immune system, but now there is a lot of immunostimulatory drugs, so I guess that's not a problem.
Reliable contraceptive
Svetik
Contraceptive Berlex Jess, like most oral contraceptives reliable. The disadvantage is that you must take at the same time each day. To recover from Berlex Jess is impossible, when the pill is increased fluid in the body, and the feeling of hunger. But if to control your appetite and avoid overeating, better impossible, I was told by a gynecologist. All of course depends on the characteristics of the body and before starting oral contraceptives should be sure to consult with your doctor.