In order to make your hair thick, lush and had a healthy appearance, to care for them. The negative impact of environment, stress, poor diet, bad habits, and finally, the age debilitate your hair. They become thin, brittle and lifeless. Also suffering scalp: seborrhea, itching and finally hair loss.


Part of burdock oil


Burdock oil is one of the most useful products in cosmetics, which you can use to restore hair and scalp. It has healing properties, as it includes a complex of b vitamins, A, E, C, PP; minerals: bromine, vanadium, iron, manganese, copper, tin, strontium, zinc and others. As well as proteins, unsaturated fatty acids, tannins, polysaccharide inulin, essential oil.


Rules applying burdock oil


Before applying burdock oil to be heated in a water bath to improve the therapeutic properties. It can not overheat to not evaporated nutrients. Burdock oil is applied to freshly washed, slightly damp hair. Thick comb, dip it in oil and apply it from root to tip, carefully distributing it on all length of hair. After the procedure, wear a bath hat or wrap a towel and leave for about 30-60 min then rinse your hair with shampoo (several times) and apply conditioner.

In case of serious damage to the hair burdock oil can be applied 2-3 times a week for a month. Followed by a break for 2-3 weeks and treatments can be repeated.


Burdock oil in masks


If you have dry scalp, mix two tablespoons of burdock oil, a teaspoon of calendula and two yolks. Apply for one hour and rinse.

You have oily hair. Take in equal parts, a small amount of burdock oil and Shea butter, add 10 drops of orange oil and a tablespoon of grapefruit pulp. The mixture was applied for 30 min. do Not hold longer, as the citrus is very dry hair.

Have you noticed that has slowed hair growth. You will need a tablespoon of pepper tincture (you can buy in the pharmacy), a tablespoon of burdock oil, one egg yolk. All mix thoroughly, RUB the mask and massage gently into the hair roots and wear a cap. Wash off after half an hour.

If you have started losing hair, you will approach the mask based on honey. You need to tablespoon of honey add a tablespoon of burdock oil, a little onion juice and egg yolk. The resulting mixture apply on hair and put a shower cap, rinse after half an hour.

It is worth noting that now in the pharmacies you can buy burdock oil with additional ingredients: nettle, chamomile, propolis, pepper, and adding essential oils.
Advice 2 : What's in it for burdock oil
It's hard not to get lost in all the variety of funds offered by the cosmetic industry to enhance beauty of hair. But before you spend the budget for the purchase of fashionable novelties, it is wise to remember the old, much more affordable prescriptions, whose reliability is time-tested. These include masks with burdock oil, which is good for hair invaluable.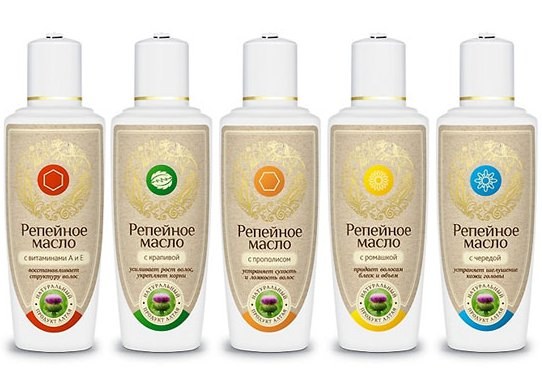 Useful properties of burdock oil for hair
The range of use of oil of burdock is very wide in the first turn is wound-healing and antimicrobial agent. Hair it is valuable due to its composition, which is present in abundance in fatty acids and vitamins a, E, b and C. This complex in conjunction with essential oils promotes hair growth, improve their appearance and makes them Shine.
With the help of burdock oil also regulates the activity of sebaceous glands, aktiviziruyutsya blood flow to the hair follicles and are present in the oil, flavonoids and tannins relieve irritation, itching and help to fight dandruff. Because burdock oil for hair can be used as a therapeutic and a preventive agent.
Burdock oil is obtained not from of burdocks, as it suggests from its name and from the rhizome of the plant known as common burdock.
How to use burdock oil for hair
The most easy and versatile the recipe is to RUB the oil into the scalp for 30-40 minutes before washing. But you can try more complex and useful mask. From dry dandruff will help a mixture of oils of burdock and nettle, taken in equal quantities. To stimulate hair growth burdock oil mixed with castor.
Nourishing mask for all hair types will be the mixture of a tablespoon of honey, egg yolk and teaspoon of oil of burdock. For falling hair burdock oil to add a tablespoon of dry red pepper and this mixture is rubbed into the roots of the head on the quarter hour.
The mask must be done twice a week for a month. Then the hair needs to rest for two weeks and the course must be repeated again.
Burdock can be done independently, but it is much easier to buy it at the pharmacy because the processing of roots and directly obtain a source of raw materials is quite time-consuming.
What else you need to know
In complex treatments with burdock is not less useful to rinse hair decoction of burdock root. For this it must be brewed with boiling water and stand in a water bath decoction, taken in the ratio of 1 part of dry substances of 15 parts of water, a quarter of an hour. After straining it should be diluted with boiled water to volume 500 ml and rinse already clean hair, then dry them with a towel.
During the course of masks of burdock oil should abandon hair coloring, perms or other treatments, traumatic curls. It is desirable during this time also do not use a Hairdryer or tongs, and then a month later the hair will acquire much healthier.
Advice 3 : What oil is best for hair
Many manufacturers of burdock oil use their unique technology to manufacture this product. Therefore, the effectiveness of this medicinal remedy can be different.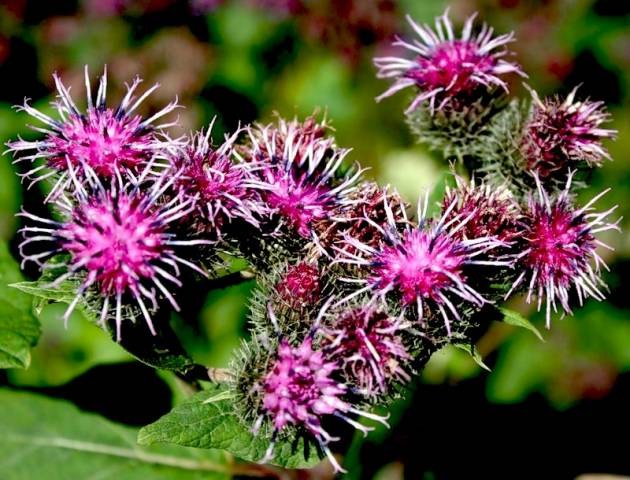 Instruction
The best healer for hair, burdock oil. It is produced by extrusion, such as castor and others, and method of extraction (infusion) parts of burdock oil on the other. Therefore, the quality of this remedy largely depends on what was its base composition.
How to choose a burdock?

Because of features of the method of its production, it is important to buy a means a producer who is trustworthy. If the raw materials of burdock root is to infuse low-quality oil, it is doubtful that the product will have useful properties to the proper degree. You should pay attention to the composition of burdock oil, which must be indicated either on the packaging or in the abstract.
Basic substances have a positive effect on hair, it is inulin, sitosterol, tannin ingredients and flavonoids. The percentage of these components must be quite high. Inulin, for example, should not be less than 45% of the total composition. However, not every manufacturer tells the buyer such details. So you need to find one that would not hide the composition of the manufactured product to them.
What oil is better?

To enhance the positive impact in oil is often added a variety of vitamins and herbal extracts. It can be chamomile, propolis, horsetail, succession, vitamins A and E, as well as other components. About how they affect the hair, can be read in the abstract. Here specified, and the method of application of the product.
Judging by the reviews, effectively stops hair loss burdock oil "Camellia". For those who have a problem of this particular plan, it is better to buy such a tool. It is dark yellow and viscous, with a pungent smell of herbs. In most cases it stops hair loss after a few treatments. It is seen that the denser the medium, it is more effective. You can select product and focusing on this option.
Oil Bio Pharma Laboratoria has a more liquid consistency and does not have a pronounced odor. It works better on the structure of the hair: the keratin smoothes the scales and reinforces them. Therefore, this oil makes sense to buy for those who need quality care without the use of drugs and chemicals. Note that burdock oil for dry and scalp, and hair. For those who have dandruff or other problems of a similar plan, more suitable products with ingredients designed to moisturize. For example, with jojoba extract.