You will need
fresh or dried burdock root, vegetable oil (olive, almond, sunflower).
Instruction
Recipe from fresh will surabondante about three tablespoons of peeled and crushed root. Need to put it in a saucepan and pour a glass of any vegetable oil, preferably olive or almond. Stir and leave for a day at room temperature.
After that you need to put the prepared butter on a slow fire and boil it on a slow fire for half an hour. Then, after complete cooling, strain and pour into a glass dish.
Recipe of dry cornamuse in advance to prepare burdock roots, clean them and dry. Then 100 grams of the roots we need to grind into powder with a mortar. Pour the powder into a glass dish and pour it with a Cup of any vegetable oil.
To insist three weeks in a dark place (not the refrigerator!) and do not forget to regularly stir. Then burdock oil needs to drain.
Useful advice
The application of burdock oil: slightly warm and apply to hair, comb through with a brush and leave for a couple of hours, then rinse with a mild shampoo. The course of recovery - not less than 10 procedures.

In addition, the oil of burdock is effective in brittle nails. To daily apply oil to the cuticle and nail plate, steam them prior to using warm baths. The following procedure should be done within a month.

Burdock oil will help with the peeling of the skin, it nourishes the eyebrows and lashes. Masks of this oil will reduce wrinkles and save you from dryness.
Advice 2 : How to RUB burdock oil
Burdock oil is made from natural ingredients burdock root. The composition contains mineral salts, fatty and volatile oils, acids, vitamins, tannins. All this allows to use the drug in the form of photoactivity for growth and repairing damaged hair, nails, eyelashes, as well as anti-microbial agents seborrhea, hair loss, dryness and itching of the skin. Available in bottles of 10 to 130 ml.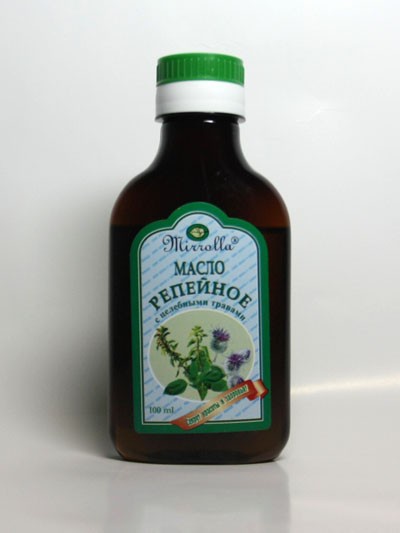 You will need
- burdock oil;
- comb;
socks;
gloves.
Instruction
Use burdock oil, if you have hair fall out, not grow, damaged by colouring or perming, with itching, dryness and dandruff of the scalp, with loss of elasticity of hair. Can apply burdock oil in the fragile and brittle nails, dryness and the presence of wounds on hands and feet mastitis.
To use the oil rinse hair with warm water without shampoo, and Pat dry with a towel. Divide the hair into partings, massage the warm oil and massage gently into the scalp for 30-40 minutes. Spread throughout its length. After 1-2 hours rinse the oil with a mild shampoo, rinse with hair conditioner. Treat 2-3 times a week for a long time. Can use oil constantly. If the hair is heavier, temporarily stop the application.
If you have weak hair and do not grow, use burdock oil with nettle extract. For itching scalp, dry, damaged hair, frequent use of styling products make application with burdock oilm enriched with propolis. After chemotherapy, with frequent coloring, chemical perms, hair loss use oil with ceramides. Oil with Ginko biloba massage to improve blood circulation, to activate growth, strengthen the roots and hair loss.
When mastitis massage the oil into the skin of the breast lightly, without massage. The course of treatment is 1-2 months.
To strengthen nails, with small wounds and cuts on the skin of the hands and feet, RUB oil daily at night. After rubbing the skin of hands and nails, use gloves, the skin of the feet socks. In the morning rinse off the oil with mild soap or gel. RUB daily for one month. After one to two weeks, repeat the course of therapy. This will strengthen the nail plate, relieve dryness, heal cracks and wounds on the hands and feet.