Boiled sausages
Cook sausages in the microwave is easy - it is important to find the suitable dishes and not pour too much water. Remove the shell from the film, if any. Place sausages in a plastic saucepan and cover with water so that the liquid is only slightly covered them. Cover the saucepan with a lid or plate and place in the microwave. Cook sausage for 2 minutes on full power, and then remove, put on plates and serve.
Baked sausages
This dish is prepared very quickly. It would suit any sausage, smoked sausage or wieners. Serve them with toasted toast and spicy tomato or garlic sauce.
Slice sausages on the ends crosswise. Place them on a plate, cover for microwave oven and bake for 3 minutes on maximum power.
Sausages with cheese
This delicious dish can be a snack to beer or a simple dinner. Add the meat, green salad and fresh vegetables.
You will need:
- 4 sausages;
- 100 g of cheese;
- dried herbs (Basil, celery, oregano);
- ground black pepper.
Sausages spread out on a plate, cut each in the middle. In the section add a little bit of herbs, add pepper. Put a plate in the microwave for 2 minutes. Cheese cut into thin slices and place on top of the cut. Again place the dish in the microwave. Bake the sausage for 1 minute at maximum power - the cheese must melt. Serve with fresh black or multi-grain bread.
The thus prepared sausage would be a great dish for lunch or dinner.
You will need:
- 300 g of sausage;
- 800 g boiled potatoes;
- 2 eggs;
- 250 g of wheat flour;
- 100 g semolina;
- 50 g of butter;
- 100 g sharp cheese;
Sol.
Hot boiled potatoes mash into a puree. For greater uniformity of root crops, you can skip through a meat grinder. Add the egg, flour, semolina and salt. Knead the dough until smooth. On a floured Board roll it into the reservoir, and then cut into rectangles the size of the respective sausages.
Free sausages from the foil, place the potato squares and carefully desipite the edges of the dough. Melt the butter and whisk it with the egg. Lubricate this mass of sausage rolls. Lay them in the dish for microwave ovens and each sprinkle with grated cheese.
Place the dish in the microwave and bake for 6-7 minutes at medium power. The cheese should be fully melted.
Advice 2: How to cook sausages in the drying
Simple and unique dish that can make even a child!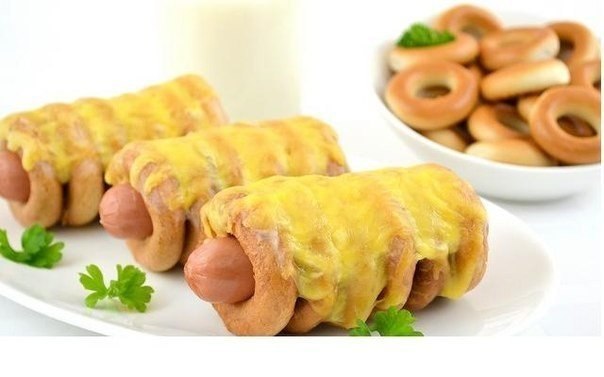 After soaking in the milk drying will become soft and delicious. Therefore, you need not fear that they will remain hard. I advise you to take not too sweet suitable for the diameter of the sausage drying.
For cooking sausage in the crackers you will need: 6 sausage (about 300 grams), 36 dryers (300 grams, the amount depends on the length of the sausage), 100 grams of cheese, 2 tbsp mayonnaise or sour cream, a pint of milk for soaking.
The first thing to do is to clean sosyk from the shell. If it is made from natural ingredients, it should not be removed. Cooking sausages is not required.
Now on every sausage we put on for 6 crackers. If the sausages are longer or shorter - yourself select the amount.
Put sausages with crackers in a plate or bowl of warm milk. So the process will go faster. Leave it soak for 15-30 minutes. Periodically turn over the almost finished product for uniform impregnation.
Cheese grate, preferably large.
Lay out the sausages with crackers in a baking dish or baking sheet. Oil for lubrication is not required.
Sour cream or Minatom grease drying on top and sprinkle with cheese.
Send the product in a pre heated oven at 180 degrees for 15-20 minutes. This dish on request can be cooked in the microwave. Served definitely hot.
Advice 3: How to cook sausages so they will maintain the taste
Sausages are a mix, which before its consumption must be boiled. This can be done in a pot of water, and in a slow cooker, steamer and even a microwave.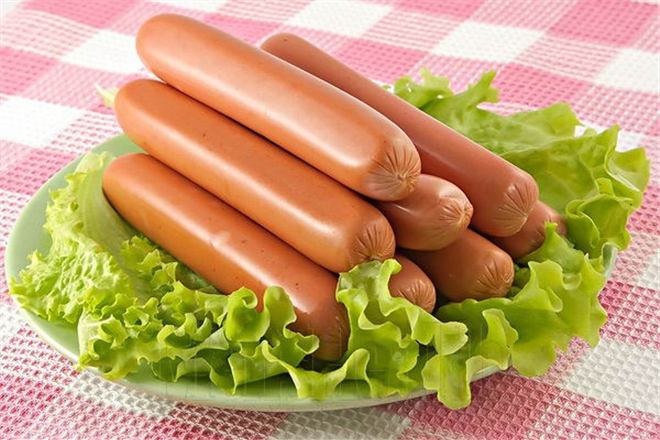 General guidelines
Special rules for making sausages do not exist. In any case they are cooked, if you throw them in boiling water. However, there are some recommendations that will help to make the sausages more succulent and tasty.
The semi-finished product may be enclosed in a plastic sheath and are natural. The first is easy enough to remove, if it is carefully make an incision from the edge and pull. Natural casing can be difficult. It is considered more environmentally friendly, but to remove it is not so easy, and eat a sausage with it not very hygienic and tasty.
If you bought sausage in the plastic shell before boiling be sure to remove it. Product in genuine "clearance" before cooking enough to pierce with a fork in several places, so they do not burst.
How to cook sausages in a pan
For cooking sausages, you should take a small pan, fill it water and put on fire. The product can be cast both in cold and in hot water. However, if you want the sausage retained its flavor, put them in boiling water. Salt it is not necessary. After 5-7 minutes the sausages are ready to eat. To increase the cooking time is not recommended because the product may lose not only your taste but also presentable.
How to cook sausages in the microwave
In microwave oven the product can be boiled in just 3 minutes. Thus it is necessary to select the maximum capacity of the furnace, and hot dogs must be in containers with water so that it completely covers them.
How to cook sausages in the steamer
The cooking time of the sausages in the steamer is not more than 10 minutes. For this you must place the mix in a special bowl and turn on the steamer for 10 minutes. Gourmets claim that sausages, steamed, have more saturated taste and aroma.
How to cook sausages in a slow cooker
For the preparation of prefabricated pour into the bowl multivarki water, place hot dogs. Select the program "steaming". Put the timer on for 10-15 minutes. The countdown will start after boiling water.
What to serve sausages
The most common garnish for boiled sausages are pasta. With them also combines lettuce, tomatoes or mashed potatoes. Meals with sausages can be safely complemented with a variety of
sauces
, such as tomato, cheese, soy. You should not write off from accounts and mustard.