You will need
Stew (beef, pork) - 1/2 banks.
Tomato paste (if not replaced ketchup) to taste.
Salt, spices, herbs - to taste.
Flour - teaspoon.
Water - 1/2 Cup.
Instruction
Open the tins and put half the contents into the pan. Oil is not necessary, as by itself, corned beef is pretty fatty.
Heat on medium heat the stew until all the fat melts.
Add to the stew water. Stirring occasionally, wait until boil.
When it boils, add tomato paste (ketchup), salt, spices. Stir until uniform colour.
Carefully, slowly, pour a little flour to our sauce, while stirring constantly. Flour is needed to thicken the gravy, so if you like liquid - add a little flour, and if you're a fan of the thick gravy - pour more.
Once finished with the flour, allow gravy to simmer for another 30 seconds. You can then add herbs to taste and cover with lid. Turn off the oven and leave our gravy minutes for 3-5 infusions.
Tasty and simple gravy from
the stew
is ready! Bon appetit!
Advice 2: How to cook a thick sauce with the meat?
Gravy
- the perfect complement to many main courses. It can be either too liquid or thick. Try to cook the second embodiment, it is satisfying.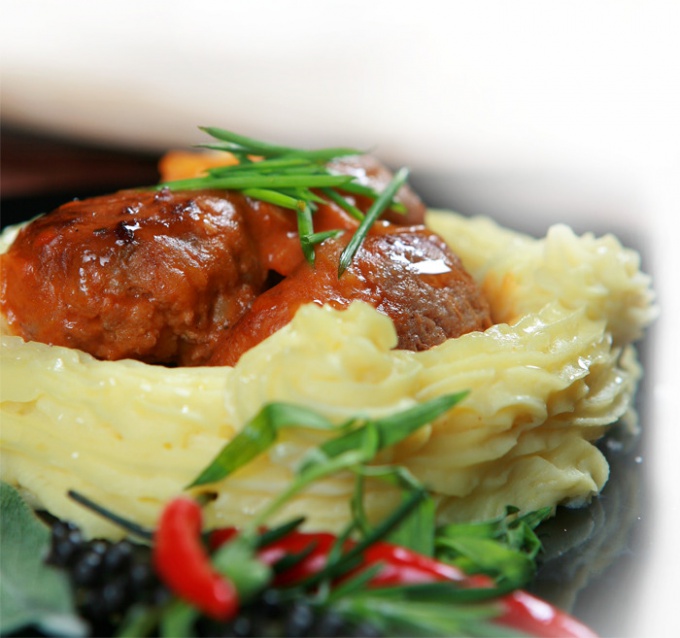 You will need
- 500 grams of pork;
- 250 grams of sour cream;
- 2 tablespoons sifted flour;
- 1 tablespoon tomato paste;
- 3 cloves of garlic;
- salt, pepper to taste;
- vegetable oil for frying.
Instruction
For starters, you must carefully prepare pork is to wash the selected piece under cold running water, lightly tap it with a hammer and cut into small pieces. At desire it is possible to beat the meat after cutting, it will take a little more time, but it will be very tender and soft.


Pork fry in any vegetable oil with finely chopped garlic. Salt and pepper the meat and add favorite seasonings. You can use ready-made spice blends designed specifically for roasting meat.
In a separate bowl mix the sour cream and tomato paste, dilute the mixture with water and add the flour. Salt and pepper to taste. The fluid should be homogeneous, with no flour lumps. But use the mixer for mixing not recommended.
Add this mixture to meat, mix thoroughly the products, cover with a lid and leave to languish on low heat. It is also important from time to time, stir the dish and watching as the gravy thickens.
After about 15 minutes the dish will be completely ready. To serve this sauce can be any garnish. It goes well with mashed potatoes, buckwheat, pasta, vegetable stew and rice.
Note
If desired, you can replace the tomato in any ketchup. It will not greatly change the taste of the finished dish.
Useful advice
If the house proved to be too little cream, you can complement it with a small amount of mayonnaise.
Advice 3: How to cook rice with stew
Rice with stew — easy, tasty and fragrant dish that is very quickly prepared and perfect for lunch or dinner. Rice and stew can be combined in the form of pilaf, vegetable stews and even soup. The use of potted meat will make the dish hearty and moderately high in calories.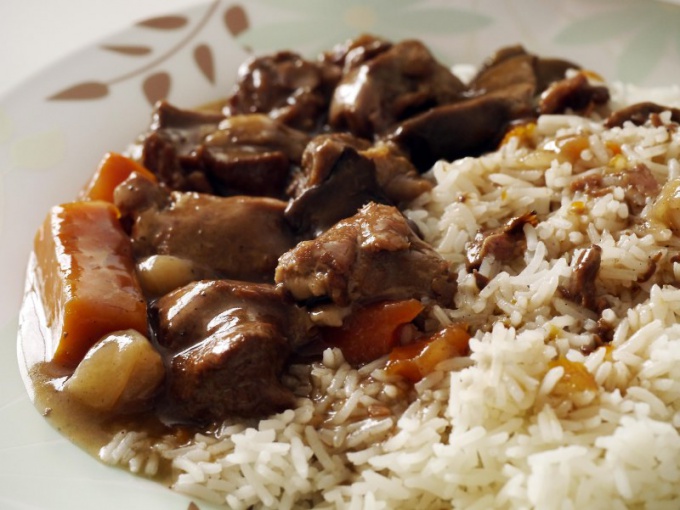 You will need
For cooking rice in Italian with stew (us 6 servings):
- 700 g stew;
- 200 g of rice;
300 g vermicelli;
- garlic — 5 cloves;
- 2 tbsp tomato paste;
- greens (dill, parsley, coriander);
- 100 ml of vegetable oil;
chicken broth
- Bay leaf;
- salt, pepper (to taste);
- a saucepan.
To prepare the soup with rice and stew:
- 300 beef stew;
- 100 g of rice;
- leek;
- tomatoes — 2 PCs.;
- pepper — 2 PCs.;
- carrots — 1 PC.;
- herbs (parsley, dill, etc.);
- salt, spices (to taste).
To prepare the stew with rice and stew:
- 400 g beef stew;
- 100 g of rice;
- eggplant — 2 pieces;
- tomatoes — 2 PCs.;
- 250 g cauliflower;
- onions — 2 PCs.:
- 50 ml vegetable oil;
- pepper, salt (to taste);
- herbs (parsley, dill, Basil, etc.);
water;
- roaster.
Instruction
Treat your homemade rice-Italian stew. In a saucepan calcined dry vermicelli until Golden brown, then add the vegetable oil and washed rice, stir. Pour in satanic boiled water to cover the rice and noodles, dissolve in water, cube chicken bouillon, add a few Bay leaves and crushed in chesnokodavilke garlic.

Bring the rice and vermicelli until soft, then put the skillet in a pre-heated oven, add a little more water and simmer until then, until you evaporate any excess liquid. Meanwhile, heat a pan, add vegetable oil and canned meat, finely chopped herbs (parsley, dill, etc.), Bay leaf, crushed garlic and tomato paste. Remove the casserole from the oven, divide the rice and vermicelli around the edges of the plates, and in the middle put the stew. The dish can be served to the table.
A simple and tasty dish will work if you have vegetables (can use frozen) and stew from which you can cook soup with rice and stew. Tomatoes wash, peel and finely chop. Sweet pepper wash, cut and remove the seeds and pith, then finely chop. Also slice the stems of leeks and herbs according to your taste. Carrots wash, peel and grate on a fine grater.

Chopped onions and carrots, sauté over medium heat in broth for about 10-15 minutes, then add rest of the vegetables and pour 1-1,5 liters of boiled water, let the dish to simmer. Meanwhile, rinse the rice and put in the soup, add spices and salt, cook until tender. 5-10 minutes before the soup is ready, add the canned meat and finely chopped greens. Then leave the soup for awhile to steep.
It turns out the original vegetable stew with rice and canned meat for cooking that need a roaster. Pour into the roasting pan a few glasses of water, wait until boiling, and then send it shredded pieces of corned beef. Rice wash. If you have time, figure it is better to soak in cold water for a few hours, and then it will become crumbly. Braise meat, then add rice, salt and pepper to taste. You need to cook over low heat until the rice has languished.

Meanwhile wash and clean the eggplants, cut them into cubes. In a pan, fry the slices of eggplant. Onions clean and cut into rings, add the eggplant and sauté vegetables until soft. Washed and sliced the tomatoes, put into a frying pan to the vegetables, season with salt and saute until tender.

Disassemble the cauliflower, cut off the stalks, florets chop. Cauliflower you need to add to the rice and the stew, when they are semi-ready. Simmer to about 5 minutes. If in the hearth there is little water left, you can pour more. Vegetables from the pan add to the pan, stir, again sprinkle with salt and pepper, then simmer on low heat until the liquid is evaporated, after which the dish needs to stand for 15-20 minutes.

Vegetable stew with rice and stew put portions on plates, garnish with a sprig of parsley or Basil, serve hot.