Mineral marinade for lamb: kebab recipe
Ingredients (for 3 kg of meat):
- 0,5 l of mineral water with gas;
- 2 onion bulbs;
- 300 g rye bread;
- 1 lemon;
- 2 tomatoes;
- 1 tsp of black pepper;
- 2 tbsp of salt.
Fold the prepared smooth cubes of lamb in a deep bowl or container. Slice the peeled onion half rings, tomatoes – circles and add to the meat. Cut the bread into cubes and moisten with a squeeze of lemon juice and pour mineral water. Let the mixture for 2 minutes to stand up and put it in a bowl with barbecue. All pepper, salt and mix gently with your hands to evenly distribute all the ingredients of marinade. Put the dishes in the refrigerator for 6-8 hours.
Oriental marinade for lamb
Ingredients (for 1 kg):
- 1 tbsp. vinegar;
- 1 bulb onion;
- 1 tsp of cumin and dried coriander;
- 0,5 tsp ground paprika;
- large pinch of red and black ground pepper;
- 1 tsp of salt.
Use to marinate meat is chemically resistant dishes of glass, ceramic or enamel with no chips.
Chop the onion in small cubes. Mix the vinegar with the seasonings, onion and salt. Immerse in the prepared marinade the lamb in one piece, if it is intended for roasting, or cut into slices or medallions, if you are going to fry on skewers or grill. Leave the meat in the cold for 5-6 hours.
Fruity marinade for lamb
Ingredients (for 1.5 kg):
- 1 tbsp. orange and pineapple juice;
- 1 bulb onion;
- 2 cloves of garlic;
- 4 stalks of fresh rosemary;
- 1 tsp of dried thyme and black pepper;
- 1 tbsp of salt.
Crush garlic cloves in a mortar or a special press and chop the onion. Connect the two components with the juices, season with pepper, salt and dried thyme. Pour the marinade in a sturdy plastic bag, attach the pieces of meat needed for the planned meals size and whole sprigs of rosemary. All tie tightly and marinate lamb for at least 1 hour. Do not hold please its fruit marinade longer than 4 hours, otherwise it will become too soft because of the pineapple juice with protein-digesting enzymes.
Pomegranate marinade for lamb
Ingredients (1.5-2 kg):
- 1 tbsp. unsweetened pomegranate juice;
- 0,5 tbsp. vegetable oil;
- 4-5 cloves of garlic;
- 30 g shallots;
- 0.5 tsp. of ground red pepper;
- 1 tsp of ground coriander and black pepper;
- 1 tbsp of salt and the chopped herbs of oregano;
- 2 tbsp chopped green thyme and rosemary.
When buying a lamb leg, note the color of meat and fat, they should be pink and light beige, respectively.
Grind in a mortar or blender with garlic and spices with salt and herbs. RUB this mixture a large piece (the leg) of lamb, wrap it in clingfilm and leave in the fridge during the day. Finely chop the shallot, pour the pomegranate juice and oil and marinate it in this sauce the meat for another 12 hours, then dry on paper towel and bake.
Advice 2 : Lamb meat in the marinade from Chile
Lamb, named in cooking lamb is the preferred meat product, as it not only is an excellent source of all essential vitamins, minerals, animal proteins, but also well absorbed.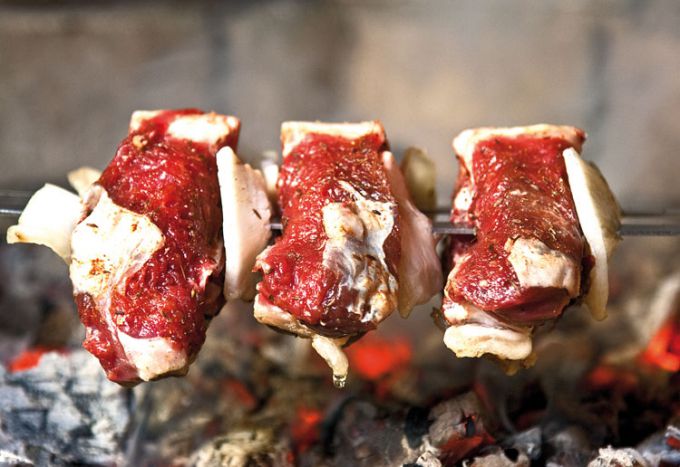 Lamb is very different in its nutritional and flavor from the usual lamb, as those lambs intended for slaughter, provide the best food, e.g., hay, fresh grass and grain. In addition, farmers are holding those lambs that have not reached six months of age, as far as possible from the adults, and this is done to ensure that young lambs are not have an excess fat and has not acquired any infection.
In cooking lamb is versatile meat, as it is possible to prepare any meals, including tender cutlets and all kinds of snacks. Lamb is very soft and juicy meat that you can combine with prunes, nuts, various spices, such as pepper, grated Muscat nut, ginger. Perfectly meat of young lamb with almond and wine sauce.
Lamb in a marinade of Chile
For cooking delicious food, which is called lamb in a marinade of Chile, will need a set of the following components:
- chops of lamb (4 pieces);
- freshly ground pepper, honey flower liquid salt;
- garlic peeled teeth (3 pieces);
- sundried tomatoes in oil (4 pieces);
- Chile peppers (1 pod);
- onions (1 head).
Paper towel to carefully blot the lamb chops, then chop the peeled onions. Very finely chopped a pod of burning Chile, and tomatoes to pass on a sieve and wait to drain the oil. Separately leave 2 tablespoons oil and the tomatoes very finely chopped.
Chile, flower honey (2 tbsp), cleaned the teeth of garlic, salt, chopped onion, tomatoes, freshly ground pepper stir in the marinade to lay out for ten minutes lamb chops. After the allotted time, the meat of young sheep to spread on the pan and fry for six minutes.
Remove from the pan roasted lamb chops, cover them with a lid, and in the same pan heat up a spicy marinade, simmer the mixture until thick. Prepared spicy sauce to pour roasted lamb chops, serve them with salad and a side dish of mashed potatoes with chopped parsley.