What is the cornrows out
Cornrows out practical not spoil the hair. The only rigid fixation, they can become more brittle.
The word "cornrows out" means "braid weaving". This hairstyle consists of many thin braid, weave usually at least 100. Cornrows out there are natural and artificial. The first braided without weave in additional materials, called Thai pigtails. This hairstyle lasts for about a month. Faux cornrows out are different in that woven into braids kanekalon. They are divided into types according to the method of weaving. There are: African, French, nedaplatin, which are divided into several types. Cornrows out are not only women but also men hairstyle. In order to braid it, it is important to have the hair length not less than 7 see
Nadoplatu. Hairstyle with a partially woven into braids strands of kanekalon. There are different types of styling: pony, curly, ripple. The first is characterized by free tips of braids, which are slightly curled, this hair is often harvested in the ponytail. Characterize lush curly spiral strands of kanekalon which are woven into the strands at the roots braids. This hairstyle will especially surround. Ripple is similar to styling curly, but differs by the use of strands of shirred of kanekalon. This method mimics the chemistry. Nadoplatu hold for about a month and if you want to wear a longer hairstyle, you need to correct it.
African braids - the most common form of Brady. Represent the hair out of the loose braids, which are woven artificial strands of kanekalon. This hairdo can stay 3 months and do not require adjustment.
French cornrows out different tightly against the head of the braids. They can form interesting patterns and weave. To correct this hairstyle needs time in a month.
How to braid cornrows out
It is advisable to braid and undo the cornrows out specialists not to harm the hair.
You can yourself braid the classic African braids and French. Other types of Brady is best done by specialists not to harm the hair. Well if you will help with the haircut of a friend, because this process is long and can take a whole day. In professional salons over the cornrows working for several hairdressers. Weave only on clean hair. For the convenience of working on the hair apply on hair leave-in conditioner and carefully comb them.
African cornrows out. Divide the hair into many small pieces horizontally and vertically. Select one strand for weaving, fasten the remaining clip out of the way. When duplicate braid, secure it how you like.
French braids. Begin weaving with the edge of hair growth at the forehead, as is most convenient. Choose a thin strand with a comb, divide it into three equal parts. You cross the right strand over the middle, while the first remains on top. After the left strand stacked over the former right. You have a left strand will be in the center, it needs to be put under the right strand. Now in a pigtail added artificial material, kanekalon. Then we have the usual braids will turn into cornrows out. To press the braid to the head, add very thin strands of hair braided to the extreme. First the right side then the left. Please note to receive the parting, it needs to be smooth. Braid according to this principle, until you reach the nape of the neck or the end of growth of hair on the head. It all depends on what hairstyle you want to get. After lagging the usual loose braid.
Advice 2: Do Zizi braids
Many girls waives weaving afrokosichek when they find out how much it will take time and require money. Today in the beauty industry developed an alternative method of weaving, which is offered to Your attention.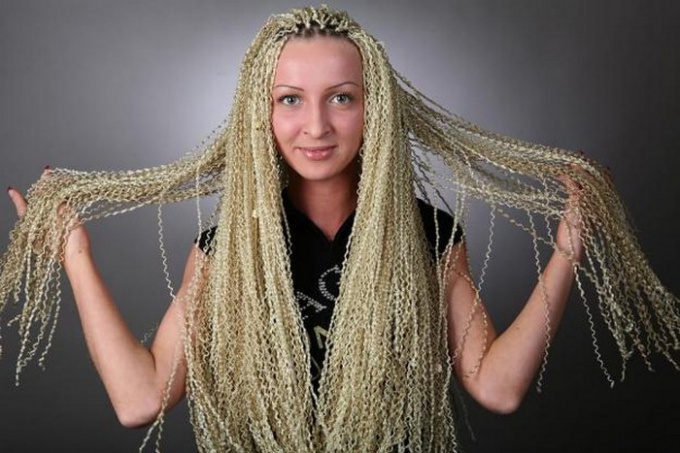 The pros and cons of braids Zizi
The main advantage of this method is speed, because it is completely controlled by will 4 hours. In addition, the classic African
braids
are much more expensive. Low cost braids Zizi, due to the use of special tools instead of manual work. Unlike conventional African braids, this technology does not involve weaving the hair of natural fibers. In addition to saving time and money, it greatly facilitates the work of stylist. The materials of braids Zizi not disposable. If you wear them carefully and faithfully to care for them, then the old preset, you can braid it again.
Technology Zizi
With such a task as braiding Zizi handle any professional. Beauty salons usually acquire professional quality material and have regular suppliers. Specialist in addition to talk about the future care of the hair. Braid braids Zizi can be and at home, inviting a specialist.
Manufacturers offer a range of colours braids Zizi: more 25. Blanks also differ in shape: has a regular straight, crimped, and wavy and spiral.
The technique of braiding Zizi on is complex. First, you need to wash your hair and carefully comb. Then you have to divide the tufts of hair into strands with a diameter no wider than half a centimeter. Each strand is intertwined with one or two thin braids that are then released through cornrows out.
Braid braids Zizi is recommended on the hair length from 7 to 25 cm, but technology also permits the netting on longer hair.
Zizi braids are made from a lightweight, natural material, therefore do not overburden hair. They are harmless even for thin, weak and split hair. For these reasons, Zizi braid, you can braid even for pregnant and lactating women. Moreover, since this hairstyle doesn't require much time for care, it is perfectly suited for the busy lifestyle of young mothers.
Hairstyles of braids Zizi
Braided pigtails can be considered ready hair, but for variety, you can try different ways to style it. Even direct pigtails it is possible to wind and use the waves to give them volume.
You can braid one or two very tight braids "fish tail".
Braids can be divided into 2 parts, tighten them and stretch around the head with one and other. Secure the harnesses can be a barrette or rubber band.
Braids can be easy to collect at the crown into a ponytail and the elastic band to hide with a few braids wrapped around the base of the tail.
In the principle of small braids Zizi can weave all sorts of braids, for example, a spike or openwork braid Crescent at the bottom of the head.