Carrot salad
Small carrots should be washed and cleaned. Then it finely RUB on a medium grater, add the sugar and fill with sour cream. 100 g carrots you will need: 10 g sour cream, 5 g of sugar.
Salad greens
The leaves of the lettuce carefully move. Sticks should be separated. The leaves are washed in cool running water. Then finely chop them. Fresh cucumber washed and cleaned from the skin. It should finely chop and mix with chopped leaves and chicken egg. The salad is dressed with yogurt or sour cream. To prepare you need: 1/4 eggs, 50 g of cucumber, 3-4 leaves of lettuce, 10 ml of yogurt or sour cream.
Beetroot and cranberry salad
Beet wash, peel and boil in slightly salted water. Then it finely RUB and fill with cranberry juice, sugar syrup and cream. For preparing this salad you will need: 100 g of beet, 5 ml sugar syrup, 10 g of cream, 5 ml of cranberry juice.
Manne souffle
From milk and semolina should cook viscous porridge. After this is added butter, and all the consistency of well whipped. Allow to cool a little porridge and add 1 egg. Fresh Apple wash, peel, cut into chunks and boil in water. Connect the prepared apples with semolina and pour in the sugar syrup. The resulting mass is put in an enamel bowl, greased with butter. Preparing a soufflé on a steam bath for 30-40 minutes. For its preparation requires the following ingredients: 1/4 piece of chicken eggs, 5 g of butter, 100 ml milk 10 g semolina, 50 g of apples, 10 ml of sugar syrup.
Ready souffle Manne keep it in the refrigerator no more than days.
The broth
For the child of a meat broth, it is preferable to cook beef meat (sternum, scapula). Also it can be prepared from poultry or meat bones. Before cooking bones or meat should be well washed with water. At first the meat is boiled for 5-7 minutes. Then washed and boiled until tender. About 40 minutes before end of cooking in the broth add onion, parsnip celery, carrots. Onions should not peel and shred. Remove only the top layer of skin.
Onion pre-rinse well with cool water.
Celery and carrots cleaned, washed with cold water and cut in half lengthwise. Before putting in boiling broth, fry them on a dry pan until Golden brown. For 20-30 minutes until cooked soup salt. To prepare it you need: 10 g of vegetables, 300 ml of water, 50 g of meat, 1.5 g of salt.
Advice 2 : Children's menu: dish of cottage cheese for children under 3 years
Cheese – a product that must necessarily find a place in the diet of children. First acquaintance with cheese is to organize at the age of 6 months, earlier "first meeting" pediatricians recommended at the age of 3-4 months, but over time, these recommendations have undergone several changes.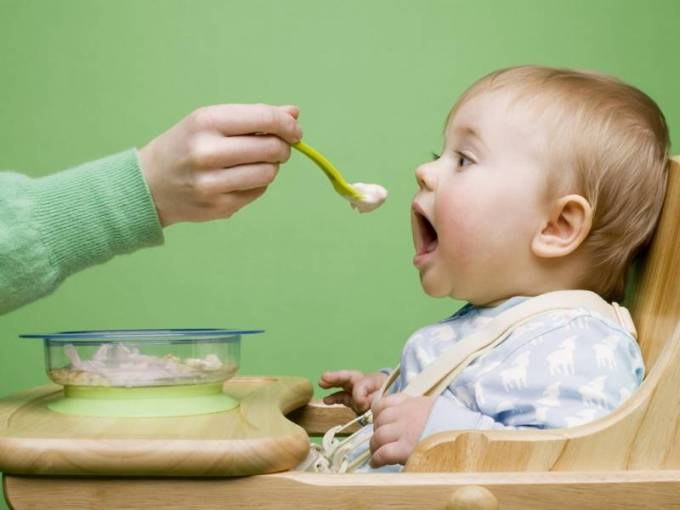 Cottage cheese


The choice of cheese to your children's dishes should be approached with great care. The best solution would be self-cooking. To 300 g of useful fermented milk product can be from 0.5 l milk and 1 l of kefir. In the boiling milk, add the yogurt, after the beginning of setting the pan remove from heat and let cool. The resulting curd clot, place in clean gauze, folded in 2-3 layers. The resulting curd keep in the refrigerator for 36 hours.

If for the manufacture of cottage cheese to take the acidophilus milk, you will get a product that can inhibit the activity of putrefactive bacteria. For cooking put in a water bath 700 ml of milk. The temperature increase triggers the setting process, the formed curd kom, place in cheesecloth and allow to drain. As a result, you will get a useful 100 g of enriched cheese.

The consumption of calcined curd should be consistent with the pediatrician. If the reply is positive, you can go for ingredients: 10 or 20% solution of calcium chloride and milk. In a saucepan, pour 650 ml of milk, add 20% solution of calcium chloride in an amount of 6 ml. Ingredients stir well and bring to a boil. When cooled formed the curd, which is placed in a gauze. Whether the cheese is stored exclusively in the refrigerator.


Cottage cheese casserole


This dish is recommended to give children under the age of 2-3 years, because babies under one year is not desirable, the consumption of sugar, included in its composition. For portions of casseroles (100 g) you will need:
- cottage cheese – 60 g
- fruits – 10 g
- sugar – 5 g
- semolina – 4 g
- butter – 1 g
- milk – 15 ml
- wheat breadcrumbs – 1 g
- sour cream – 8 g.

Milk, sugar, curd and semolina mix in a convenient container and place it in a form previously greased with butter and sprinkled with breadcrumbs. Send a casserole in the oven, pre-heating it to 180°. After 20 minutes dish sprinkle with sugar and fruit, then bake for a further 10-15 minutes.


Cheesecake


To diversify the child's diet pudding can be 1.5–2 years. For Apple-cheese pudding will require:
- cottage cheese – 35g
- grated Apple – 40 g
- egg – ¼
- sugar – 10 g
- wheat bread – 3 grams
- butter – 3 g
- jam – 5 g.

Combine and mix thoroughly grated cheese, apples, sugar, egg yolks, whipped whites. Grease the form with butter and sprinkle with breadcrumbs, put mass, put in a water bath and cook for 45 minutes. Before serving, pour it with jam or syrup.


Fruit stuffed cottage cheese


Cottage cheese and fruit – a surprising tandem, able to surprise the kids, for whom cheese does not bring great joy. Bits and pieces older than 2 years it is possible to diversify the diet of cottage cheese and prunes. 50 g of prunes pour boiling water for a quarter of an hour. Dry it with a towel and make a cut on the one hand, if the fruit contains seeds, remove them. Curd mix with sugar and put into the prunes. Stuffed prunes bake in the oven at a temperature of 170оС for 10 minutes.