Rules of work with immersion blender
Compact and lightweight immersion blender lets you blend soups right in the pot, not pouring them into other containers. With the help of this device can be turned into puree cooked or raw vegetables, to make mince, whip mousse, sauce or cream. To perform all these operations will help to a set of interchangeable nozzles, which are equipped with every blender.
For cooking you can use any container. We should proceed carefully - in the absence of the protective cover, the liquid and small pieces of food can spread throughout the kitchen. The unit is suitable for grinding or whipping small batches of products not intended for long continuous operation.
Choosing model, consider the power and weight of the device, as well as the number of nozzles and additional accessories, for example glasses for the storage of finished products.
Best recipes: squash soup
Try to cook soup - the blender will ensure a delicate texture and lightness meals. You will need:
- 2 chicken Breasts;
- 1 sweet pepper;
- 1 small zucchini;
Sol;
- 0.5 cups cream;
- freshly ground black pepper.
The cream can be replaced with milk, the soup will be more diet.
In a saucepan put the washed chicken Breasts, fill them with water, bring to a boil. Remove the foam, add salt and cook the chicken until tender over moderate heat. Then, remove the breast, cut the meat and set aside.
Zucchini peel, the pepper, remove the partitions and seeds. Chop the vegetables and place them in the broth. Cook until tender, return to the pot the chicken and preroute soup immersion blender. Pour in a saucepan the cream, add salt to taste and mix. Heat soup without boiling, and then sprinkle with freshly ground black pepper and pour into plates.
Berry mousse
With an immersion blender, you can quickly prepare a delicious dessert - mousse fresh berries with a layer of cookies.
You will need:
- 250 g of berries (strawberry, raspberry, blueberry);
- 100 g of sugar;
- 2 egg whites;
- 100 g shortbread;
- fresh mint for decoration.
Berries wash and dry. Place them in a deep bowl and blend with an immersion blender. Stir in the sugar and then one by one add the egg whites while whipping. You get lush homogeneous mass.
In a mortar mash shortbread biscuits, broken into pieces. In wide glasses, place a layer of berry mousse, then a layer of shortbread crumbs and another portion of the berry mixture. Decorate each portion with leaves of fresh mint. Before serving dessert keep in the fridge.
Advice 2: How to cook strawberry
Strawberry – very tender, juicy, flavorful
berry
. Rich in vitamins, micro and macro. There is a huge variety of dishes using strawberries. It preserves and jams, soups, desserts, pastries, drinks and cocktails.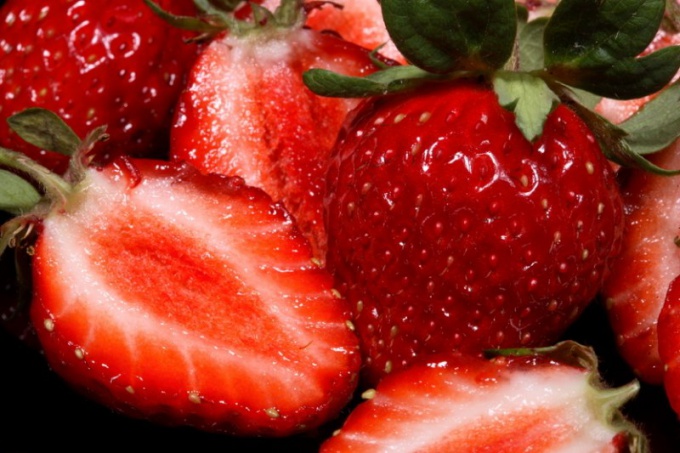 You will need
300 g of fresh berries;
600 g of sugar.
Summer soup
1-2 bananas;
200 g fresh strawberries
3 tbsp. sugar;
vanillin;
yogurt.
Strawberry-banana smoothie:
0,5 tbsp. low-fat cream;
2-3 tsp of sugar;
0,5 glass of milk;
banana;
100 g fresh strawberries.
Strawberry cheese pie:
500 g of cottage cheese;
3 eggs;
300 g strawberries;
200 g of sugar;
flour.
Strawberries and cream.
200 g fresh strawberries;
low-fat cream;
vanilla.
Instruction
Strawberry jam

Sort through the berries from the stems and leaves. Wash well under running water and drain on paper towels. Fold the berries into the cooking basin or pan with high sides. Sprinkle on top with sugar. Leave for 6-8 hours.
Put the strawberries on low heat, bring to a boil, remove the foam and turn off the gas. When cool, repeat the procedure again. Then bring the jam to your desired consistency and pour in the banks.
To berries in jam to save the form, choose freshly picked strawberries and cook in small portions.
Strawberry-banana smoothie

Banana peel and cut into small pieces. Put in blender, add a little water and vanilla. Mix all until smooth. Rinse the bowl of the blender and pour it clean the strawberries. Pour in sugar and whisk well.
Serve the soup as follows: one half of the plate and pour the banana puree, the second strawberry. Mixing is not necessary. In the middle put a spoonful of yogurt.
Strawberry cocktail

Peel the banana, cut into small pieces, mix with cream and using a blender make a puree. Add the strawberries, sugar and bring to a uniform consistency.
Pour the milk and whisk well again. Pour into glasses. Garnish with whole strawberries and banana slices.
Strawberry cheesecake

The eggs with the sugar, whisk in the lush foam. Mix with cream cheese and flour to obtain a homogeneous mass.
The strawberries sort, wash under running water. Then drain on paper towels or a waffle. If berries are large – cut them in half.
Put the strawberries in a baking dish and pour batter. Place in oven heated to 180oC. After 50-60 minutes, the casserole will be ready.
Strawberries and cream

Collect dry whole strawberries of the same size. The berries must not be deformed or to let the juice. It is best to take a just picked fruit.
Rinse them well under running water and dry. Then put in small vases-morozhenitsu. Cream beat with a mixer until the formation of air foam. Pour them strawberries. If desired, the cream to replace butter with yogurt.
Advice 3: What can you make with a blender
Blender is a versatile kitchen appliance. With it, you can whip up your smoothie or mousse, make a soup, souffle, pie or other delicious food. Use a blender with a Cup or plunge - the mash, grind and whip.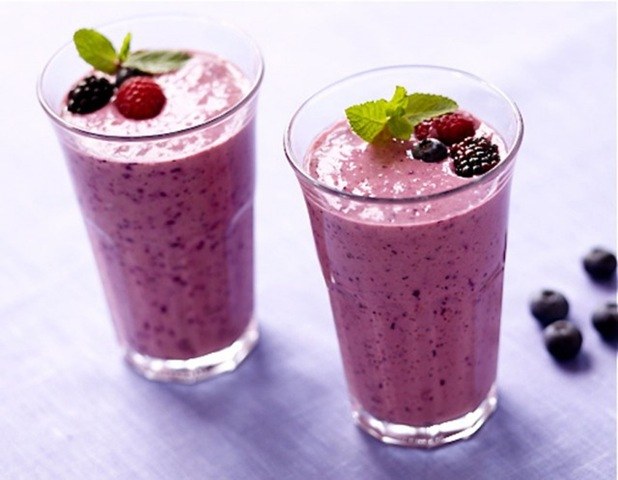 Tomato soup


Try to prepare a simple first course - soup. With a blender it can be made completely homogeneous. Choose the ripest tomatoes - unripe will not give saturated colors. If the soup seems too pale, add a tablespoon of tomato paste.

You will need:

- 700 g ripe tomatoes;
- 450 ml chicken stock;
- 450 ml of milk;
- 1 potato;
- 1 small onion;
- a bunch of green Basil;
- 1 teaspoon of sugar;
- 0,5 tbsp. vegetable oil;
- 0,5 tbsp. butter;
150 ml heavy cream;
- salt, freshly ground black pepper.

Wash tomatoes, dry and cut into small pieces without removing the skin. In a deep frying pan, combine oil and butter, melt. Finely chop the potatoes and onion, place in a pan, add the tomatoes. Simmer until all the vegetables are soft.

Pour in the mixture in the chicken broth and milk. Add the sugar, chopped Basil, salt and freshly ground pepper. Stir and simmer for 15 minutes. Cool the soup, pour it in the bowl of a blender and preroute. Then heat the mixture in a saucepan. Serve the soup in bowls, sprinkle each portion with pepper and add a tablespoon of cream.


Vegetable outlet


This beautiful dish makes a wonderful side dish to meat or fish. It is possible to prepare any root vegetables - sweet potatoes, yams, rutabagas or turnips.

You will need:

- 450 g carrots;
- 450 g of potatoes;
- 30 g of butter;
- 2 egg yolks;
- a pinch of nutmeg;
- a pinch of sugar;
Sol;
- freshly ground black pepper.

Clean the vegetables, cut them separately, boil in salted water until soft. Preroute vegetables immersion blender, then place on the pan and allow to evaporate excess liquid. In every part of carrot and potato and add the sugar, nutmeg, pepper, 1 yolk and half the butter. Place carrot and potato puree in a pastry bag and put it in a two tone rosettes on a baking sheet, greased. Bake in the oven preheated to 200oC, for about 20 minutes.

Banana milkshake with ice cream


Delicious and healthy dessert cocktail with bananas and ice cream. To make it easier to blend with the bowl. Use very sweet overripe bananas. At the request of the sweetness of the drink can be enhanced by adding a little liquid honey or syrup.

You will need:

- 2 large overripe banana;
- 2 cups of milk;
- 100 g of creamy ice-cream;
- 1 tsp coconut flakes.

Smash peeled bananas into pieces and put into blender. Preroute fruit, pour the milk, add the ice cream. Whip the mixture into a homogeneous mass, pour it in the chilled glasses. Each serving sprinkle with coconut flakes and serve.
Advice 4: How to cook the soup in a blender
Soup – a dish tasty, rich and fashionable. It bought in restaurants and cafes it is loved by girls, kids and respectable men. But not everyone is convinced that the same delicious soup, you can easily create in your own kitchen. However, any owner using a regular blender can easily turn a set of the foods in a delicious soup.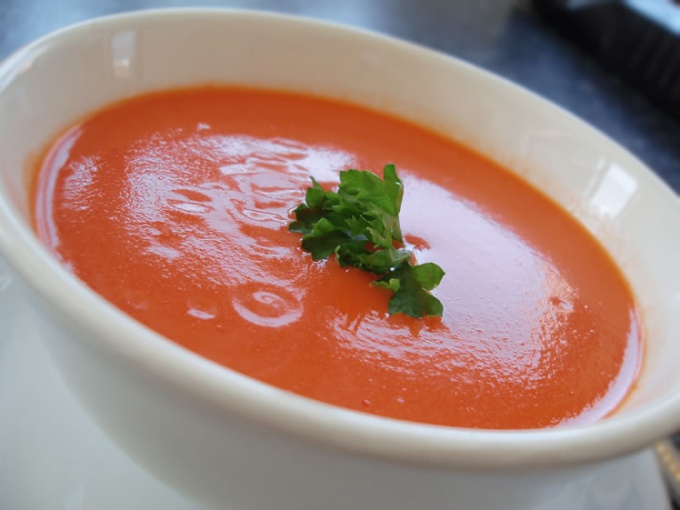 Instruction
The soup can be prepared as using the immersion blender and the blender bowl. With regard to products needed for the soup, it all depends on the desire of the hostess. You can prepare a hearty soup in meat broth, cream soup of mushrooms, diet vegetable soup.
The soup is served both hot and cold, there are also dessert options such as soups. The General principle of cooking – pre-softened products with a blender brought to puree state.
Soup-puree of carrot
In a metal saucepan heat 30 g of butter, add 300 g of sliced circles of carrots and half of the chopped onions. Cover skillet and simmer about 10 minutes. Add ginger powder. Pour 0.5 liters of chicken broth (pre-cooked or prepared from package). Salt, add black pepper.
Cook the mixture for about 40 minutes. Slightly cool the soup, pour it in the bowl of a blender and process until puréed. If you don't like the grainy consistency of the soup, after pulverization in a blender, wipe the finished soup through a sieve. Pour the mixture back into the saucepan and bring to a boil. Pour 50 ml of cream and stir. Ready soup garnish with a sprig of cilantro and slice the carrots.
Soup-mashed potatoes with mushrooms
500 grams of potato peel, cut into smaller pieces. Cook in small amount of salted water until tender. Finely chop 1 onion, fry it in vegetable oil. Add the onions 200 g sliced mushrooms, salt and fry onions with mushrooms until fully cooked and evaporation of water. Mushrooms, onions and potatoes, place in a blender and grind to puree state.
Mix 250 ml milk and 250 ml cream and add the mixture to a blender and whisk again. Pour the soup into a saucepan and bring it to a boil. Before serving, garnish the finished soup with green feathers chives Luka.
Dessert soup
600 g of frozen berries (raspberries, strawberries, cherries, currants), place in a pot, add 250 g of sugar, close the lid and cook in a little water for about 15 minutes. Cool the mixture and pour it into the blender. Grind the berries.
Pour the ready soup into cups and refrigerate. Before serving, put in each Cup a ball of creamy ice cream and garnish with a sprig of fresh mint.
Note
Do not boil ready soup – it will only need to bring to the boil. Remember the coffee brewing process on the stove – soup act in a similar way.
Useful advice
Soup you can prepare for the future. Pour it in portions molds or glass bowls and place in the freezer. As such, the soup is safely stored for 2-3 months.
Advice 5: How to cook squash in the slow cooker
Zucchini is a truly versatile product, perfectly combined with meat, poultry, fish, mushrooms, vegetables, various sauces and spices. That is why at least one garden on the site of modern Russian. busy with these fun and incredibly delicious "belly". Cook zucchini anything, especially if you have access to such a useful device as multivarka.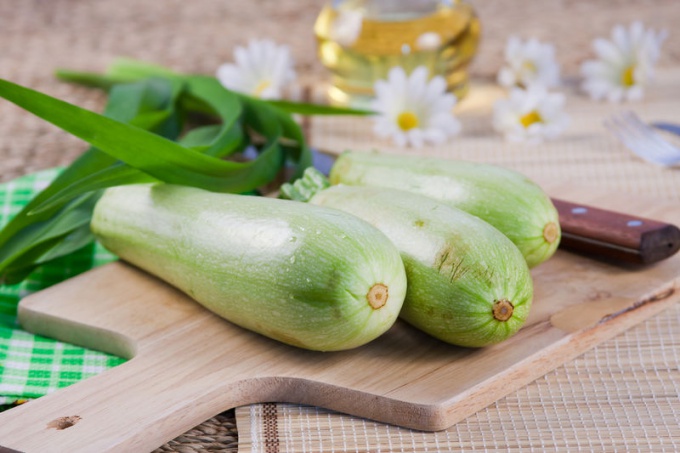 Braised zucchini in sour cream
Unlike the traditional way of creating culinary masterpieces dishes of zucchini in a slow cooker retains its flavor and useful properties. The easiest way of cooking zucchini braising them in cream.
The recipe involves the use of ingredients such as:
zucchini – 1 kg;
onions – 2 PCs.;
sour cream – 1 Cup;
starch – 1 . L.;
vegetable oil – 2 tbsp;
garlic – 2 cloves;
dill – 1 bunch;
salt and pepper to taste.
Wash the zucchini, remove the skins, remove the seeds and slice into rounds 2 cm thick, each split in half. Onions clean from the husk, wash, cut into half rings.
Turn on slow cooker, set the mode "Roasting", put the bowl of the device with vegetable oil and put in her bow. With constant stirring fry the onion until Golden brown, pour in slow cooker zucchini, add salt and pepper, mix thoroughly the ingredients, close the slow cooker lid and turn mode "Quenching".
Simmer the zucchini in a slow cooker should be on for 15 minutes. After this time, open the lid and pour the vegetables mixed with starch sour cream and add cooked in a slow cooker dish of zucchini finely chopped greens.
Caviar from squash in a slow cooker
Quite original is the recipe for squash caviar in a slow cooker, involving the use of products such as
zucchini – 2 kg;
carrots - 300 g;
onion – 300 g;
tomatoes – 300 g;
bell pepper – 300 g;
tomato paste – 3 tbsp;
salt – 1 tbsp;
vegetable oil for frying.
To cook squash the eggs in a slow cooker that tastes just like store-bought, use the vegetables of large size with Mature seeds.
To cook squash in the slow cooker this method, carefully wash the vegetables. Carrots chop on a coarse grater, pepper clean from seeds and cut into strips, onion finely chop. With tomatoes remove the skin, zucchini peel and seeds, cut the vegetables in small cubes.
The first part of the recipe of caviar from vegetable marrows is alternately roast vegetables in the slow cooker with the lid open and set mode "Frying":
carrots – 10 minutes;
the onion – 5 minutes;
pepper – 7 minutes;
tomatoes – 10 minutes.
Making a roast, place in a bowl multivarki zucchini, close the device cover, cook 20 minutes in the mode "Roasting", stirring occasionally.
To the zucchini add the fried vegetables, tomato paste and salt, close the slow cooker lid and set the mode "Stewing" on for 15 minutes. Ready vegetable mix blend with an immersion blender until a homogeneous consistency, the resulting squash the eggs boil in the mode of "steaming" for 5 minutes.
Prepared according to this recipe canned mushrooms in slow cooker can be used as preparations for the winter or snacks for everyday and festive feast.