Rationalism and beauty
If you prefer perennials, and I doubt that you will be able to devote sufficient time to the embellishment, choose a Phlox, a host or Stachys, popularly known as "bear's ear" due to its fluffy pile. To curb very well fit a simple Daisy. Planted from December to March seedlings, they are able in the first year to delight gardeners with its bright blooms.
Phlox give great results with proper planting and additional protection in the form of winter shelter. In addition, plants are very diverse, due to breeding have more than 20 colors.
Perennial carnation prefers warm temperatures and is planted only in April-may. Gorgeous ornament will create a common garden strawberries, borage, parsley and sorrel, which, if good care will not only please the eye throughout the summer season, but will also give edible shoots and berries.
Like pleasant aromas? Pay attention to unpretentious Roman chamomile, thyme and the stone St John's wort. Not demanding and worthy of the attention of the Bulgarian mountain or a gerbil sown before winter, easily tolerate the lack of moisture and resistant to vtaplivaniem.
The space between the plates it is recommended to fill lawn grass saxifrage or Zelenchuk that can be purchased as seedlings or seeds. These plants not only will improve the appearance of your site, but also create a favorable atmosphere to combat troublesome weeds.
Hedge
Cute repucci in June or July will give a pleasant variety even lazy gardeners with proper landing on the soft, humus-rich soil. Propagated Ajuga plugs and planted from may until September. If you have matured to dense flower borders, buy Phlox, which can be planted both in autumn and spring, bloodroot, peonies.
The outer edge of the tracks even in the garden are fittingly decorated with fine silver getting accustomed alyssium related to the category of spring and summer grasses, early in respect to the peduncle nibs or dwarf kinds of bells.
Classic pansies or marigolds, classified as annuals and planted in April-may in open ground or seedlings, will be a perfect decoration of garden and will please others until late fall.
Sun-loving geraniums will delight you right up to the Aug.
Nasturtium, verbena, thermophilic begonia, potted planting which able to prolong the life and bloom of this plant in the home, - all these simple, yet magnificent plant great addition garden landscape, created by skilful master.
Advice 2: What to plant in July
If you want to have on your summer cottage grew herbs and some other plants until the autumn, dosate all in July. This month perfectly suited for this.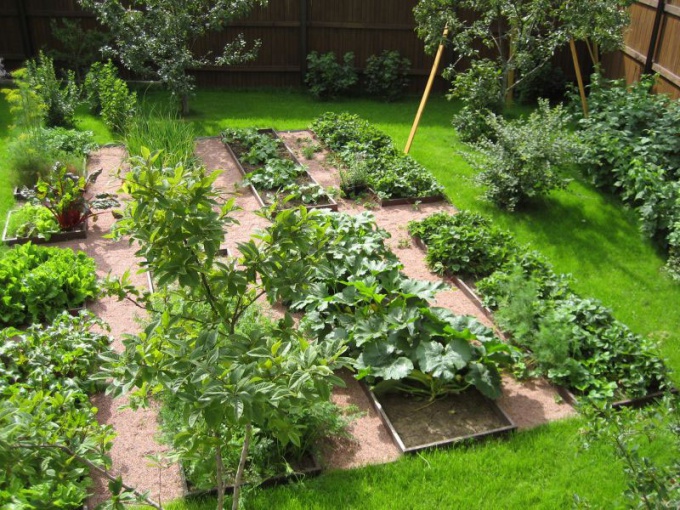 Instruction
First of all I want, of course, to say salad vegetables. Data cultivated plants can
be planted
almost the entire summer season. In addition, you have quite a large selection. For example, you can plant lettuce as well as arugula and watercress. Just keep in mind that planting lettuce in the July heat should be in moist soil. You should also not forget quite often to water their crops if the weather is dry, otherwise, otherwise, the leaves of vegetables will be rough and will start to taste bitter.
Also in July, you can put everyone's favorite dill. This plant is quite much like light and moisture. If it does not heat water, it, like salad vegetables, will start to grobet. If you want the dill grew much faster then before to plant it, pour water with a temperature equal to 50 degrees, about 20 minutes. After this procedure, soak the seeds for 3 days in cool water, do not forget to change it quite often. Because of this dill washed away all the substance that prevent it to grow.
Do not forget about spinach. This plant not only in July but also in August and in September. In other words, until that time, until the snow falls.
In Russia turnips all revered and respected. Unfortunately, this vegetable has lost popularity in Russia, however, it is widely used in Asia, besides, in this country there are many types of the cultivated plants. If you want to plant turnips in July, this should be done not later than the 15th day. Remember that she doesn't like hot weather, and it means that you should not neglect watering it, otherwise in the end you will get a very small and bitter fruits.
Experts believe that red beets can be planted not just once but as many as 3, that is, in the spring, in June and July. Planting this vegetable in the middle of summer, you will have young beets in the fall. When planting, consider the size of the beds: the finer it is, the faster it will ripen the fruits of the plant.
Seedlings of Chinese and Chinese cabbage, and turnips, too, should be planted no later than July 15. Also in mid-summer and can be planted early varieties of cabbage belokochannoy. For growing enough of 50-55 days. As you can see, the holiday season is in full swing!
Advice 3: What flowers can you plant in the yard
Flowers planted near the house, incredibly decorated, makes it look richer, adds exclusivity to the landscape design. It is important to know what plants you can plant in the yard and how to combine them.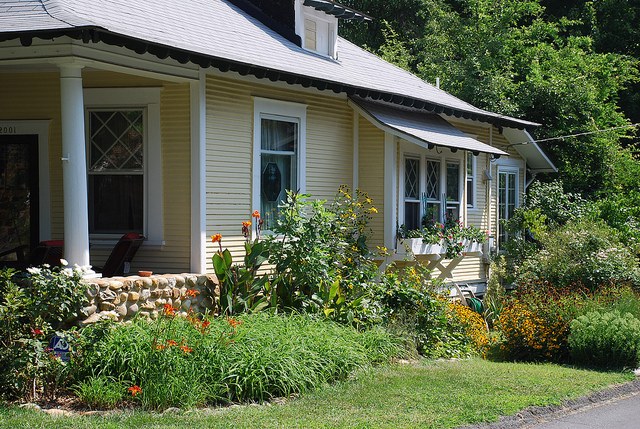 What flowers to plant in the yard and how to combine them correctly.


Beautiful flowers in the yard of a private house or at the entrances of multi-storey buildings it is important to choose and match properly, so after no inconsistency. The basis of the flower garden to make the best of these perennials, such as roses, pansies, ageratum, etc. Around them is already possible to plant annuals, the choice of which today is huge. Primroses, crocuses that bloom in the garden the first tulips, daffodils, snowdrops will look best either in the background or along the walkway that leads to the house.

Flowering in early may, hyacinths, irises of different shades, able to set off the delicacy of other plantings, Moscow cornflowers and daisies should be planted at the edges of the flower bed. This also should put the day lilies – a picturesque plant with long leaves, because it can become the dominant feature of the whole composition.

Bushy beautiful flowers in the yard is to plant randomly. Surround them with rose bushes, peonies, bells, and ass petunias. On one of the beds surrounded by daffodils and daisies should be planted different varieties of lilies and chrysanthemums. If in the yard there are fruit trees, the space around them can be decorated such low flowers like Lobelia, viola, marigolds or nasturtium.

If you want you can place the flowers in the yard in pots, but in the winter they should bring home can freeze. The best way to arrange the Alpine flower garden of stonecrop, adelisa, flowers young, Turkish carnations. They can also surround a rock garden or a small fountain, if any, in your yard.

In the foreground of a flower garden can plant out low-growing plants. Here will look perfectly cloves, barvinky, Alpine Aster, and dwarf iris, primrose and forget-me-nots. Directly near the house is to plant Datura, fine-leaved marigold, gray Levkoy, sea lobularia. Near the fence or the gate – varietal lilac, black elderberry, silver sucker, red meadowsweet, Valerian medicinal, etc.


Conclusion


Remember that the group planting is needed to meet the height and size of plants, their flowering season. When choosing flowers to decorate the yard, guided by your taste. Don't be afraid to experiment and to remove or to add any other colors, apart from those mentioned in this article, move them from foreground to back. Let your flower garden pleases you from early spring to late autumn bright colors.
Advice 4: How to plant beautiful flowers
Beautiful planting flowers is an art. You must have not only good taste, but some knowledge and practical skills. First, you need to choose a strategy of a flower garden, suitable for beginners strict form and hardy varieties. Deposit chic beds for the novice grower - tight fit and a contrasting color.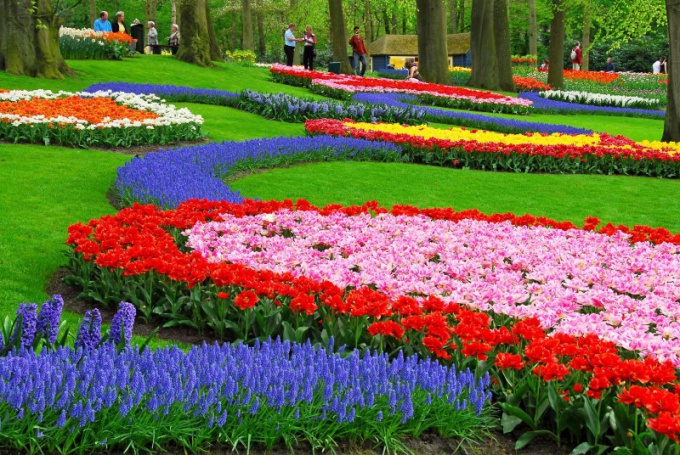 Instruction
When organizing a flower garden, it is very important to place the correct emphasis. Place it in the center of some beautiful flower bed. This will allow more advantageous to place the flowers attract maximum attention. The Central flowerbed can be a standalone part of the landscape and a certain element, overlapping with the secondary components of the flower garden.
Remember that it is better to create one great flower-bed, than be sprayed to the planting of many small. The simple lines will allow you to succeed. Large composition always looks more attractive, so plant flowers so that they were integrated. Well, if you are able to select varieties with a long flowering period, this will allow the flower garden to look fabulous throughout the season.
To make the flowers look maximum well-groomed, prefer dense planting. This will help to get rid of weeds, they just have nowhere to develop. To initially have a clear idea of the result, use grown flower pots or already flowering plants.
You will be easier if you will plan the flower garden, for example, draw an approximate outline on a sheet of paper. In addition, you should compile a list of plants you plan to plant by breaking them into groups by height and colour scheme. When selecting varieties it is necessary to consider the requirements for watering and fertilizing, and light conditions, some plants simply are not compatible with each other.
If you are creating a flower garden for the first time, you can use ready-made schemes too. In addition to colors and geometric shapes, diagram of the flower beds usually means a ready-made list of all the necessary plants. This method of creating a flower garden will allow you to gain experience in this field, and in the future you will be able to bring their own imagination, adding to an existing track or creating a new one.
For beginners in floriculture win-win solution could be the creation of ridges. This kind of garden, densely planted with flowers. Especially beautiful ridges, located along the garden paths on a background of grass, they almost do not need any additional decoration, and the narrow landings, to take care of flowers as comfortably as possible.
Note
When you create flower beds for the first time, try to give preference to undemanding perennials, many annuals are very capricious.
Useful advice
Cereals and dried flowers do not lose their appearance until the beginning of winter and the look is very original, they can be a wonderful addition to any flower garden.