You will need
- a document confirming the identity;
- tickets;
- money.
Instruction
If you decided to use the aircraft, you can purchase tickets to any airport in Krasnodar region and arrive in Adler, Anapa, Gelendzhik or Krasnodar, where you prefer. From Krasnodar airport you can take minibus No. 53 in the terminal area to reach the center of the capital of Kuban to the bus station Krasnodar-1. Hence take the ticket to Dzhubga or to Tuapse or Sochi, buses in these cities are also going through it. If you arrived to Anapa or Gelendzhik, you also need to drive to the city center to the bus station and get bus tickets sent to Drugbu, Tuapse and Sochi. From Adler airport you drive in Sochi to the bus station and buy a ticket on any bus on Tuapse – Dzhubga past none of them will pass.
For those who prefer to travel by train, too, will not be able to drive directly to the resort – have to take a ticket to Anapa, Novorossiysk, Goryachy Klyuch, Tuapse, or. Of these cities to reach the village of Dzhubga, you can a Shuttle bus or a taxi, but keep in mind that a comfortable bus with air conditioning will cost cheaper several times, and they go quite often. Closest from Dzhubga located railway stations of the cities the Hot Key, Tuapse, from them to the village just over 50 km, by bus you can drive to it in an hour. Journey time by bus from Novorossiysk – about 3 hours from Anapa about 4-H.
If you go on vacation to the South by car, nearest road will pass through Krasnodar. And here you should choose the track leading to the sea via a Hot Key. After passing this town on the highway running at 50 km you will see a fork in the road and a traffic police post, turn right turn will lead you to Gelendzhik and Novorossiysk, and turning from the post to the left, you have 5 minutes to arrive in Sochi.
Useful advice
Recently, the city of the black sea coast were again popular with holidaymakers, so booking places in advance is better.
Advice 2: How to get to Gelendzhik
The resort town
of Gelendzhik
annually welcomes hundreds of thousands tourists who come here from across the country to spend time without worries, walking along the promenade and soak up the warm rays of the southern sun and basking in the warm Black sea. To get to Gelendzhik, you may choose any convenient for you mode of transport.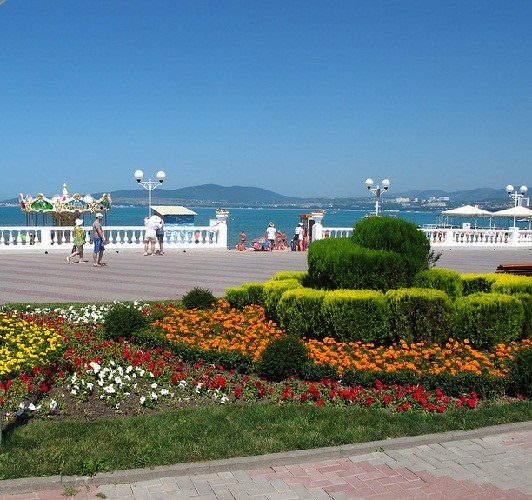 Instruction
Not so long ago on the Western outskirts of Gelendzhik, built a new modern airport capable of accepting international flights. All the year round the planes fly from Moscow and St Petersburg, flights are implementing such large companies as Aeroflot, UTair and Rossiya. Flight time from Moscow is about 2.5 hours North of the capital, just over 3 hours. To the city center from the airport go Shuttle bus and regular taxi, and city bus that runs every 15 minutes during the day. By plane you can reach Anapa or Krasnodar, which to Noumea can be reached by intercity buses for 2.5 and 4.5 hours, respectively.
Geographical location of Gelendzhik and the surrounding mountains don't allow to build there a railway, although such a project is already under way. But for now, the nearest railway junctions are located in Anapa and Novorossiysk. Those who come to rest in sanatoriums and resorts of Gelendzhik, don't worry about how to get to them from train stations – almost all resorts for arrivals of trains send their buses. But you can get it independently from the bus stations of Anapa and Novorossiysk, there are regular intercity buses in the direction of Gelendzhik. Travel time from Novorossiysk is 1 hour, from Anapa – 2.5 hours.
Recently in Gelendzhik built many private hotels and boarding houses on-site which is equipped with Parking for cars, so if you have booked a hotel in the city you can come by car. From the capital is easily accessible from the M4 Federal highway connecting Moscow and Sochi, the track is going and those who went forth from St. Petersburg. Once you arrive to Krasnodar, you can shorten the route of almost 50 km, if you roll on the highway "Krasnodar - Hot Key – Dzhubga". Near Dzhubga, there is a twist in Noumea, which in this case you will enter not from the Novorossiysk, and from the perspective of Tuapse.