Instruction
The easiest way to dress fashionably at this age, which, unfortunately, is not suitable for all – buying a well-known clothing teen brands (Abercrombie, Zara, etc.). If possible to buy branded clothing is to consider: the most appropriate and practical for teenagers is casual. Do not hesitate, buy a variety of jeans, t-shirts and hoodies – all of these things look very stylish on adolescent girls and on skinny women, and those whose weight is above normal. In relation to this age, casual means not only convenience, but also an opportunity to Express their individuality in clothing. So many girls at 12-13 years of age love to wear thematic t-shirts with portraits of idols or heroes favorite movies forbid them to Express themselves.
Small purses many teenage girls prefer a backpack or a roomy gym bag. The most popular shoes they have for many years remained a short shoes and "ballet flats". However, remember that this style of apparel is appropriate is not always.
Clothing for attending school should look different. Even if your institution does not have mandatory school uniforms, dress for class should be in business style. Wearing jeans in many schools is not permitted. In this case, buy or sew the pants, better two pair – thin and warm for winter. Perfect dark, subtle stripe. Buy a few bright blouses or turtlenecks, so they can be changed often. To complement a business suit can be a jacket or several jackets. Not all girls love to wear skirts, but it is better if the wardrobe will be at least one. Shoes-ballet shoes suitable to this style of clothing, but the loafers and sneakers are best left at home.

Such clothes it is possible to wear and outside school, in special cases – for example, wear it for going to the theater or to the exhibition, diversified with the help of accessories or sweaters bright colors.
Finally, for special occasions
the girl
of 12-13 years it is acceptable to dress like dress up adults: for example, for wedding or Christmas party stitch her evening dress, buy shoes on a small heel. In these cases, even in the face of a teenager would be appropriate, a small amount of makeup: lip gloss, tone, a smidgen of blush.
The most important thing you should remember is that clothes should be comfortable, preferably from natural materials and, of course, stylish and fashionable. In this case, a girl of 12-13 years will wear it with pleasure and feel comfortable in it.
Advice 2: How to dress in the Bolshoi theatre
Visit to the Bolshoi theatre – a spectacular event for both avid theater-goer, and for the person who was on the show for the first time. Luxurious interiors, unique atmosphere of the theatre, elegant public – you will have to match all of this. Prepare to visit the Opera or the ballet, choosing the appropriate suit.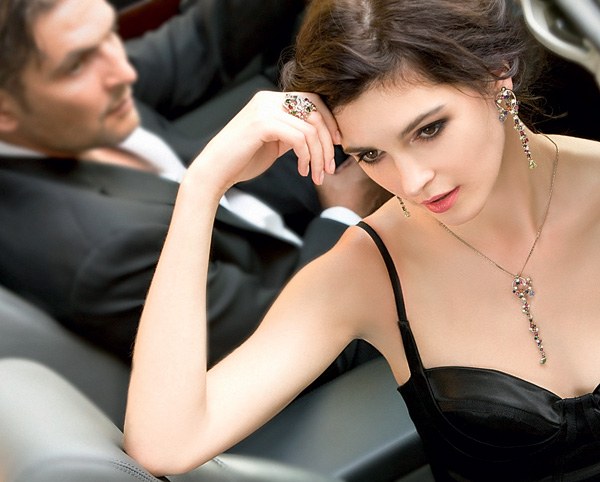 Instruction
Going to the Bolshoi theatre, remember the rules of etiquette. They provide a more modest and simple clothes for the morning and afternoon performances. If you go to the Opera or ballet, which starts at noon, put on a fancy dress or suit with skirt or trousers. Instead of the knitted blouse, select a nice blouse. Men are meant day classic suit with a pale tie and fresh shirt.
Evening performances mean more dressy clothes. Wear short formal dress. A good alternative can be a suit of plain fabric. The combination of the blouse with the skirt or pants can look too simple – a better ensemble to complement your jacket. Men should try dark evening suit with a white shirt.
Best clothes, traditionally reserved for the Prime Minister. A night like this appropriate long evening dresses for ladies and tuxedos for gentlemen. However, in short elegant dress or a dark suit of good quality you will feel no less confident. Choosing an outfit with a deep neckline, bring a stole or a Cape that can be draped over the shoulder.
The choice of suit depends on where you sit. Visitors to the stalls, stalls and the first tier is traditionally dress more elegant. If your seats are upstairs, get dressed easier. You will not go to the front door the foyer of the lower tiers, so it can do without the tuxedos and toilets with a deep neckline.
Don't come to the theatre in sports clothes, shorts, oversized shirts, and designer toilets, too far from the concept of "classic" clothes. Ripped jeans, tops with slogans and skirts worn over trousers, can look very creative, however, such outfits will be more appropriate in Nightclubs.
Take care of shoes and accessories. Instead of practical everyday boot wear nice shoes. If you have to get to the theater on foot, take a change of shoes or even a sponge to quickly bring your shoes and boots in order. In the summer, refrain from shale, plastic sandals, sneakers and other unsuitable shoes.
Note that too large bags and briefcases you will need to leave in the wardrobe. Instead of cumbersome trunks, take in the theatre elegant clutch or a small purse for a graceful strap that can be hung on the shoulder.
Advice 3: How to dress in the theatre
The theatre ceased to be a truly social event, more people go to the evening performances in jeans and hoodies. However, there are a few rules theatre dress code that need to be followed.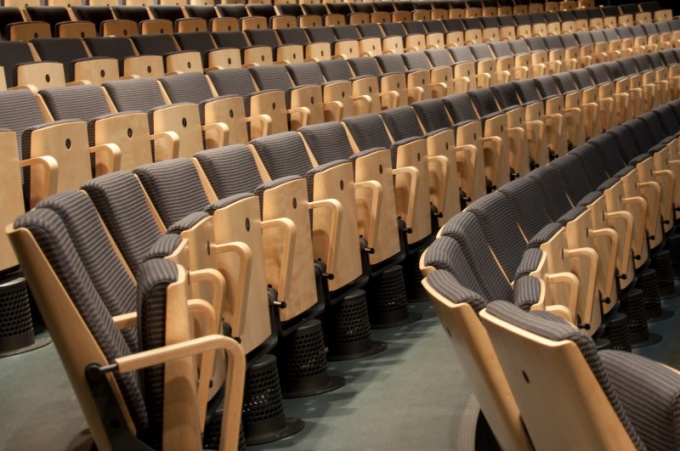 Going to the theatre is a secular event

Most of the plays are passes after seven o'clock in the evening. Existing rules of etiquette and dress code argue that after this time, the heels have become taller and thinner, makeup brighter, skirt - long, blow - harder, and bag - less.

Of course, it is necessary to take into account the characteristics of the theater, the presentation format of the typical public. However, in almost every case (if you go to the theater from home, not from the office) simple and elegant cocktail dress is the perfect option. However, you can wear a long dress (casual, not formal), a set of skirts and silk blouses and any variations on a given theme. It is desirable that the clothes were made of fine, expensive materials like real silk, noble and deep colors. Dark green, Burgundy, blueberry — all great colors for "theatre" of clothing.

Despite changing traditions, it makes sense to take a trip to the theatre as release. The modern pace of life forces you to forget about the classic rules of the visit to the theater, many people go on shows after work without changing clothes, which is not always allows them to enjoy the event itself because it is not perceived as something special.


Modify your everyday wardrobe

Of course, if you have the opportunity to go to the theater after work, you need to use it. Only it is desirable initially to consider how to transform everyday work clothes into something more festive. For example, under strict working jacket to wear this blouse dressy or grab a scarf. Sometimes the simple casual look can be changed with brighter makeup. Lipstick saturated colors quite different emphases, to draw attention to the face, will create a special mood.

If you are travelling by car, bring to the theatre a beautiful pair of shoes. First, to spend two or three hours in the light of practical shoes are much nicer than in the heavy street shoes. Secondly, well-chosen shoes can transform your outfit. If you are not able to carry a change of shoes, right, select "street". For theater perfect elegant boots on a small heel or ankle boots. With such footwear looks good clothing with long sleeves, for example, a knitted dress or a fitted jacket.

It is not necessary to wear to the theater hats, headbands with massive flowers or to do the updo. This may prevent the spectators who will sit for you.
Advice 4: How to dress fashionably teenager
Eminent designers very little attention from teenage fashion. Every girl and boy want to dress fashionably in a school, but the range of clothing presented in the markets and in shops, sometimes stopping to define your own style.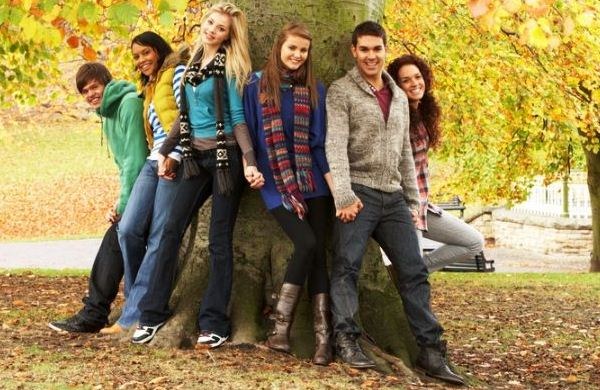 Instruction
Have you ever wondered why younger students often look like little old men and Teens dress like a hippie? First put the parents to your liking. And in the transition to adulthood begins to take shape teenage style, tending to freedom. Teenager dress is not easy, because he's not a child but not yet an adult.
Notice to parents. Do not try to figure out how to dress fashionably teenager – even if he personally chooses his own clothes. The desire to turn the child into your copy usually leads to conflicts between parents and children or to the cultivation of complexes of a teenager. As strange as the look mom or look teenage style, you need to give the teenager the opportunity to be realized in an expert clothing. And yet – even expensive and fashionable things do not appeal to a teenager if they are not in his company. In adolescence, children tend not to stand out from the crowd, to be surrounded by, to be subjected to ridicule and bullying.
However, many adolescents seek to determine how to dress fashionably in a school. Mostly a matter of style care about girls. To look attractive and fit into the environment, you need to know a few nuances.
If the school have a dress code, follow it. However, often the administration of the school does not require sewing a single form, encouraging students to dress in the same style. A win-win option for both girls and boys is a classic. Straight pants can be a stylish refresh with a belt. To plain shirt was not boring, is to choose not banal white, and neutral grey, pale green, lemon or pink. By the way, even a white blouse will look elegant, if it is a monochrome volumetric pattern. Such things are perfectly combined with trendy short jackets and narrow skirts. If a teenage girl this ensemble seem boring, instead of a skirt is better to wear classic shorts length mid thigh and decorate them with suspenders.
How to dress fashionably teenager in everyday life, depends on his tastes and Hobbies. Sports style suits active and sociable teenagers. But much more interesting to mix styles, creating your own unique image. So adorable Teens jeans can be worn not only with sneakers and t-shirts, but also with classic pumps, corsets and men's jackets. Boys may combine with simple skinny solid shirts, ties and colored loafers. Girls should remember at any relevant time, the air skirts, long tunics and fitted feminine dresses. A great opportunity to make an original style naughty teen is wearing unusual hats.