You will need
water;
soap;
- ammonia;
- soft cloth;
woolen cloth.
Instruction
If you need to clean leather purse, completely empty it and during the day soak in a dry place at a temperature of 25-30 degrees. This measure will help to avoid shrinking and wrinkling.
Remember that the skin is very sensitive to fluctuations in temperature, water, mechanical abrasion and organic solvents. In this regard, it is recommended to clean it at a temperature of 30 degrees, and dried – at 50 degrees.
Before you clean the purse as a whole, inspect it. If there are stains, remove them in the first place, to the accessory left circles and stains. Stains from ink pens, remove with pure alcohol or alcohol with a few drops of vinegar, home of the fat or oil rinse with gasoline. Motor or machine oil output with perchloroethylene. Remove stains with a soft cotton cloth or tissue for cleaning glasses.
Prepare soap and ammonia. 100 ml of water you will need 10 grams of soap and 1 tablespoon ammonia. In warm water (55-60 degrees) grate soap, mix thoroughly, and add the ammonia. Take a cotton swab, dip in solution and wipe purse. Then dry it with cotton cloth and wipe to a Shine with a cloth soaked in castor oil, vaseline or glycerine. This type of cleaning is suitable for any skin color.
To bring back the Shine and elasticity of the skin by using coffee. You need to promolot grain and moisten them with water. Take a rag, soak in the tea leaves and wipe the purse. Then remove the remains of coffee with a dry cloth and RUB the purse with glycerin or castor oil. However, this method is not suitable for accessories with bright colors.
If your wallet is plastic, clean it with a solution of soap and ammonia. Then wipe with water solution of vinegar acid and citric acid. In 1 liter of water add 1 teaspoon vinegar and 1 teaspoon of citric acid.
Lacquer skin
regularly wipe with a soft dry cloth. If your
purse
is made of leather imitating snake skin or crocodile brushing his woollen cloth. Wet cleaning spend as little as possible and very carefully so the skin is not soaking wet.
Advice 2: How to clean nubuck
Nubuck leather, sanded on the front side (made from the skin of cattle). Protection and long-term integrity of the vehicles to ensure, first of all, using care water-repellent (for example, "Saphir", "Twist", "BAR").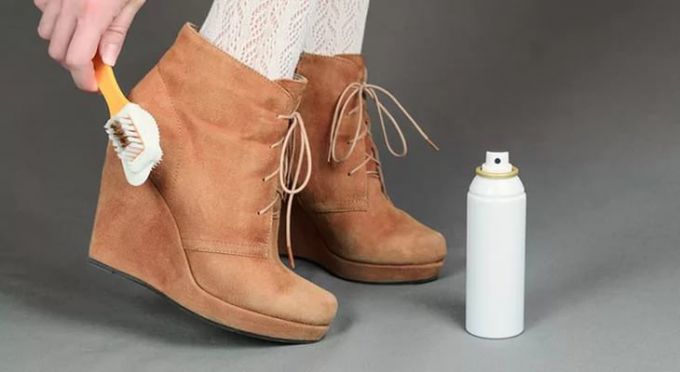 Instruction
If contamination occurred, we suggest you follow the instructions below for cleaning the vehicles.
There are several ways to clean leather at home:
Take 10% ammonia, dilute it four times with pure water and clean the product with a cotton swab, replacing it as needed.
Wipe the product with a cotton swab dampened with clean water or with the addition of a small amount of vinegar (a teaspoon per liter of water).
It is recommended to hold articles made of nubuck on the ferry and then to produce their special cleaning brush for nubuck.
Cleaning of vehicles with special products: shampoos, foams, cleaners, special brushes (for example, producers of the "TARRAGO", "Myself", "Bar", "Saphir").
First clean the dirt special triple brush for nubuck. Next, you need to use a foam cleaner of the above mentioned manufacturers. These funds will clean the product from different kinds of contaminants without causing harm to the texture of the material. Do not apply foam on the surface of the product. Means to be applied to a sponge or soft cloth and then gently clean the contaminated surface.
Then again, use a triple brush for nubuck. Further, for masking minor defects and scuffs on the surface of products, to refresh the colours and give the product the effect of "novelty", it should be a daily use cream, special caring and protective paint, or paint intended for vehicles. For example, the producers of "Salamander", "TARRAGO", "Myself", "Bar", "Saphir", "SALTON".
Shoes made of nubuck should be cleaned only in a dry form. For shoes of this skin are special brushes from different companies.
Special brush wipe shoes. Shoes will not only clean, but also rough. To do this all should be in a warm, dry place.
Advice 3: How to clean a leather bag
Elegant leather
bag
a great addition to any outfit. It may be a very long time. But in order to handbag genuine leather looked as good as new, for her necessary care. Periodically the skin needs to be cleaned. The methods depend not only on the texture of the material, but often from the color.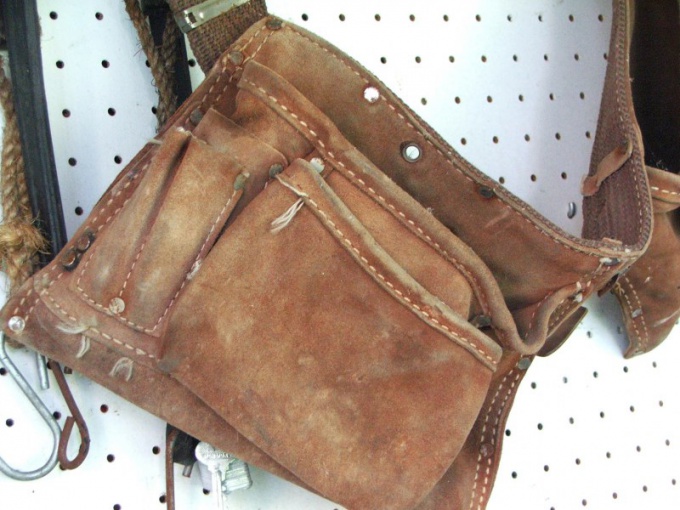 You will need
-ammonia;
soap;
- rags;
protective cream for the skin;
- body cream;
- castor oil;
- vaseline;
- glitzern;
- cow's milk.
Instruction
A leather bag should be regularly cleaned of dust, even if it is brand new, and there is so far no stains. This must be done after every trip to the city. Wet a soft cloth and wring as follows. Wipe the bag. Grease it with a special protective cream for the treatment of leather products. Can be applied to ordinary cosmetic cream.
If dark bag smooth leather heavily contaminated, it must be washed. Make a concentrated soap solution. Soap is better to use high-quality economic and grate it on a coarse grater. Add to the solution a few drops of ammonia.
Soak in soapy water a soft cloth. Treat the entire surface of the bag. Another piece of cloth soak with castor oil and wipe all the product. Castor oil can be replaced with glycerin or even vaseline.
Leather for the manufacturing of various products used in a very long time, therefore, among the ways of leaving behind it there are many ancient. For example, you can clean the stain with the ordinary bulbs. Cut it in half. Attaching the slice to the stain in a circular motion wipe the bag, starting from the edges of the contamination. This method has one drawback - the smell remains, which can be pleasant not to all.
With a white leather bag a few more worries than the dark. It gets dirty faster, and any noticeable marks. Wipe off dust with a damp rag, of course, possible. But it is better to moisten a cloth in the water and unboiled cow milk. Press the cloth and treat bag. Milk not only clean the product from dirt, and refresh the color.
To clean leather products, you can use another way. Take an egg and separate the protein. Whip it with a whisk or fork and mix with a small amount of raw cow's milk. Soak in the obtained substance is a cloth or swab and clean the spot.
Grease stains on leather goods appear frequently. To without much hassle to bring such a stain, lubricate it with rubber glue and leave it like this overnight. In the morning carefully remove the glue (it is removed without any additional equipment, you can just pry off with a fingernail). The area where there was a stain, smear protective cream.
Note
In stores now a lot of special care products for skin. But in every case it is necessary to take into account the appearance of the skin. Special shampoos designed for the treatment of leather furniture, perfectly clean and bag. Traditional methods are good for those that are suitable for any kind of skin.
Useful advice
Suede bags should be cleaned with an ordinary school eraser. This will not only remove stains, but also to keep the texture of the material. The suede bags can also be washed in soapy water with ammonia.

Bag patent leather clean just with a dry or slightly damp cloth. Remember that this bag should not be too high or too low temperatures.

"Crocodile" skin, wipe with a dry woolen cloth. Wet cleaning is permissible only in exceptional cases.
Advice 4: How to clean watches
Wrist watch - a fashionable accessory that
from time to time
requires care. Cleaning of
the watch
mechanism it is better to trust the wizard, but
a bracelet
you can put in order yourself.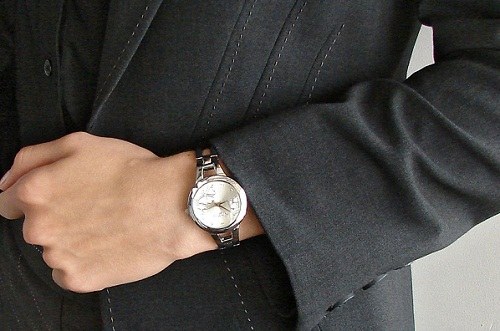 You will need
Liquid soap, baking soda, egg whites, milk, liquid dishwashing, ammonia, cosmetic powder, special wipes for cleansing.
Instruction
Clean the leather strap with a soap solution. Pour into a container of warm water with the addition of liquid soap and several drops of ammonia. Wipe the bracelet with a cotton pad soaked in the solution. Then rinse the soap with a damp cloth and blot with cotton towel. After dry the strap.
Mix baking soda with water to make a soft paste. Apply weight to a leather bracelet and leave it for an hour. After this time, gently brush the product with a cotton swab. Wipe the strap with a damp cloth and dry. When the skin is dry, RUB a few drops of olive oil or glycerin.
To clean white leather bracelet, mix 1 egg white in a glass of milk. Moisten a cotton pad and carefully apply the product. This method will help not only clean the skin but also to maintain the original color bracelet.
Cloth rinse the bracelet in warm water with some liquid dishwashing. Take an old toothbrush and scrub particularly contaminated sites. Then rinse the strap under running water and Pat dry with a paper towel. Put the bracelet on a towel, folded in several layers, and dry.
Mix the toothpaste with a few drops of ammonia and 1 teaspoon of baking soda. Apply the mixture on the silver bracelet from the watch and leave it on for 20-30 minutes. Then wipe with a damp microfibre cloth and Polish with a soft cloth. Try not to RUB the mixture into the charm bracelet. Baking soda is an abrasive substance, so it can scratch the metal.
Apply with flannel cloth a little cosmetic powder. Carefully Polish the gold bracelet. Then wipe with a clean cloth. Instead of powder can use baby powder or crushed chalk.
Buy in the jewelry salon or workshop special cloth for cleaning jewelry. Carefully wipe the metal bracelet from contamination.
Advice 5: How to clean a white bag
Bag white leather or imitation leather is such an elegant, graceful accessory! He has one drawback – it quickly gets dirty and loses its beauty. Learn how to protect the brand thing and to look after it correctly. And if it gets dirty, you clean a white bag a variety of ways.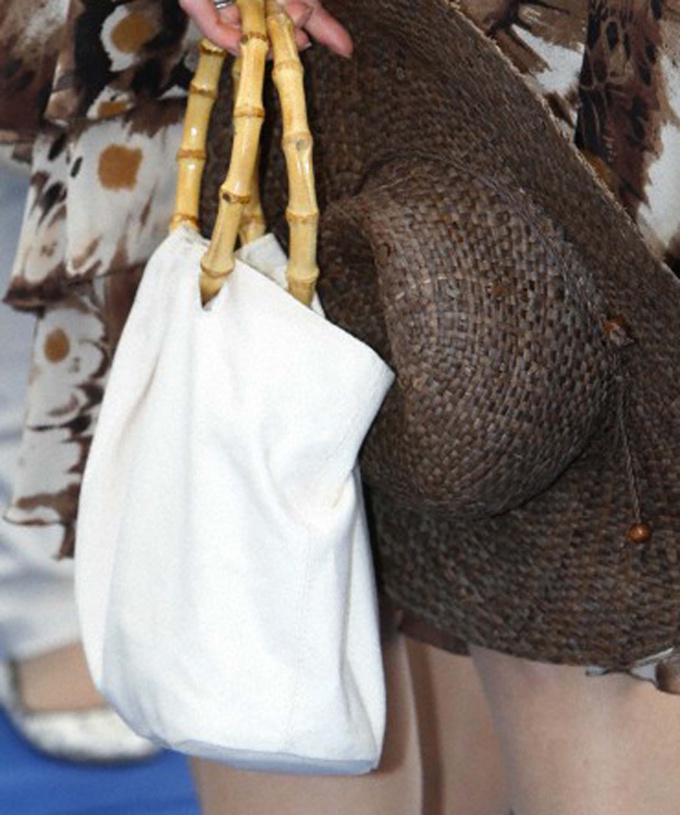 You will need
Milk
Wool
A piece of flannel
Egg
Care for lacquered shoes
Soda
Shoe cream or oil (castor, vegetable, massage)
Soap
Ammonia
The means to care for leather furniture
Instruction
Clean dirty spots on a white bag with a cotton swab soaked in warm cow's milk. The extent of contamination of the wool change. There is a more reliable way to attach the bag to its original beauty. Whisk with a fork the egg white and mix it in a glass of milk. Wipe with this mixture the bag periodically wetting a flannel cloth. Lacquer coat after cleaning you can wipe the special means to care for lacquered shoes. If the milk add 5 grams of baking soda, this mixture will remove the gloss from the areas of the bag.
Grate bag transparent Shoe cream or oil (baby massage, castor or sunflower). Then wipe dirt off with a dry rag. It is not necessary to cover up stains on the bag the white cream or tooth paste – it will look sloppy, and problems with cleaning products are not decide.
Try to clean the bag with warm water and soap. In the water, add a little ammonia, and soap, choose a child, deducing stains or special care for leather shoes. Then wipe clean with a swab, soaked it in glycerin or oil. When cleaning make careful smooth movement, no need to RUB the delicate skin too much. Try to keep the bag isn't soaked through! Leave to dry at room temperature in a location remote from heating devices.
Use for cleaning of stains on the bright surface of the bag means to care for white leather furniture. Ask seller a furniture salon. First try purchased liquid or the spray on an inconspicuous area, and then proceed according to instructions. If treated regularly with this tool leather accessory, it will be protected from moisture and will be less dirty.
Useful advice
Do not wash white bag in the machine. By no means do not need to clean it such aggressive chemicals as thinner, benzene, bleach or acetone. Remember to care for the accessory of leather – periodically lubricate it with cream and a good Polish with a dry soft cloth.
Advice 6: How to clean the jacket at home
When you buy a new jacket, you want to make it look new for a long time, but randomly appeared stains spoil the look of the stylish things. There are two solutions to this problem: to try to remove spots with jackets by yourself or go with her to the dry cleaners.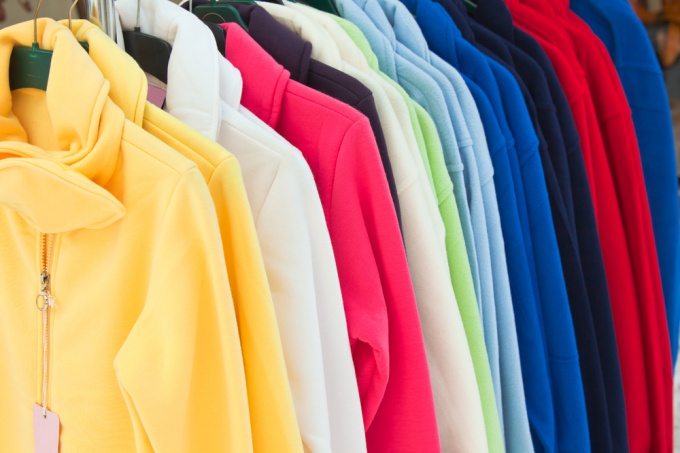 Instruction
To clean the jacket at home conditions have given the characteristics of the material from which it is sewed. Suede jacketto it immediately after purchase does not stain your things, you need a good vacuum.
The spots are from rain drops can be removed with a special brush for
suede
. To choose one, which one handle several different nozzles.
The same brush attachments made from elastic bands, floats and rough sponges need to go to places where primarily appear shiny and worn on clothing.
To clean from street dirt and dust leather clothes, it should be wiped very gently with a damp cloth, so as not to stretch the product. Let the jacket to dry by hanging it on a hanger away from heating appliances, otherwise the skin will lose luster and elasticity, will become stiff and brittle.
Get the stain out with a light leather jacket can be prepared in a mixture of talc and turpentine. Spread the stain, squeeze a piece of glass and put on top of the cargo. When everything is dry, you can wipe the leather with a dry cloth.
If you clean the leather coat with a soap solution, adding ammonia, do not forget to wipe the jacket castor oil to restore softness.
Leather jacket regaining its Shine, if you wipe it with glycerine.
If the jacket has spots that are difficult to deduce, remember, what exactly you could stain the thing.
Stain from ballpoint pen ink can be deduced acetic acid and alcohol. Check how to behave when handling painted leather in an inconspicuous area. Oil stains easily disappear if you treat them with a swab dipped in gasoline.
Useful advice
If you are sure that you will be able to cope with the stain without damaging the jacket ask for help to the professionals.