You will need
500 g strawberries;
2 tablespoons of sugar;
balsamic vinegar to taste;
the mint leaves.
for the sauce:
per 100g of olive oil;
1 tablespoon balsamic vinegar;
the dry mixture of Italian spices (oregano
thyme
Basil etc.)
cheese;
tomatoes;
sweet pepper;
bread.
Instruction
Use balsamic vinegar is literally a drop in salads, especially with fresh vegetables and greens, soups (add right into the dish), marinate the fish (instead of the usual vinegara), desserts. Its main culinary quality is the ability to add gourmet flair to ordinary foods which makes this vinegar ideal for dressing various dishes.Add a few drops of balsamic vinegarand a portion of ordinary scrambled eggs, strawberry salad and even ice cream to balance out the taste.
Prepare a simple treat that is customary to offer guests in Italy before the main meal. To taste add the olive oil, balsamic vinegar and ready dry mix of Italian spices (oregano, thyme, Basil, etc.). For the sauce, serve diced cheese, slices of tomatoes and sweet peppers, olives and pieces of bread. Eat this dish, dipped the slices of cheese, vegetables and bread in the sauce. Moreover, the bread is broken by hand.
Try this dessert. Fresh strawberries wash in cold water, large berries cut in half. Sprinkle berries with sugar and stir. Pour in the balsamic vinegar, stir again and let stand for 30 minutes at room temperature. Ready the strawberries along with the resulting juice will spread into portions kremanki or small bowls and garnish with leaves of fresh mint.
Note
This balsamic vinegar, "balsamic", very dark in color, has a sweet fruity flavor and thick consistency.
Useful advice
Due to its unique properties of balsamic vinegar is the best vinegar in the world. It is called balsamic because it was originally used mainly for medical purposes. They treated wounds, thanks to its strong anti-inflammatory and antimicrobial action. Lucrezia Borgia used the "balsamic" as medicine. For health took him and Gioachino Rossini. They say even Giacomo Casanova knew about the power of this "elixir". Culinary quality balsamic vinegar were open later.
Advice 2 : How to use wine vinegar
Vinegar is a natural preservative and the acid suitable for human consumption. This explains the wide scope of this product in the household. Wine vinegar is used not only for preservation, it can improve the taste of the workpiece or meals.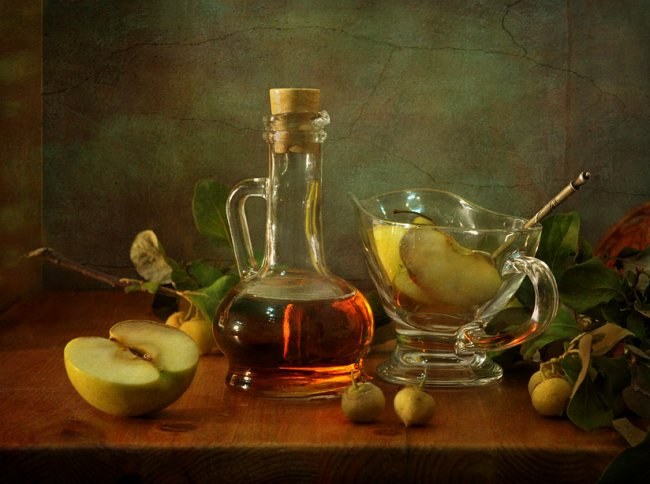 You will need
- fresh herbs, ginger, lemon peel, red pepper.
Instruction
Use white wine vinegar as salad dressings, sauces and marinades to fish and vegetable dishes. Use red wine vinegar to prepare sauces for venison, lamb, beef, and also for the foundations of spicy vinegar.
Prepare the spiced vinegar: take red wine vinegar, place the herbs (dill, garlic, parsley, celery, Basil, or mixed herbs), allow to steep for one to two weeks at room temperature.
Add vinegar desired sweet or spicy taste, adding a little cinnamon or red pepper. A pleasant taste is lemon peel, ginger (all spices and herbs must be completely covered by the vinegar). Use for improving the taste of the salad, vinaigrette, sauce, marinade.
Use vinegar (3%) for acidification, create a spice in food, restore, or improve the color. Soda, slaked with vinegar, add in sand, the pancake batter to make it loose.
Vinegar disinfect kitchen Board: wash and wipe with a cloth soaked in vinegar, then rinse again with water.
Remove smell from aluminum cookware: drench it with boiling water with the addition of a small amount of vinegar. Remove rust from silver and copper dishes: wipe it with a soft cloth dipped in vinegar. In order to avoid burning on a new pan prior to first use, pour a few drops of vinegar. Add to omelette or scrambled eggs 2-3 drops of vinegar, that they are not burnt.
Make a sharper mustard: mix it with warm water and add some vinegar. Add it to the grated radish to remove its bitterness. Sprinkle with vinegar boiled fish to remove fishy smell.
Add to rice a few drops of vinegar while cooking such rice is to be stored longer.