You will need
Yarn, knitting needles, crochet hooks, knitting magazines, computer with Internet, camera, personal business cards.
Instruction
First and foremost, you need to do is to determine what you will offer your potential buyer. Not miserable grey knit sweater, a La "goodbye youth". Browse through fashion magazines (in all women's magazines are the fashion trend in the new season). Find Internet sites dedicated to new fashion trends. Let's see what offer well-known designers. Learn all this and get creating.
Tie several models. But first, take high quality photos. This does not need to buy a professional camera, you can do the usual "soap box". The main thing – do not photograph your work in normal home interior. Pick a beautiful background. Aim the right light. Make several photos from different angles, with flash and without it. View the pictures by craftswomen who sell their works online. Look for sites that explain how to properly take pictures of Handicrafts
Here are your pictures ready. Well, if you have the skills to work with photo editing – adjust image.Make two directories with your work. One electronically. Them you will use to embed its products online. The second in the form of an album. It will be useful to you if you decide to sell your creations through stores.
Start to sell. Most effective aide in sales of handmade products is the Internet. It offers a lot of possibilities. Sign up on the discussion forums. Typically, they have a section "Announcements". Create your own theme in this section. Well to advertise on General-themed, women's forums, social networks and communities. Sign up on sites that include the same masters. Here are some of them:
http://c-y-n-g-y-k.livejournal.com
http://handmade-bazar.ru/
http://cmapywka.ru/
http://www.drugie-veshi.ru/
http://e-au.ru/
http://handmade-ru.livejournal.com
http://www.livemaster.ru/
http://handhand.ru/
http://magazin-avtorskih-rabot.ru/
Every city has shops and stores that sell products for needlework, including yarn. Many of them are willing to take their handmade work for sale. Also many shops of goods for children or products for animals willingly agree to work with private masters (if you knit for children or animals).Take your work or the directory you made in the form of a photo album, go to these shops and offer cooperation with you. Please note only the fact that working with such shops, you will not get an absolute guarantee the sale of your products.
Advice 2 : Knitting as a job
Knitting as the work is not only a hobby, but an occupation that brings money. If you want to making the original things with knitting needles or crochet bring you money, you will need to consider some nuances of this difficult business.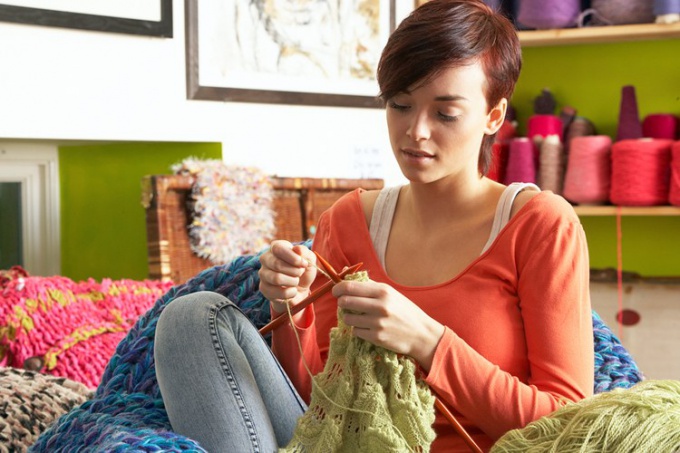 Instruction
Initially, you will need to determine the level of knowledge and skills of knitting. If you have just started to learn this needlework, the money will have to forget for a while.
Determine for yourself the minimum customer base. For example, some of your relatives or friends can want beautiful and unusual gloves or hats. Don't miss this opportunity to gain experience and potential customers, because if the work will be done at the appropriate level, go into "word of mouth".
Mostly professional knitters bought things both ordinary and original, and sometimes difficult to run the accessories (umbrellas, bags, etc.). That is why you have to learn to knit a variety of sweaters, hats, scarves, socks and other items of clothing and to bring these skills to automaticity.
In the beginning of your career knitters, you are unlikely to get a lot of money for work – most people want something unique and unusual, but that's about the remuneration of almost all forget.
Make minimal menu, stipulating clearly the complexity of the patterns and articles you do, the cost of the work (you can specify it in hours, but you can for ready-made garment).
The cost of materials for work should not make in the final price of the product. Pre-warn the client about how much threads and hardware for future dresses or sweaters. It would be better if you show the Internet their price or go shopping for yarn together with the client.
In advance discuss with the client what he wants to ultimately. If this is not done, there is the probability of ligation products.
After the knitting of the product to make sure that the clothes or toy related perfect. Despite the fact that the cost of finished products may be negligible, the client will "pick" on every little thing you will find.
Communicate with customers (including potential) politely and konfliktuete, as the manifestation of all negative emotions can put a cross on your future career knitters. Try to communicate in a friendly tone, but when agreement on the price of the product be adamant.
Note
Very often relatives or friends want to see that you linked something for free. This is the difficulty of working with loved ones. Try to explain that every job is worth the money, otherwise most of your working time you spend on free orders.
Useful advice
Choose a quality thread crochet to order. If after the first wash, the product will stretch or fade, the client will blame you. With such problem you will face, even if the customer insisted on the purchase of this material.