Instruction
For whipping a sexy foam use a steam crane, so called "coffeemakers or coffee machines. Pour warm milk in a special metal pitcher - pitcher. Verify and prepare a steam crane. To do this, take him aside and in a few seconds turn on , to reset the gathered water. Then immerse it in a jug of milk, nearly to the bottom. On and off in a second. Repeat the short supply of steam twice. Then slowly and surely start to raise the vapour spout of the faucet up to the border of milk and air. This formed foam. Slightly tilt the pitcher,give the tap a little storm. Turn off the device once formed the desired amount of foam. Remember, the whole process should happen at the edge of the jug. Persistent milk foam do not always. Practice and you will get a thick and resistant foam.
If not the machine, use a little milk in a mixer with different attachments. Gently reheat the milk on the gas stove or in the microwave. Hot, but not precipitance milk easily whipped. Pour milk into a metal container,tilt it, then immerse it in a mixer with an attachment and start whisking. Move the nozzle in various directions, until the milk begins to foam. Select the mode of operation of the mixer, which has a low amplitude and high speed. Try different tips until you find the most suitable one to obtain a silky foam.
Another method of mixing foam for coffee is the French press. Heat milk, but do not allow it to boil. Pour warmed milk into a French press. Then begin to lower the plunger. Carefully pull the cover, start whisking the milk, raising and lowering the rail. The milk will begin to foam and swell. Please note that overheating the milk foam is not whipped.
The foam from the milk, you can blend, whisk or any other similar device. But it takes a lot of time. Slightly heating the milk over steam, whisk in a quick motion.
Advice 2 : How to prepare latte at home
Latte - one of the varieties of coffee, which first appeared in Italy. This drink is a layered cocktail consisting of espresso, milk and milk foam. In order to enhance the taste of the classic "latte", it adds different syrups, such as vanilla, caramel, chocolate, etc., as well as ice or ice cream.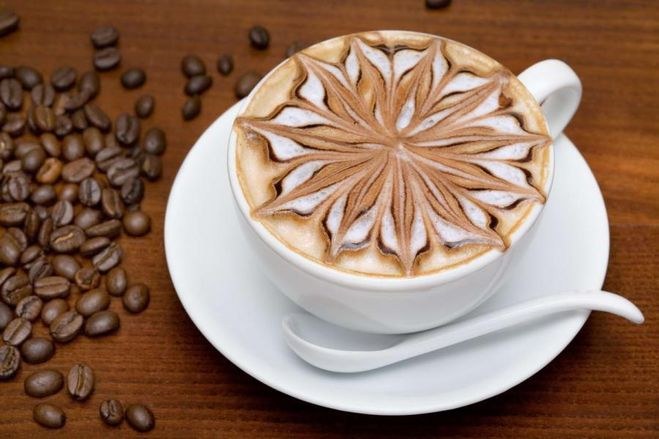 Recipe
The word "latte" in Italian language means "milk". This delicious hot drink you can prepare yourself at home. For this you will need the following required ingredients: milk and coffee.
Carefully heat the milk to such an extent that it was warm but not hot. To prevent the foam.
The next step is brewing coffee. Soluble powder best replace svejesmolotym beans. To brew coffee in Turku or the coffee machine. Then the flavor will be more refined and intense.
Whisk warm milk before formation of a light foam. You can do it one of two ways. You can use a mixer or whisk. For this purpose, suitable blender. Less well-known way to steam the milk is to use a thermos. To make foam, pour milk into the thermos, close the lid tight and shake it for 10-15 minutes.
The foam will be more tasty if to prepare the drink not to use skim milk, and whole.
In prepared coffee carefully add the whipped milk to produce the foam layer. To do this, pour the coffee into a Cup, and a thin stream pour the milk, sending it into the center of the tank. This will allow you to get beautiful stains on the surface of the drink.
Add fillings to your taste and enjoy a fine drink in the comfort of their home.
Served as a latte
Coffee latte is usually served in special Irish glasses. They are a Cup of large enough volume. At home you can use a tall glass with a straw.
The birthplace of this cocktail, the sugar in the recipe do not use. However, in Russia it is customary to serve a latte with sugar. So lovers of sugary drinks need a spoon to add the coffee a little sugar.
To decorate the drink, you can use a cut paper stencil. It is possible to transfer to foam coffee any simple image: a heart, sun, letters or words. Simply hold the stencil over the Cup and pour through it cocoa or grated chocolate.
In order to perform an unusual pattern or create a pattern on milk foam, use cinnamon, chocolate or nut crumbs and whipped cream.
This drink will warm you cold winter evenings, to complement a romantic evening or just to relax after a long day of work.
Now you know what latte can easily prepare at home. Different supplements will help you change the taste and aroma of the cocktail.
Advice 3 : How to beat milk foam
If you need to obtain milk
foam
, you probably want to cook
at home
coffee
cappuccino
or a latte. The best for this purpose, milk of 3.2% fat. Whisking that you allow his protein compounds to come into contact with air molecules, and thereby forms a lush, long lasting bubbles.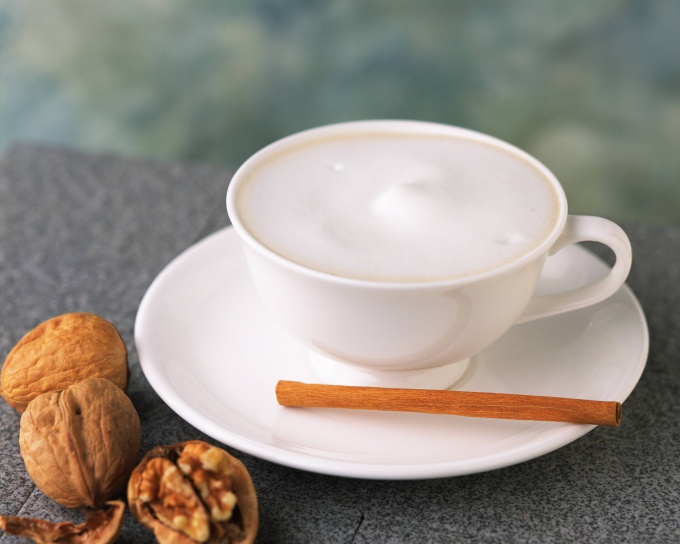 You will need
Coffee machine
Device for whipping milk
Blender
Mixer
Whisk
French press
Milk jug (milk jug)
Instruction
If you are a happy owner of the machine who know how to make cappuccino coffee, steam the milk for you is not difficult. Take a metal jug for milk foam, pour the milk and immerse in it a steam crane. At this time, the steam supply should not be included! Submerging the crane, you can enable it. Then start slowly and smoothly, but not too much, lower the jug or raise the spout of the faucet. Milk foam is formed on the border of milk and air, precisely because it requires three things: air flow, hot steam the milk itself.
It does not immediately get to make a good milk foam with coffee maker and jug. This calls for habits and skill development. – thick and stable milk foam sooner or later will have to happen. Some believe that much depends on the correct shape of the milk pitcher or jug. Buy it especially for coffee, he has a solid form.
If the machine at home, you can steam the milk available tools: mixer, blender, coffee plunger, whisk and other similar devices. Whisk cold milk with them will fail, so you need to heat it. Hot, but not too much, milk is easy enough whipped. Very comfortable warm drink in the microwave. Pogreb milk, whisk it until you get a good foam. If you do this with a mixer, try different nozzles to find the one that best does the job. Select a mode mixer in which the movements are of low amplitude and high speed.
There are special device for whipping milk, this small dairy mixers. They have special nozzles to quickly cope with this task, but the milk before whisking still better slightly warm.
Note
If you over heat or boil the milk, milk foam may not work.
Useful advice
Starting mixing, submerge the mixer or other devices in a mug with milk and then turn, otherwise you risk to splash the entire kitchen.
Advice 4 : Smoothies for weight gain: recipes
Along with wanting to lose a couple pounds of weight there are those who want, on the contrary, they recruit. Are athletes, pregnant women, busy people, etc. for them, invented special cocktails, to prepare which can be at home.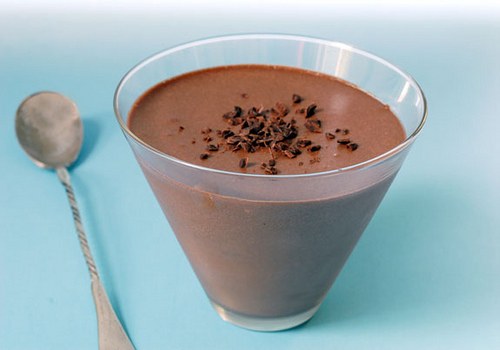 High-calorific cocktail for a set of weight


To prepare smoothies for weight gain, you need to take a few ingredients:

- 120 g of sour cream;
- 60 g of sunflower oil;
- juice from half lemon;
- 100 ml of orange juice;
- 25 g of fruit jam;
- egg yolk.

Beat with mixer the sour cream, egg yolk, orange juice and sunflower oil, add the lemon juice and jam. Mix thoroughly. Eat about an hour before training. Calories – 900 calories.


Recipe "Shokko-Mokko


This cocktail recipe for gaining weight is very simple in execution. You must whip 150 g of cream with a teaspoon of coffee and 50 g of ice cream. Pour into a glass, top decorate with chocolate chips and nuts, ground in a coffee grinder.


"Fruit" cocktail


Another very easy recipe. For its preparation you need to grind in a slurry of 50 g of cottage cheese with 250 ml of milk. Whisk one raw egg yolk with an electric mixer with 2 tablespoons of any fruit liquid jam or syrup. Pour into this mixture the milk mixed with curd.


Flip-Latte"


250 ml cream, mix with a teaspoon of coffee, raw egg yolk, a tablespoon of honey and the same amount of sugar. All is well beaten.


The recipe for "Banana" cocktail


Any dairy homemade smoothies for weight gain very helpful. In this case, to make the drink you need to collect in one table the following products:

- 600 ml of milk;
- 300 g bananas;
- 50 g of nuts;
- 2-3 tablespoons of honey;
- 180 g of cheese.

All the ingredients are mix between a whip. After banana milkshake is ready. Drink it throughout the day, before and after eating.


Protein shake


Typically, these high calorie smoothies for weight gain buy in stores. Although it is very easy to prepare at home. Protein drink mix you can buy at any sporting goods store.

You will need: 50 g of protein, 0.5 liters of milk, 50-100 g of cottage cheese, eggs, any fruit syrup.

All ingredients alternately put in a deep bowl, mix well, beat with a mixer. If you wish you can also add 1 tbsp flax or coconut oil, and fruit syrup to substitute any frozen fruit. Eat recommended half an hour before exercise.

It is important to remember that a protein shake for weight gain can contain any dairy products, dried apricots, bananas, nuts, chocolate, eggs, protein. So you can vary the drink, giving it a new flavor and taste.