Instruction
Traditionally with egg liqueurom prepared alcoholic cocktail "Algerian Coffee". To make one Cup, pour the taste of freshly ground coffee in the coffee maker or Turku, cover with cold water. Bring coffee to a boil, carefully remove from heat and let cool. After that, again boil. Allow it to steep for two minutes, then add 1 teaspoon of cold water and within 1 minute simmer. Take a thick-walled glass (e.g., whiskey), pour 20 g of cream, the same amount of egg liqueur. Then the wall of glass with a thin stream pour in the coffee. The drink is ready.
Perfectly refreshing in hot weather cocktail "snowball" (second name "the Snowball"). For its preparation take a glass for long drinks (a tall, narrow vessel with a volume of 540 milliliters), pour in 40 ml of egg liqueur. Then carefully, trying not to damage the layer of thick liqueurand fill it with lemonade with lemon flavor. Decorate the glass with lemon wedge and cocktail umbrella.
The most common egg liqueur today – "the Lawyer". It has a thick consistency and a pronounced vanilla flavor. That's the name of this liqueurwas born and a Lawyer in the pink shoes". To prepare the cocktail in the same proportion, mix egg liqueur and grenadine syrup (usually for one drink take 10 ml). To them add the same amount of heavy cream, mix well. Pour into a tall glass and fill with lemonade top.
Fans of strong alcoholic cocktails, you can also try Casablanca. To do this, take 30 milliliters of vodka, one tablespoon of anise liqueurand pineapple and orange juice, and 20 ml of egg liqueur. Place all the ingredients into a shaker and shake vigorously. Pour into a tall glass (like a latte), pre-laying out the bottom of the crushed ice.
Girls will impress cocktail party Monaco. Take one part egg, banana, coffee liqueurs liqueurand Cointreau, and 2 parts cream. Mix in shaker and pour into tall glasses.
On any occasion will look spectacular cocktail "Bleeding heart". In a square low glass pour 75 ml of egg liqueur, and then, gently, through a tube, fill the bottom of the glass 25 milliliters of liqueurand the Curacao red.
Advice 2 : How to cook egg liqueur
There are several varieties of egg liqueur. In Germany love Christmas Eierlikör, in Latin America popular Rompope, in Poland, preparing Aescape, but perhaps the most popularity in the world won Advocaat – a creamy, warm yellow color of the drink, which produces dozens of different manufacturers.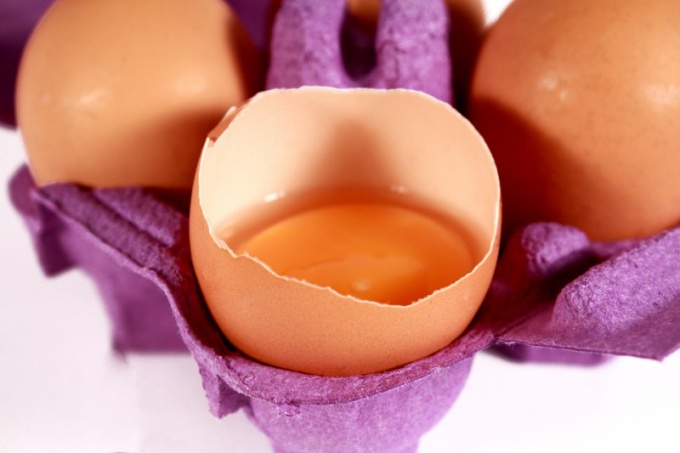 You will need
Eierlikör
- 2 chicken eggs;
- 2 egg yolks;
- 250 g icing sugar;
- 1 Cup heavy whipping 33% cream;
- 125 ml of alcohol.
Egg liqueur cognac or brandy
- 10 egg geltow;
- 1/2 teaspoon of salt;
- 250 g icing sugar;
- 350 ml brandy or cognac;
- 30 g of vanilla extract
Egg liqueur with lemon and condensed milk
- 250 g icing sugar;
- 15 g of vanilla extract;
- 30 g of lemon juice;
- 3 chicken eggs;
- 4 egg yolks;
- 250 ml of alcohol;
- 150 g condensed milk.
Egg liqueur with milk
- 5 egg yolks;
- 250 ml powdered sugar;
- 150 ml of high fat milk;
- 100 ml cream 20% fat;
- 1 teaspoon of vanilla extract;
- 200 ml of vodka.
Instruction
EierlikörПросейте powdered sugar. Eggs and egg yolks, whisk in a thick mass. Still whisking, in a thin stream, add sugar. Pour the sweet egg mixture, the alcohol and stir. Whip the cream to soft peaks and gently stir in the liqueur. The drink is ready. Pour it into a bottle and store in refrigerator no longer than 1-2 weeks.
Egg liqueur cognac or Brendel egg yolks, add salt and sifted powdered sugar and beat them up until they turn into a dense uniform mass. A thin stream pour in the brandy or cognac. Prepare a water bath and, stirring constantly, start to heat the egg mixture. It is in any case should not boil, otherwise the alcohol will evaporate. When the mass reaches a creamy consistency, remove from the heat and add the vanilla extract. This liquor is cooled and serve immediately, garnished with whipped cream.
Egg liqueur with lemon and condensed molokovskaja eggs, egg yolks and sugar in a blender, add condensed milk and whisk again. Pour in the alcohol, lemon juice, vanilla extract and mix on low speed for 1-2 minutes. Pour the drink into the bottle, close the airtight lid and leave in the fridge for 1 - 2 weeks.
Egg liqueur makedoonia milk to a boil and let cool to room temperature. Meanwhile whisk in a homogeneous fluffy mass of egg yolks and sugar, add milk and vanilla extract and cream, stir gently with a whisk. A thin stream add the vodka. Ensure that all the ingredients were the same at room temperature, otherwise the liquor may curl up. Pour the drink into a sterilized bottle and store in the refrigerator for at least 2 weeks.
Useful advice
Try to replace part of the sugar in recipes with honey, to prepare the liqueur light rum, add lemon or coffee essence.