You will need
maple sugar or maple Holly,

drill
vessels for collecting the juice,
large flat boilers,
the fire
jars for syrup.
Instruction
Select the appropriate tree. Holly is widely distributed maple in the forest zone of European Russia, reaching in the North of South Karelia, and to the East of the Urals. To collect the juice use Mature trees maples, 30 years of age and older, with a broad crown and smooth trunk; the thickness of the trunk must be more than 20 cm
To collect the SAP in the tree trunk make a hole with a diameter of 1.5 cm and a depth of 5-10 cm, then there are two options: insert to the hole of the metal corner with a hook on which to place the bucket for juice or paste the tube through which the juice will flow into a special vessel. When installing the device, note that to obtain 1 liter of syrupand need to collect 30-40 liters of juice, so it is better to organize several collection points.
Collect the juice of the maple as well as birch, best in early spring. The most favorable time is considered to be March. At this time buds swell, and the temperature is around zero. In such circumstances, the maple gives more juice, and it is especially sweet. The collection period can range from 8 to 45 days depending on weather conditions and the capabilities of the tree.
For the production of syrupand equip a place for the evaporation of the juice. For this kindle a few bonfires and put on their boilers with juice. The best place to visit near the site of collection, but at a safe distance from trees. The juice consists of 96 % water, its evaporation and obtaining the syrupand the desired concentration will require many hours. When all the water has evaporated in the boilers will remain dark viscous mass with a pleasant smell of wood. Sugar need not be added - the syrup should not contain anything except the juice of the maple. When the syrup has cooled slightly, pour it in the jars.
Maple syrup adds a sophisticated caramel taste sweets, so you can use it in the confectionery and baking industry, as a natural sugar substitute. Salads, baked meat, pickles, pies and cakes – all takes the original and discreet woody aroma, recognizable and loved by many. Also maple sugar is recommended by dieticians to use as a substitute for white because of its lower caloric content.
Note
When collecting the juice try to cause minimal harm to the tree, make the hole carefully. After collection, seal it with resin or or fill in the hole a wooden cork.

Don't take with a single tree the juice, that you will condemn him to death.
Useful advice
Chefs from the best restaurants use maple syrup for cooking sauces for meat, fish, salads, and, of course, for cooking a variety of desserts. Meats become spicy, rich flavor, and the pastry flavor. It is used as a separate additive to ice cream, waffles, pancakes, cereals, to drinks, including tea and coffee, glazed fruits and fruit salads.
Advice 2 : What you can cook buckwheat
Buckwheat is not only healthy but also very tasty product. Buckwheat is a perfect substitution for rice and wheat, it contains more protein, amino acids, vitamins and minerals, in addition it has no gluten. Buckwheat dishes can be both savoury and sweet, hot and cold, it all depends on what you cook buckwheat.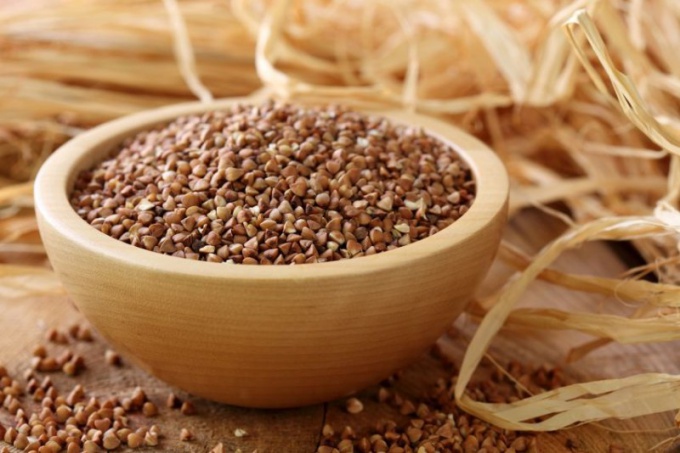 Buckwheat porridge for Breakfast

Buckwheat is often served for Breakfast. It's a good alternative to oatmeal or semolina porridge. A hearty Breakfast is obtained from boiled buckwheat with milk and sugar, often buckwheat cooked with egg. Unusual, but very tasty get the buckwheat, if you can cook it with apples and cinnamon. You will need:
- 1 Cup buckwheat;
- 1 tablespoon of butter;
- 2 ½ Cup cow or almond milk;
- 1 cinnamon stick;
- 1 pinch of grated nutmeg;
- 1 teaspoon of salt;
- 2 apples, Granny Smith;
- maple syrup.

Put in a saucepan of buckwheat, add cinnamon, nutmeg, salt, stir in the milk. On medium heat bring to the boil and simmer for 20 minutes, stirring occasionally.

Apples wash, cut, remove the core and cut into slices. Add the porridge and cook it for about 10 minutes. Turn off the heat, remove the cinnamon stick and add the oil and maple syrup to taste. The gruel is ready.



To cook porridge for lunch

Buckwheat is often prepared in monasteries, because it is the perfect Lenten dish. Such buckwheat is traditionally added to fresh or dried mushrooms, onions, carrots. If you are fasting, add in this dish the bacon. You will need:
- 1 ½ cups buckwheat;
- 20 grams of dried porcini mushrooms;
- 3 cups of water;
- 1 onions;
- 1 carrot;
- 4 strips of bacon;
- 2 tablespoons of butter;
Sol.

Boil water. Pour her dried mushrooms and leave for 20-30 minutes. Peel the onions and carrots. Carrots grate on a coarse grater, shred the onion half-rings. With mushrooms, drain the water into a separate bowl, squeeze out excess liquid. Slice the mushrooms into small pieces.

Fry the bacon until Golden brown in clarified butter. Remove with a slotted spoon and place on paper towel to absorb excess fat. In the same pan, where roasted bacon, fry the onions, carrots and mushrooms.

Buckwheat pour mushroom extract and cook for about 30 minutes on low heat. Add bacon, mushrooms and vegetables. Mix well, remove from heat and allow 2-3 minutes to stand under the lid.

To buckwheat porridge, you can add fried pieces of meat, offal, vegetables, such as onions, carrots, bell peppers, cherry tomatoes.

In the Jewish kitchen, there is a traditional dish made from buckwheat – porridge varnishkes. To do this, you need to:
- 1 Cup buckwheat;
- 1 chicken egg;
- 100 grams of egg noodles;
- 2 cups chicken broth;
- 2 liters of water;
- 3 tablespoons of vegetable oil;
- 2 heads of onions;
Sol.

Cut onions into small cubes and fry until Golden in olive oil.

Lightly beat egg in a small bowl. Add buckwheat and mix thoroughly so that each grain was coated with the egg mixture. Put cereal in a saucepan and cook stirring over medium heat until the egg starts to koagulirovat, pour in warm chicken broth, and season with salt. Bring to a boil, reduce heat and simmer, covered for 10-15 minutes.

Meanwhile, boil until cooked noodles, drain the liquid from it and add with onion to the porridge. Stir, if necessary, season with salt and serve.