Instruction
Order a bouquet of gerberas will delight you for a week or two? will have to work hard. First and foremost, care must be taken to dehydrated after transport the flowers could drink plenty. Them before putting them in the vase cut into water containers.
Cutting stems should be done not by shears, which will only compress the stalks and blood vessels in them, but razor-sharp knife. The cut should be oblique, in order to create a wider area of absorption. It is noticed that the shorter trimmed the stems, the better the flowers are in a vase. So if you want to enjoy your bouquet for a long time, long stems will have to sacrifice.
To put in a vase gerberas need also a special way. These flowers have a large heavy head and a gentle, soft stem. So try to put the gerberas in a vase so that the stems do not touch the bottom and the severity of the stalks pressed on them. Professional growers and florists use special cardboard plates supporting the flower stalks in limbo. Sometimes in the course are Scotch tape or thin wire, which strengthen the stems under stems.
When you put the gerberas in the water, make sure that it covers the stems are not longer than 3-4 cm, otherwise they will start to rot. Water should be fresh, separated from the chlorine, at room temperature. For disinfection add a tablet of activated charcoal, and aspirin or a bit of citric acid. Sometimes florists suggest to add to water for cut flowers in a small amount of nutrient fertilizer that you can purchase in a flower shop.
Approximately every two to three days, the flower stems should be cut under water to refresh slice and provide a better power plant. The water also needs to be changed regularly, and in hot weather or during intense additional heating to refill it in between shifts. If all recommendations have been implemented correctly, your wildflowers will delight you with its beauty.
Useful advice
Gerbera daisies do not tolerate heat and direct sunlight, so try not to put a vase with a bouquet near the battery or in the southern Windows are not protected from the sun.
Advice 2 : How to keep gerbera
Fresh flowers – the perfect gift for any girl! Their beauty and aroma always lift your spirits. However, cut flowers sometimes fade too quickly. How can I prolong the life a bouquet of Gerber?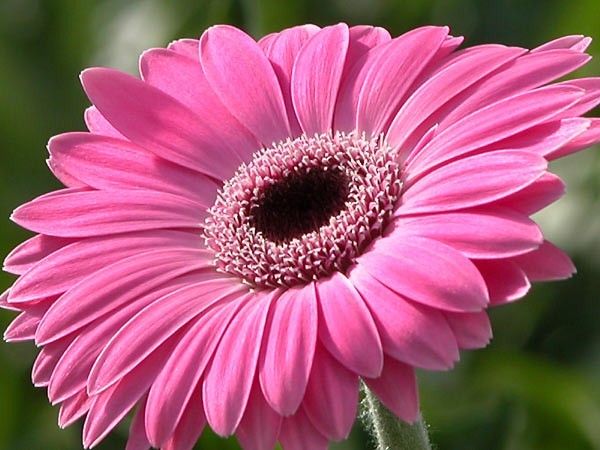 Instruction
Try to buy flowers in ready-made bouquets, and choose them separately. Sellers often make a bouquet of flowers that are already starting to fade. In this case, make sure that the plant was not damage and dry leaves/petals.
Buying flowers in the winter, pack them in newspaper to keep warm. And bringing them in from the cold back home, do not rush to remove the paper: let the
gerbera daisies
will warm it for about an hour. After that, place the bouquet in a bucket of water and cover the top with paper, leave for 20 minutes. Even in summer the wildflowers have to be protected from harmful air. Carry them home tightly shrink-wrapped.
If the wildflowers begin to fade, "cheer up" their water solution: 4 liters of water 2 teaspoons of alcohol and a few drops of ammonia.
Put the flowers in water and it cut 2-4 cm from the stem; the incision is better to do oblique. This will save the life of the plant and help it to consume the moisture. Water level for Gerber – about 5-8 cm
Put a vase in a bright place but avoid direct sunlight on the flowers. Drafts also dangerous for gerberas.
Gerberas are very sensitive to dirty water. To keep water clean, put into it a piece of charcoal or silver object.
Gerberas can be kept in water with sugar. Before you put flowers in a vase, dissolve in hot (!) water 2 teaspoons of sugar.
Change the water in the vase daily, be sure to washing the dishes cleaning products. Each time a little bit to cut the root of a plant. So the flower will stay bright and fresh for two weeks. It is possible by using a flower will rubbing the stem with salt.
Note
Each flower is unique, so the ways of life-prolonging gerbera may not be suitable to other plants. Be careful when choosing colors. Ask the seller how to combine plants in bouquets.