Instruction
Photo. Choose what prompts your soul and heart. The success of gift depends largely on the image that will be in the frame.
Select frame. Before something to do, buy any frame. Pay maximum attention to its size, the material from which made, relief, etc. it Should be noted that a special grace attached to the tree, and the plastic looks cheaper and just.
Choose pattern. If it is just painting in some color, this item must take if you plan to make a drawing, first draw it on a piece of paper. Cut the paper to size bought frame and make sketches.
Choose a color. Build from the pictures. The color of the frame needs to emphasize it. Simultaneously, do not use too bright colors, because the frame should fit into the interior of the room.
Buy the paint and primer. Frame can be covered with different types of coatings from paints with color shades and finishing natural wood. Each looks differently, but what to choose - to solve only to you. Can also buy and use silver and gold plating. This additionally will add an unusual gift. If you want to use acrylic paint, note: if you want to Shine – buy glossy if on the contrary, do not want – will buy matte.
Primer. This item is actual only for wooden frame. With a brush or roller gratuite frame and give her a couple hours to dry out. After the primer paint is good to go and not soak into the wood.
Color. Attach a drawn picture (if it is) and move it with a pencil on the frame. Then paint in the selected color. Allow time to dry.
Note
Can't choose frame. Can make its own hands. This will make it be what you want.
Advice 2 : As to age thing
Old antique things have a special beauty and charm, but "grandma's" furniture is not at all, and is a real "antique" is very expensive. There is a fairly simple way out of this situation — it is necessary to artificially
wear out
your furniture. It doesn't take a lot of time and effort, and buying the materials that you will need to work, not much hit on the wallet.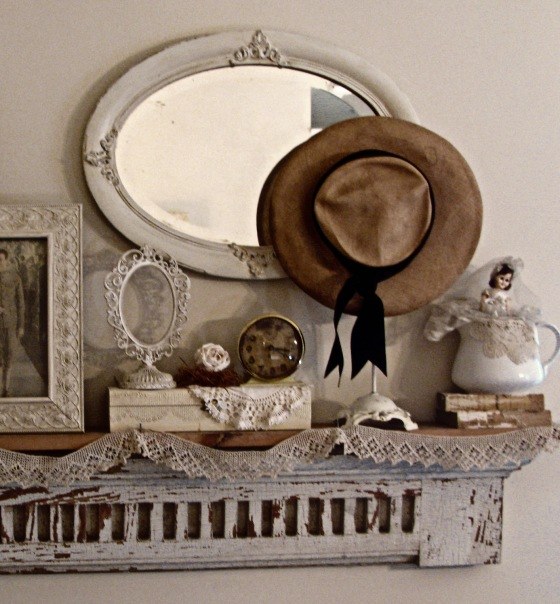 You will need
- emery emery cloth;
- the ground;
- acrylic paint;
- candle;
- varnish for cracking;
- metal brush.
Instruction
For aging good things from wood, ceramics, brass, glass and wrought iron. Give a touch of antiquity of wooden furniture. Take the object, clean it from dust and sanded paint and varnish. Sandpaper is better to take large, it can help you work faster. Swipe all the debris from the surface and clean workplace, to particles of old paint will not stick to the new layers.
Cover the thing with soil suitable mixture of PVA glue with white acrylic enamel. Allow the surface to dry. Then cover the piece of furniture brown acrylic paint. Apply two coats of this tool. Leave overnight so that the paint has well dried out.
Paraffin or wax RUB all edges and corners of the product. Select the color of your future "antique" furniture. Looks good pale pink or ivory. Create your own color by mixing white paint with the color. A few drops added to the Bank, would be sufficient.
Brown Foundation should completely disappear under layers of new paint, these layers can be from two to four. Don't forget to dry well each layer.
Take the sandpaper with the grain to 800. Sanded the places that you rubbed the candle. Basic paint will wear away and expose brown. Satilite carefully to avoid "burrs". For greater reliability of work is uneven, somewhere power trowel is stronger in other areas do only a hint of fading.
A soft brush clean the surface from dust. If you want to further decorate furniture, cut-out napkins floral patterns and stick on the selected place. Then cover the entire product matte varnish. This technique is called shabby chic.
Try to age the furniture with the help of brushing. Treat the surface with a wire brush, it will remove the soft wood fibers and clearly distinguish its texture. Apply a layer of paint, the color it should be dark. Without waiting, when the medium dries, RUB it deep into the pores and cracks of wood. All the wood structure will be clearly visible. Varnish for finishing treatment can take a variety of effects – metallic, mother-of-pearl.
Effectively things look aged crackle technique. Apply on furniture, new paint, and in a few minutes – tool to create cracks (craquelure). This can be a two-component varnish or paint. When you work with them be clear on the instructions, as the common recommendations for different funds.