You will need
detergent;
-vinegar;
-glycerin;
-paraffin;
-alcohol;
Sol;
-lemon juice.
Instruction
For removing stains from gel pens is affected by several factors: the degree of contamination, type of fabric and age spots. Fresh stains wash out much easier. To wash the stain did not spread, you must do the following: melt petrolatum and paraffin wax and apply around the stain so that the fabric soaked through.
For starters, you can try dishwashing detergent. Apply on the contaminated area a small amount and scrub with a small brush to work up lather. Then rinse and dry.
If not, you can try Valerian. Apply a few drops on the stain and let soak. Then wipe off with a rag. This tool is generally suitable for raincoat fabric, leather and suede.
To remove stains from gel pens suitable alcohol or vinegar. But be very careful to use it on colored fabrics as they may shed. Alternative vinegar can be lemon juice, which you squeeze on the stain, and then rinse with warm water.
Stores sell special tools from different spots. Perhaps they will help you in combating this pollution. You need to add them in the wash. But the water temperature need at least 60-80 degrees.
Mix ammonia with baking soda and apply to the contaminated area. Leave for a few minutes. Then rinse with warm water and Pat dry. Another option is a mixture of ethanol and glycerol. For best effect, soak the stain in glycerine for an hour, so the ink is better to leave.
Leather things spot are displayed with the help of wet salt. Apply it on the stain and leave for a couple of days. Then just shake it out and rinse with water. Silk things need to be handled very carefully because they do not suit the methods described above. For silk things dissolve mustard and wash cloth. When the mustard dries, gently scrape it out and rinse under running water.
On a fresh stain sprinkle salt and add lemon juice. If the ink did not have time to soak the stain will disappear!
Note
When removing stains from gel pens need to be very careful because there is a high probability that they will melt and leave ugly stains.
If the stain has disappeared the color of the fabric - do not worry. In stores there are many colors that will help restore your item to its former color. You need to add them in the wash or soak the discolored part in the pelvis.
Useful advice
If you are afraid to apply the above tools on a cloth, then try to stain old thing is no longer wearing. Experiment with different types of cleansers.
Good, but expensive option is to carry the thing to the dry cleaners.
Advice 2 : How to remove ink
Any stain can spoil the mood and add unnecessary trouble. If you spill on your clothes, carpet or furniture ink, it may seem that this is not cope. Indeed, ink stains to bring difficult, and in some cases impossible, but what hinders to try?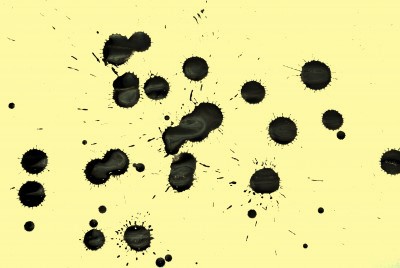 Instruction
To remove ink from most fabrics and skin rubbing alcohol can be used. Apply it on a clean towel and saturate the stain. After 20-30 minutes, DAB (but do not RUB!) spot a dry towel, and if it still remains, repeat the procedure 2-3 times, then rinse with a solution of acetic acid, with water made in the proportion of 1:20. To get rid of divorce, at the final stage, rinse the surface with clean water.
Alcohol can also be used to clean carpets from stains of ink. The technique of removing stains will be the same as in the case of fabric or leather, just to achieve the best result the surface should be rubbing, alternating rotational motion with friction back and forth.
Hydrogen peroxide can remove ink from the polyester, if the treatment with alcohol has no effect. Usually, the peroxide is harmless to painted fabrics, but before application, be sure to check its effect on an inconspicuous part of the product. Apply 3% solution of hydrogen peroxide on the stain and then rinse with clean water. Do not use this tool to remove stains from wool or silk.
To remove ink from a wooden or plastic surface, moisten the cotton wool with alcohol and apply to the stain. Usually, just a few minutes, the stain disappeared but if necessary repeat the procedure. If after several treatments the stain still remains, try to remove it cleanser based on orange oil.
Useful advice
In addition to the alcohol and hydrogen peroxide to remove ink stains, you can use household chemicals to remove stains.
Advice 3 : How to withdraw ink from a ballpoint pen
The problem of ink stains from a ballpoint pen affects almost any person, this is especially true for students and clerks. Often have to carry a pen with them in their bag or pocket, to sign and fill out receipts. Even a small trace of ink may hopelessly spoil your thing, if you don't know ways to get rid of it.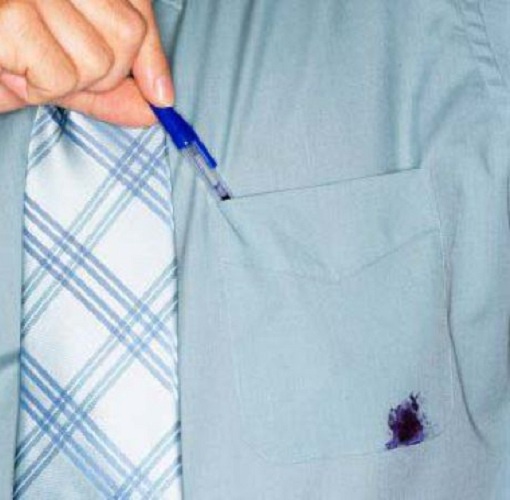 Instruction
The most effective means of chemical ink – acetone. Only need to wipe the stain until the complete disappearance of a cotton swab saturated with acetone. Then you can wash. Unfortunately, acetone is a very aggressive substance and can remove the paint with things, and whitish waterto the stain does not hide.
Many kinds of ink can be easily removed with alcohol, as it is their solvent. The technology is the same as with acetone – wipe with a cotton swab the stain, then wash.
In most cases, you can help ordinary vinegar or lemon juice. Apply the wet cotton swab on the stain and soak for a few minutes, the acid began to eat away at the ink. Then RUB the stain until complete disappearance. Be careful with lemon juice or Apple cider vinegar: these substances remain soft, but noticeable stains on white things.
Many Housewives use the mixture of vinegar and alcohol in a ratio of 1:1. To use this tool should be the same as pure vinegar.
If you have no alcohol, you can use eau de Cologne, but it cannot be mixed with vinegar, so use it only in its pure form. Be careful – in some cases, it may remain stains on white fabric.
Another method of removing ink – baking soda. This method is good because it leaves no residue and does not damage the paint. It can handle even the most delicate fabrics without the risk of damaging them. So, make a slurry of baking soda with water and apply on the stain, then wait about five minutes. Then rinse the baking soda off the fabric and send the thing in the wash.
If you've got some ink on white fabric that can be bleached with a chlorine-containing drug, then you're in luck. Just soak the thing for hours in bleach and the stain will disappear. But be sure to check the information on the label – is it possible to use a tool. A cloth seemingly durable, do not withstand exposure to chlorine as it is very corrosive.
Note
In the process of cleaning things as necessary replace swabs when they get dirty, not to smear the ink.
Useful advice
In any case, you can add in the washing machine oxygen bleach. It will not harm even the colored stuff because it does not contain chlorine.
Advice 4 : How to wash ink from skin
Ball point pen for many years, is quite popular stationery object. It is indispensable at home, at work or school. Unfortunately, however carefully you did not enjoy it, there is always the possibility of accidentally dirty clothes. What do you do if your favorite leather has several ink blots? Of course, to proceed immediately to their removal.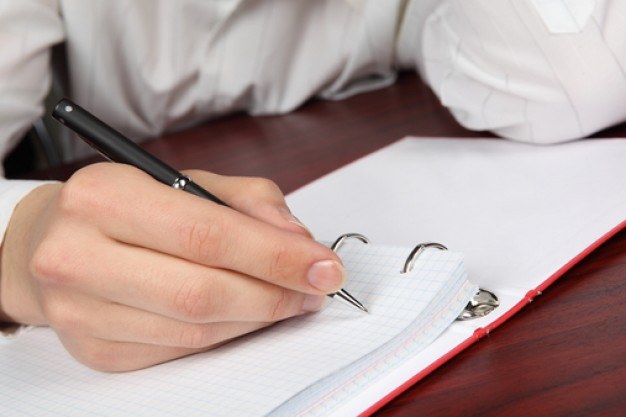 You will need
Sol;
detergent;
- Cologne, acetone or alcohol;
- cloth, or wool;
- baking soda;
- lemon juice;
- any alcohol-containing solution;
- ammonia;
- turpentine;
- liquid nail Polish remover without acetone
Instruction
If ink gets on leather, take half Cup of water and add a tablespoon of salt and a drop of detergent. It should be foaming. Apply the prepared solution on the ink stain and wait until it dries. After that gently
wipe
it with a slightly damp sponge or cloth.
At Cologne, acetone or alcohol. Just apply it on a napkin or a cotton pad and wipe the stain. If you just scour it does not work, repeat the procedure, replacing the cotton pad on the new one.
Take a little baking soda and sprinkle it on the stain. Then sprinkle on a few drops of lemon juice. As a result of this procedure, the stain will completely disappear. This method is suitable only for products of unpainted skin.
To remove ink stain from leather bags or jackets, you can use alcohol-based solution. Dampen a clean cloth and gently wipe the contaminated area. This procedure is absolutely harmless to painted things and it is great at removing fresh stains.
Mix baking soda and ammonia (a teaspoon of baking soda per Cup of alcohol). The resulting solution dampen a clean cloth or cotton wool and carefully RUB the stain.
Cover the stained spot with a damp salt, the thicker will be the layer the better. Leave for a few days. After a time, shake off the salt and wipe with a cloth or sponge dipped in turpentine.
For removing ink stains you can use liquid nail Polish remover. It is very important that doesn't contain acetone, otherwise instead of one spot you can get more. Moisten with the liquid a piece of cotton wool, gently wipe them with dirt and wait until the skin is completely dry.
Note
If you do not get the spot out with a skin yourself, ask for help to the specialists from the dry cleaners.
Useful advice
Before how to get out ink stains from the skin using the above methods, be sure that they will not harm the material. It is advisable to try them out on some inconspicuous area.

To the ink stain does not spread, draw around him a circle of paraffin.