Instruction
First, give the wife more time than usual. It was during this period laid the Foundation for future relations of the family – man, woman, and child. For the birth of a hardy and healthy baby my wife need to provide psychological comfort.
Secondly, you need to realize that the waiting period of the child, the woman begins to perceive the environment, leisure, work, environment. Daily tell her compliments, to underline its achievements and successes.
Sometimes a pregnant woman thinks that her husband lives with her solely because of the child. At such times, you need to calmly and confidently speak about the opposite, most importantly, that you were calm. Usually such conversations have a beneficial effect on pregnant women and they return a good mood.
Of course, it is difficult to change their way of life suddenly. Now you have to control their words and actions, any careless word can be traumatic for a pregnant wife. Such words include jokes for the wife it can be a real grudge. This is especially true of girls with fragile self-esteem. Avoid irony as regards the appearance of the wife, and so it is sensitive to changes in its own body.
At home try to spend as much time as possible. The baby in the womb, equally responds to the voices of moms and dads. Pat the belly of his wife and talk with not born child from the first months of pregnancy.
Avoid quarrels and conflicts, does not clarify the relationship. Any negative emotion is contraindicated in pregnant affected her nervous system.
Discuss their difficulties and challenges with colleagues at work, friends or relatives, try to come home after work just in a good mood. Pregnant inclined to dramatize the situation and making myself crazy worrying doubt.
To help his wife adapt to her new condition. If health permits and there is no threat of interruption of pregnancy, go with her to visit friends, go on nature - intimate conversation with nice people will bring many benefits. Try to protect the wife against viral diseases. Do not invite sick people home and avoid crowded places during epidemics.
Split with the wife chores around the house. Help her wash, iron, take cleaning. Ask her opinion, praise, attract relatives. They must be delicate and tactful.
If waiting for a baby has become an obstacle to travel on the sea, for example, or buying a new car due to financial costs, don't tell your wife about it. Psychological comfort during pregnancy is important and expensive purchase and the rest can be postponed for a later time.
Go with wife to the doctor's visits, attend ultrasound. Discuss the coming of the birth of a child, schedule a meeting from maternity hospital, invent a name.
If the wife is forced to spend a period in hospital, to preserve, to visit her daily. Let her feel your support even in this difficult period, teach her a favorable outcome. The thought is material.
Useful advice
Organize joint trips to the cinema, walking around town, trips. In the first two trimesters can go to sea.
Advice 2: How to behave like a husband with a pregnant wife
Pregnancy is a special period in the life of not only the expectant mother but also the father of her unborn child. Some husbands complain that pregnant wife became completely unbearable – often capricious, cry, you can make a scene literally out of the blue. Yes, the husband of the pregnant woman often have a very hard time. But right now, in this period, he must behave particularly intelligently, tactfully and carefully.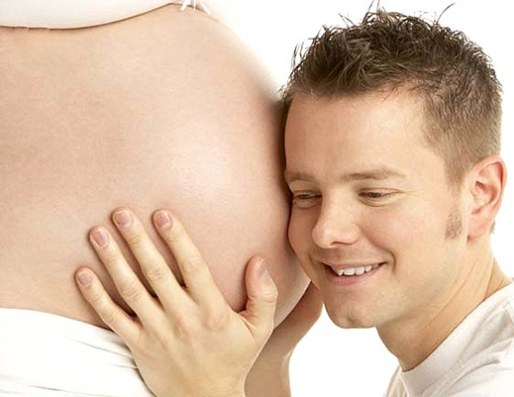 Instruction
First of all, understand that your situation is far from unique. The same problems faced by many generations
of men
before you. The fact that the body of a pregnant woman are real hormonal storm. This explains the changes in her mood, tearfulness, moodiness and even aggression. Wife maintains that is not out of spite, not because he wants to annoy you, and due to the sharp hormonal changes. Once you understand this, you will be easier to tolerate her whims. Therefore do not rebuke and do not reproach your wife, demanding to pull myself together and try to exercise Forbearance and tolerance.
Do not skimp on the good words and attention, teach her that you love her still, even more than before, because now she is carrying your child! In any case, even in jest, do not laugh at her rasplyvsheysya figure, altered gait, etc. Some women are so worried about this that they can bring themselves to real depression. They think that due to the deteriorating appearance of the men will not be able to treat them with the same love and passion. So often say to the wife that it for you are still loved and cherished.
If the upcoming birth of the first, inexperienced woman would be very afraid. It's scary and the pain that accompanies the birthing process, and thoughts, if all goes well, will not happen something bad with the child. Try delicately to dispel her fears. Inspire her confidence that everything will be fine.
Provide wife a full and varied diet, rich in vitamins and minerals. Often go with her on walks. Do not allow her to lift weights. Be sure to take at least part of homework. In a word, behave yourself as befits a caring and responsible man, future father of the child!