You will need
700-800 grams of minced meat or meat

2-3 onions
0.5 cups rice
2-3 tablespoons of sour cream
salt
pepper (to taste)
Instruction
Peel the onion, wash it and chop, mix with minced meat (best mix pork and beef mince, rather than homogeneous). If you use minced meat, it is better to take more fat as the meatballs will turn out softer. Pass the meat through a meat grinder and mix with onion. According to your taste you can add minced a couple of cloves of minced garlic or chopped in a blender dill.
Rinse the rice, boil it until soft. The broth in which the cooked rice, drain into a separate container, later it will be useful for making
gravy
.
Cooked rice do not have to wash under cold water. Add it to the mixture of minced meat and onions. Mix well. Add salt to taste and pepper. Again, stir.
Form small balls with a diameter of about 3-4 cm, Roll them in flour and fry in a pan until Golden brown. Flour is better to use rice or wheat. Don't forget that you should not use breadcrumbs.
Fried meatballs to put in the saucepan and cover the rice with broth. The saucepan is better to take not enameled, so that the meatballs do not burn.
Add according to your taste in a saucepan sour cream, but at least 3-4 tablespoons.
The meatballs should be at least half filled sauce. If the liquid is less, add water. Gravy salt, to your taste, add a little sugar. Put the saucepan on the fire, bring to a boil, turn down slightly and simmer for 20-25 minutes.
As a garnish you can use cooked pasta, rice or mashed potatoes. Serve together with sauce. You can also decorate the dish with dill. Bon appetit!
Useful advice
If you want to cook the original meatballs, then just pick! For example, you can put in each ball something delicious is a nut, a piece of salted cucumber, zest, prunes...
Advice 2 : How to cook ground beef for meatballs
It is believed that the meatballs came from dishes of Turkish cuisine called kufta, which is a meat balls with dried fruit inside, cooked in a broth. Today, traditional meatballs, known in Russia and Ukraine, prepared from meat
mince
and rice, onions, carrots, eggs and tomato paste.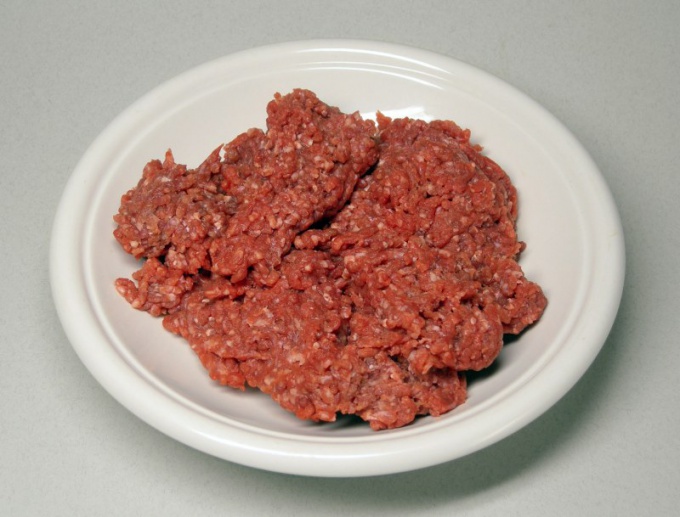 For the preparation of 10-12 servings you will need 600 grams of minced pork, beef, chicken or any other meat of your choice. You can buy a ready product on the market or in the store, or skip the pre-washed and drained fresh meat through a meat grinder with a medium nozzle. The main thing – that the meat was too finely, otherwise because of the liquid consistency will not be able to form balls.

One large carrots and two medium onions should be washed and clean. You can grate vegetables on a small grater or grind them in a blender. If you prefer to cook the stuffing independently, then together with meat can mince and onions. In addition, the meatballs, you can add other vegetables such as peppers or potatoes, previously chopped.

150-200 grams of rice must be washed several times to the water that you drained, ceased to be turbid. After that, pour the cereal with water, lightly salt and boil until tender. Then drop the rice on the colander and wait until all liquid is removed.

For meatballs American add minced cheese. One pack of processed cheese or 100 grams of solid cheese grate on a coarse grater and add to the stuffing. The meatballs in this case will be more tender and juicy.

Combine all ingredients in a deep bowl. Beat one egg, which will bind the components together. Add the chopped clove of garlic, salt, pepper and other seasonings to taste. All this will give a sharpness and piquancy to the dish. Carefully stir the contents. The beef is ready!

Prefabricated meat for meatballs can be frozen in a plastic tray or in package with string lock. Do not forget to sign it, at the right time to quickly find the desired product in the freezer.

But the best option is just to cook the meatballs from fresh ingredients. This dampened hands to form balls of equal size and lay them in an oven form, greased with vegetable oil. 220оС in a preheated oven meatballs need to leave for 20 minutes.

For the gravy must be cut into half rings medium onion, fry in vegetable oil, then add two tablespoons of tomato paste. Pour into the pan a glass of water, add salt, add spices and thoroughly mix the contents. Bring the gravy to a boil and remove from heat.

Remove meatballs from oven, pour sauce and put in the oven for another 15 minutes. After that, the dish is ready to eat as independently and with any side dish.