You will need
700-800 grams of minced meat or meat

2-3 onions
0.5 cups rice
2-3 tablespoons of sour cream
salt
pepper (to taste)
Instruction
Peel the onion, wash it and chop, mix with minced meat (best mix pork and beef mince, rather than homogeneous). If you use minced meat, it is better to take more fat as the meatballs will turn out softer. Pass the meat through a meat grinder and mix with onion. According to your taste you can add minced a couple of cloves of minced garlic or chopped in a blender dill.
Rinse the rice, boil it until soft. The broth in which the cooked rice, drain into a separate container, later it will be useful for making
gravy
.
Cooked rice do not have to wash under cold water. Add it to the mixture of minced meat and onions. Mix well. Add salt to taste and pepper. Again, stir.
Form small balls with a diameter of about 3-4 cm, Roll them in flour and fry in a pan until Golden brown. Flour is better to use rice or wheat. Don't forget that you should not use breadcrumbs.
Fried meatballs to put in the saucepan and cover the rice with broth. The saucepan is better to take not enameled, so that the meatballs do not burn.
Add according to your taste in a saucepan sour cream, but at least 3-4 tablespoons.
The meatballs should be at least half filled sauce. If the liquid is less, add water. Gravy salt, to your taste, add a little sugar. Put the saucepan on the fire, bring to a boil, turn down slightly and simmer for 20-25 minutes.
As a garnish you can use cooked pasta, rice or mashed potatoes. Serve together with sauce. You can also decorate the dish with dill. Bon appetit!
Useful advice
If you want to cook the original meatballs, then just pick! For example, you can put in each ball something delicious is a nut, a piece of salted cucumber, zest, prunes...
Advice 2: How to rinse rice
From the rice to prepare the garnishes to the second dishes, crumbly and thick milk porridge, puddings, casseroles and pilaf. It is perfectly absorbed by the human body. It consists of starch, protein, vitamins, minerals and fiber. To a dish of rice turned out crumbly and delicious, it must be properly prepared for cooking.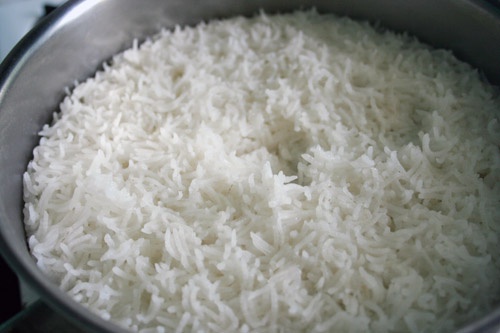 Instruction
To clean round rice, first soak it in warm water for 15-20 minutes, and then rinse in cold water. To do this, pour the rice into a container, add cold, mix thoroughly, and drain the muddy water. Repeat procedure up until the water is clear.
Long rice before washing do not need to soak. Just pour the rice into a container, add cold water and mix thoroughly, gently rubbing it between your hands and drain the muddy water. Repeat procedure up until the water is clear. After rinsing the rice dry on a paper towel.
Note
The water temperature for washing the rice should be at least 50 degrees.
Useful advice
If the rice is soaked before cooking, it will be lighter and faster rassypchatyh is cooked, as will absorb a certain amount of water.
For soaking, place the rice in a bowl and completely cover with cold water. Leave it on for 40 minutes and then drain in a colander and leave until then, until all water is drained. Now you can start making rice dishes.
Advice 3: How to cook meatballs from minced meat
The meatballs can be prepared from food stored in the cupboard or fridge. If you have some ground meat, rice, onion and other products too. Which means you'll cook for dinner delicious
meatballs
.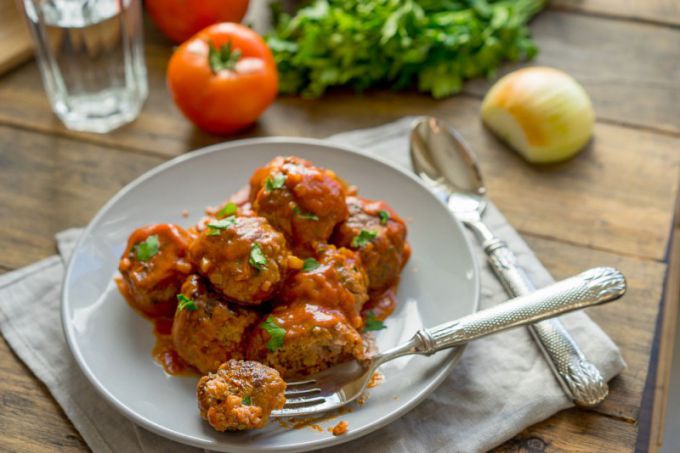 You will need
100 g of rice
2 onions
2 tbsp tomato paste
3 tbsp sour cream
salt
pepper
vegetable oil
a little flour
Instruction
Rinse the rice and boil it until soft. If you have parboiled rice in the bag, it can never boil and use immediately.
Finely chop or mince one onion. Mix in a bowl the mince, onion, rice, salt and pepper the mixture.
In a thick-walled saucepan, heat vegetable oil and fry it chopped onion, add tomato, sour cream, salt, dilute the sauce with water and give it a good boil.
Make the meatballs by hand – ball with a diameter of 4-5 cm Obvalivat each of them in flour and gently lower into the boiling sauce. When all the meatballs will be in the pan, reduce the heat, cover the meatballs, cover, simmer for 35-40 minutes.
As a side dish to meatballs you can cook mashed potatoes or pasta.
Useful advice
Children like the small meatballs with a diameter of not more than 3 cm For bringing to readiness so the meatballs will be enough for 20 minutes.
Advice 4: How to cook meatballs for a couple
Dishes
prepared
on
pair
, is juicy, keep original shape, natural colour and smell. A large part of vitamins and minerals not lost in the cooking process. Therefore, steaming is considered the healthiest way of cooking. Steam meats you can eat even small children and people on diet. Try meat meatballs for a couple – one of the options satisfying and at the same time a light lunch.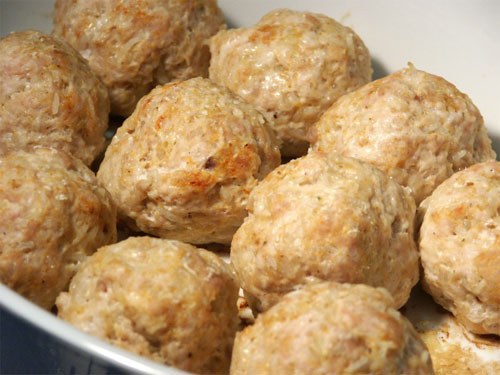 You will need
1/5 Cup of white rice;
1 raw egg;
100 g white bread;
1 Cup milk;
1 onion;
100 g of hard cheese;
1 tablespoon of olive oil;
100 g of green onions;
100 g of dill;
200 g sour cream;
salt;
ground black pepper;
2 cloves of garlic.
Instruction
Cut lean veal into small pieces and grind in a meat grinder. So
, the meatballs
turned out tender, skip the meat two or three times. Instead of beef use chicken or Turkey. Soak a piece of white bread without crust, in milk for 2-3 minutes. Very finely chop onions, grate cheese on a grater, gently squeeze the bread and add all the minced meat. Season with salt and pepper, add one raw egg and mix thoroughly.
Pour in a pan of water. When the water boils, add salt on the tip of a knife and pour the rice. Boil the rice until soft, try not to overcook it. Once the rice is ready, let it cool down and add the stuffing, then mix well. Form round meatballs the size of a small egg.
Pour desired amount of water in a steamer, brush grille steamer with vegetable oil and gently place the meatballs. Try to not touch each other. Put the timer on the steamer 35-40 minutes.
Use an ordinary pot and metal sieve, if no steamers. Put a pot of water on the fire, put a suitable sized sieve on the side of the pan. Make sure that the bottom of the sieve does not touch the water. Carefully put on the sieve meatballs and cover. After boiling water cook the meatballs for 30-35 minutes.
Prepare the sauce while preparing meatballs. Green onions and dill finely chop. Chop the garlic and add it to the greens. Add low-fat sour cream, a spoonful of olive oil, season with salt, if desired, add a little black pepper. All mix thoroughly and place in a gravy boat.
Serve the sauce to the meatballs separately. Garnish well suited mashed potatoes or pasta. If the steamer consists of several tiers, along with meatballs to cook steamed vegetables, e.g., cauliflower or green beans.
Advice 5: How to cook meatballs
Not all children love burgers, and
meatballs
eaten with pleasure. Important delicious to cook them, put the right ingredients. Cooking also need a certain amount of time.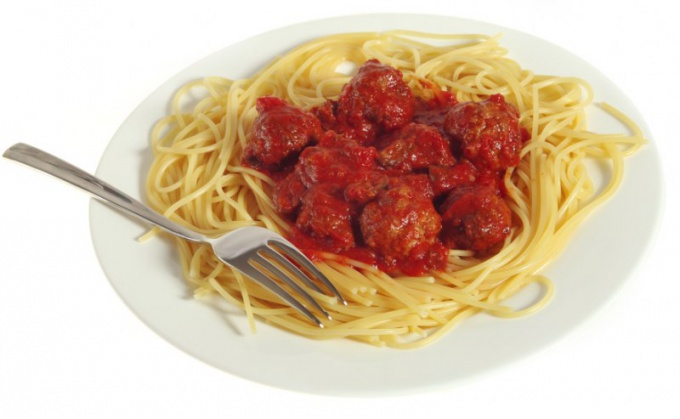 You will need
- 0.4 kg lean pork and beef;
- 2 chicken eggs;
- 2 bulbs;
- 100 g of water;
- 3 tablespoons of breadcrumbs and sour cream;
- parsley, Bay leaves to the broth;
Sol.
Instruction
The best meatballs out of the meat of two varieties – pork and beef, taken in equal proportions. Store the finished beef is better for making meatballs is not to use, as there is special equipment crushed not only the meat, tendons and sometimes bone.
The meatballs are fried, baked, stewed. Boiled options are great for children and dietary food. First, prepare the meatballs.
Meat, onions twice passed through a meat grinder. Can be put in the minced soaked in milk 150 grams of white bread or breadcrumbs. Added all the ingredients, and weight good is made.
Before boiling, the meatballs can be a little fry in sunflower oil. Thus they have formed a delicious crust. You can omit the meat product directly into the liquid – water or broth. One of the important conditions of cooking – put the meatballs into boiling water. If you put them in cold, they can fall apart.
To make the meatballs well cooked, they formed a not very large – about a walnut. Now they need one to put in boiling water and make a small fire. From the surface of broth collect the resulting foam.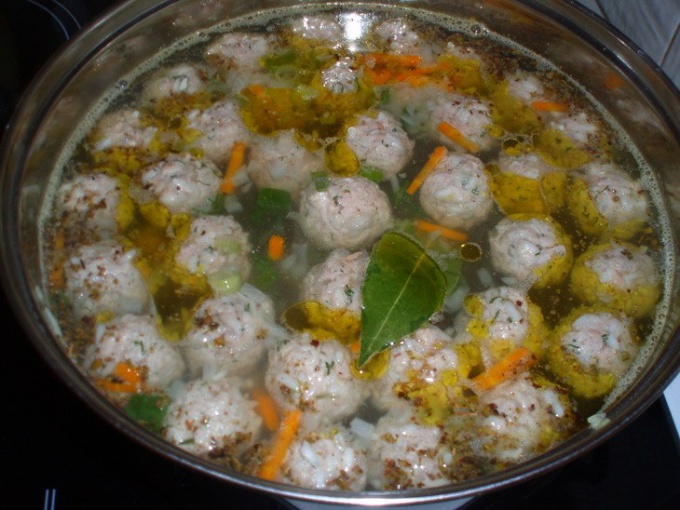 Meatballs stir periodically with a spoon, so they don't stick to the bottom of the pan. Once the meat balls float to the top, cook them for 12-15 minutes.
You can add before cooking the stuffing boiled rice in the ratio of 2:1, then get a variety of meatballs "Hedgehogs". The finished product is good with tomato or cream sauce. You can just cook the meatballs in a small amount of water with the addition of tomato paste or sour cream.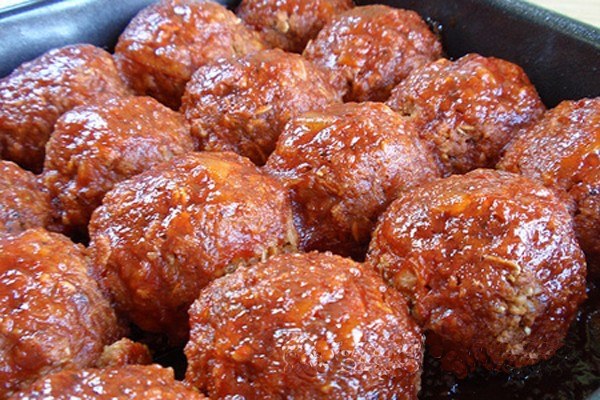 Note
To stuffing did not stick to the hands when forming the meatballs, the palm of your hand periodically dipped in water. Then the meatballs, you can roll in flour.
Useful advice
To make the meatballs turned out tender, the stuffing need to add water or broth and beat him - holding over a bowl, throw in it again 10-20 times. Beef enriched air.