You will need
Dishwashing detergent, iron, cleaning cloth, 2% solution of ammonia, lemon juice or acid, soap, soda, glycerin, alcohol
Instruction
Almost universal method of struggle with oily stains on any material (smooth six, mohair, synthetic) is a tool for washing dishes. The stain should be moistened with a sponge soaked in the spray and RUB, but not much. Then it must be rinsed. The procedure is repeated until the disappearance of spots. If that doesn't work, try the following.
Wool.
Traces of grease from wool can be removed using an iron and cloth. On the stain and under it put a napkin and iron. Repeat the procedure 3-4 times. Then soap solution, rinse the spot and allow to dry.
Chewing gum from wool, you can remove the hot iron. On the stain and under it put a thick cloth or office paper (a napkin will not do) and carefully iron a few times, replacing the paper.
Black tea or juice got on your favorite sweater? Wet the sponge with 2% ammonia solution and placed under the sweater a piece of cloth. Carefully blot the stain — it goes on a substrate. Fresh stain removed from tea with lemon or citric acid solution, and a method suitable for all materials. Still wet the stain from the tea water with lemon juice or citric acid solution and hold for 10-15 minutes. You can repeat the procedure several times until complete disappearance of the spots. Then rinse with water and towel dry.
Coffee stains are derived from the wool with a solution of soap and soda. The stain is removed, only 100% provided that spot has not time to dry out. For this small amount of soap dissolved in a small bowl, then add soda. Soak in a solution of a sponge and carefully wipe the stain until it disappears. After that, DAB the stain with the solution again, and wash the sweater completely — this will help to remove coffee particles between the fibers.
Other types of stains (milk, juice, grass and many other) are removed from the hair using heated to 35°C glycerol. The stain is wet with a sponge, soaked with glycerin, wait 10-15 minutes and rinse.
The mohair.
Grease stains can be removed with glycerin solution: moisten the swab and wipe the stain. Or use regular alcohol and a linen cloth: to put under a sweater mohair cloth or towel, pour on the stain a little alcohol and RUB, and then a linen cloth and carefully blot the grease should go on the towel and wipe.
Stains of tea and coffee with mohair sweaters can be removed with lemon juice. Thoroughly wet the stain with lemon juice and leave on for 15-20 minutes. Then wash the sweater by hand with soap.
Synthetic.
Chewing gum with synthetic is removed by the following method: put the thing on 30-40 minutes in the freezer, and then just as chewing gum from surfaces, it will move chunks, like ice.
Tea with the sweaters made from synthetics, you can remove regular soap: soap stain or wipe with a sponge dipped in soapy water. Wash thing. Also displayed and coffee stains and juice.
Advice 2 : How to remove stain from iron in the black
If you overdo the iron on fabrics or clothes, it may leave scorch marks or shiny spots that are especially noticeable on black. The rotten thing is very a pity to throw out, and dry cleaning is quite expensive. Do not hurry to part with a thing: the weaker spots, even shiny marks on black, can display or mask.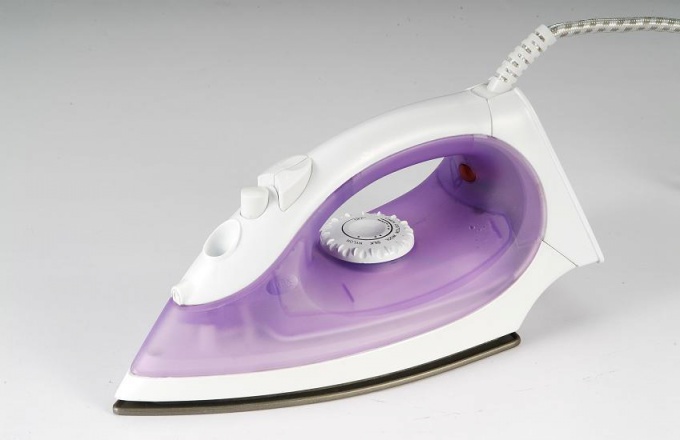 You will need
lemon;
powdered sugar;
salt;
hydrogen peroxide;
onions;
soap;
vinegar;
razor or nail file.
Instruction
To remove a stain from clothing can be used only if the fabric was still intact, and markings are yellow. The spots are dark brown not even worth trying out. To remove scorch marks or yellow stains, try folk remedies. Moisten the spot on clothes with lemon juice, sprinkle with icing sugar, leave until dry. Then wash clothing in cold water.
Wet spot left from the iron, cool water. Sprinkle with fine salt and put to dry in the sun. The dried clothes rinse in cold water. Also on the stain you can try to apply the hydrogen peroxide is too drying then clothes in the sun. You can wipe the trace from the iron on black fleece with vinegar, then iron it through the cloth using a very hot iron.
To remove burnt stain with black linen or cotton fabrics using a solution of borax. One teaspoon pour a glass of water, stir. Treat a solution of the stain, rinse the thing and iron.
Try using a onion – cut it in half and RUB the cut spot. If after you have done Padalino, it took a little time, take an aqueous solution of any detergent or detergent. A trace of iron, viscose can be washed off with vodka, and with silk – a paste of soda and water. Soak a cloth in the milk, and once the markings disappear, rinse and wash it.
If the black fabric is left shiny shiny trail (such traces are called Lasy), to remove it will be much harder. Make a soapy solution and soak a cheesecloth in it. Iron through it without hitting the iron, lightly touching the clothes. Remove the gauze and let dry, but not without the iron gauze to dry the thing. Similarly, it is possible to reduce the stain gauze with vinegar solution.
You can try to scrape or stesti a trace of iron. Take a razor or nail file and gently buff the top layer where the left mark. But this method is very risky if the fabric is thin and synthetic. Buy a special stain remover for stains from the iron. Their quite difficult to buy in any hardware store, but you can find on the Internet.
Useful advice
If none of the methods do not help, do not rush to throw the thing. The stain can be masked applique or decorative embroidery.
Advice 3 : How to take a spot on synthetics
Synthetic fabrics have high strength and fastness. Unlike natural fabrics, they do not shrink. When removing stains it is necessary to consider the properties of textiles, and the origin of contamination.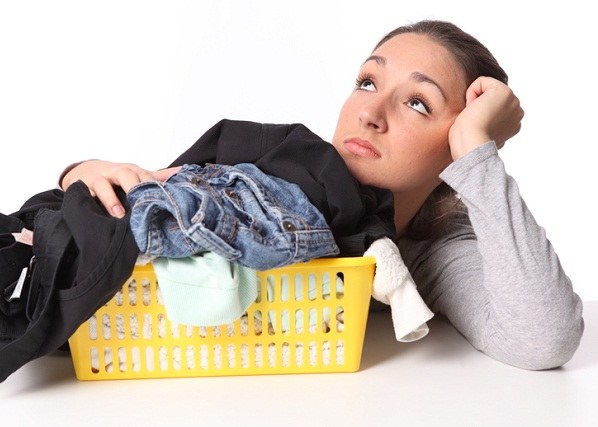 You will need
- absorbent paper or paper towels;
- denatured alcohol;
- refined gasoline;
- tooth powder;
- ammonia;
- salt;
- alcohol;
- hydrogen peroxide.
Instruction
Fresh stains from fat are removed with a flat iron. Put the contaminated area several paper towels or blotting paper. Do the same with the right side of the fabric. Swipe the stain is not very hot iron. The fat will remain on paper. Wipe the stain with a cotton swab dipped in denatured alcohol. Then wash the product in warm soapy water and rinse under running water.
Stains from vegetable oil, wipe with a cotton swab dipped in clean gasoline. It can be purchased at the hardware store. Wash the product in warm soapy water and rinse thoroughly under running water.
Grease stain sprinkle tooth powder, cover with a paper towel and iron with a warm iron. This way you can quickly get rid of pollution.
Stains from chocolate, cocoa and coffee are effectively removed by using ammonia. Blot the area of soiling and leave it for a while. Then wash the product in warm soapy water.
Fresh stains from coffee sasteria in salted warm water and rinse in cold.
Dirt drops do not immediately remove from clothing. Wait until it dries and brush. Clean stains with a weak solution of borax and rinse the product.
Stains from lipstick can be removed using alcohol. Moisten a cotton swab in the liquid and DAB the soiled area.
Stains from hair dyes are removed with a mixture of hydrogen peroxide and ammonia. Take 1 teaspoon solution per Cup of warm water. Moisten a cotton swab in the solution and blot the stain. Then wash the product in warm soapy water and rinse in running water.
Note
Before using any tool, test it on an inconspicuous area of the product. If the fabric did not change its properties, feel free to skip to the removal of stains.
Advice 4 : How to remove a stain from coffee
Millions of people around the world can not imagine morning without a Cup of fragrant fresh
coffee
. Morning rush helps to ensure that stains from
coffee
can stay not only on your favorite shirt, but on the carpet, tablecloth and a chair or sofa. To remove stains, you must use the means available in each apartment.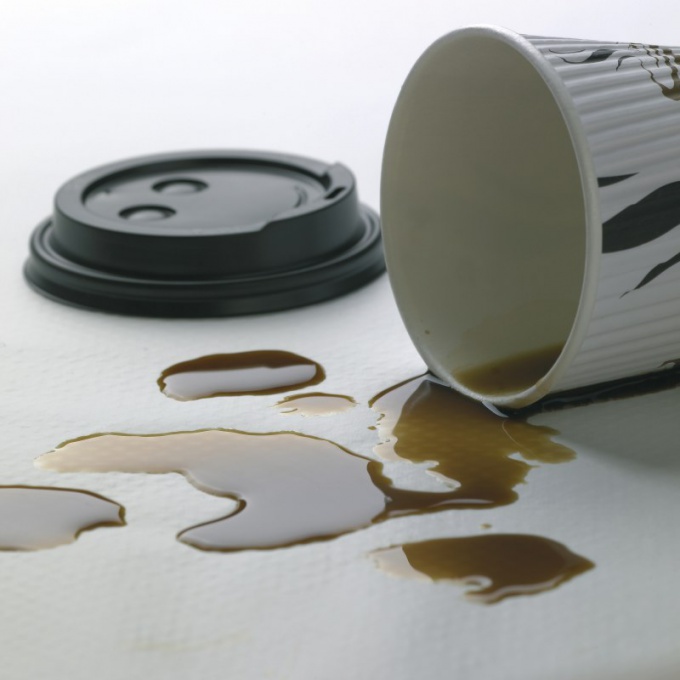 You will need
- mineral water;
soda;
- rubbing alcohol;
- denatured alcohol;
- milk;
- yogurt;
Sol;
- ammonia;
hydrogen peroxide;
- stain;
tool for carpets;
brush;
- washing powder.
Instruction
If you spill on the fabric of black coffee with milk and the stain is still fresh, but to remove it for you once because of haste, then liberally pour his sparkling mineral water. In the evening, when you will have more free time, apply to pollution from the pulp of soda, leave for 30 minutes, wash the cloth.
If the spot formed on the fabric that cannot be washed, then remove the baking soda with a sponge and wipe the place of contamination of medical or denatured alcohol several times.
Stains from black coffee is wonderful removes milk and yogurt. To use apply the stain warm milk or cold yogurt, leave on for 30 minutes, wash the cloth.
Stains from coffee, which was not immediately processed and time to dry out, soak, RUB with glycerin, wash. If the product must not be washed, then thoroughly wipe the treated area with medical or denatured alcohol.
Also old stains can be treated with a mixture of wet salt with a few drops of ammonia. Leave the mixture for a few minutes, clean the product with a brush, wash it in the washing machine.
If you spill coffee on a carpet with long pile, treat pollution high gasoline cleaning, wipe with rubbing alcohol and clean the carpet using funds intended for wet cleaning of carpets.
Stains from black coffee with white fabrics cleaned with a hydrogen peroxide or a stainremover of designed for white fabrics. If you use hydrogen peroxide, apply to stain 3% solution for 20 minutes, then rinse off product and wash it in the usual way.
If you use the staina remover, read the instructions, apply the stain, wash the product.
For colored fabrics also sold spotthe remover, which can cope with any stains, including coffee, does not bleaching colored fabric. For use read the instructions, apply the stain, add in the wash.