Instruction
You better use the red rosebecause of her coloring will be much better and the black color will be more intense. When you use the white roses you may not get the desired result, but the rose color will not be bright enough.
Take a roseBud which is just beginning to unfold. Otherwise, after you give her, she will stand for very long and quickly fade.
Carefully cut all the leaves off the stem. Although you can leave them, but keep in mind that they will also change their color and become black.
Take a vase and fill it with warm water. Add a special paint for the flowers. A paint you can buy in a specialized flower shop or search the Internet. For dyeing and fit simple gouache, but add it will have quite a lot. You can also use the rod of marker or ink. But the flowers after painting such means wither much faster.
Cut one inch of stem, and make a slanting cut on the diagonal. This will contribute to better penetration of the dye solution, fast and high quality staining.
Put a rose in a vase with the solution. At room temperature keep a minimum of fifteen hours. If necessary, you can hold it longer. At the same time you can paint a few roses to make a bouquet. Wrap a rose in a transparent wrapping, packing, carefully wrapping the cut stem to avoid.
According to the Japanese art of ikebana, the black roses are an expression of admiration for the power of the spirit and the vital resistance of the person. But on the other hand is a symbol of mourning, grief and sadness. Therefore, you should consider how to present the black rose, you understood correctly and appreciated your effort, originality and uniqueness.
Advice 2: How to make roses long withered
Flowers are the perfect gift for the woman. But, fortunately, the fragrance and beauty of roses are short-lived. Joy from them just a few days, and so eager that they stood longer. How to do it? How to retain the flavor for long.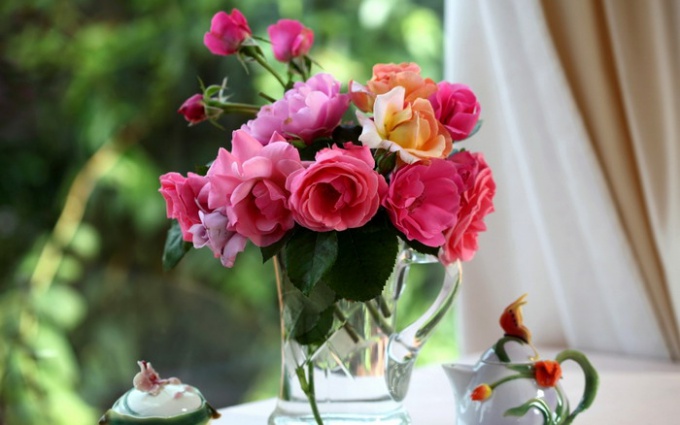 Instruction
Before you put in a vase of roses, cut the stems at 5 cm they should be Cut obliquely. Thus the stems will absorb more water.
The vase should be high that the stalks were fine. After all, under the weight of buds they will deform and bend.
The vase should be warm water (about 35 degrees). Also throw a spoon of sugar and aspirin.
From the place which is submerged in water, remove the leaves and thorns.
2 times a day spray roses spray. It is not necessary to keep the flowers in a draught or the cold.
Change the water in the vase daily, so it is not damped.
Roses
should not be placed in a vase with other flowers, they are not compatible with each other.
Advice 3: Why do roses wilt quickly
Rose is a beautiful and fragile flower with a delicate aroma. However, some women don't like roses due to the fact that these flowers quickly wither and lose their appeal. However, with proper care, fresh rose can stand in the vase at least 7-10 days.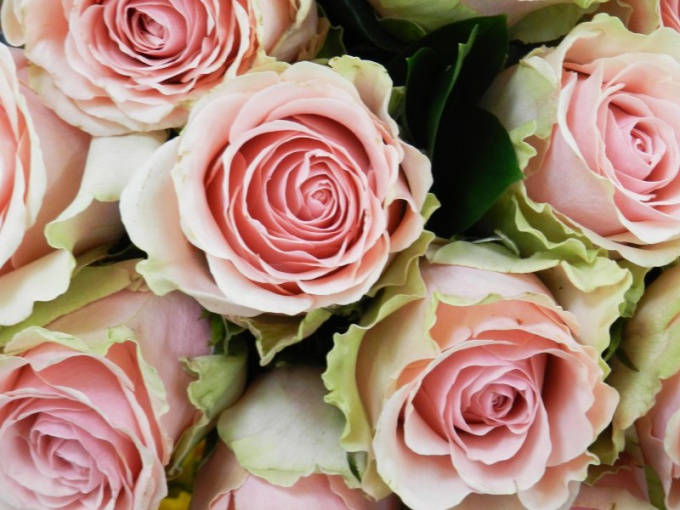 Roses delivered in a vase, quickly wither. Sometimes they lose their beauty for two or three days, even if you change the water in the vase. The reasons for this can be many. First, improper care, bad tap water, etc. second, the colors can be stale. As you know, the largest supplier of flowers in Russia is the Netherlands. It is therefore not surprising that the flowers after the long transport, stunted and lethargic. Roses that are brought to us from Holland, and sometimes go on sale until a month after cutting.


How to care for roses


If you want to presented a bouquet of roses makes you happy for at least a week, then it will require daily care.

Seven rules, by observing which flowers in the vase wilt one to two weeks:
1. Before you put the roses in a vase, cut off the lower leaves. If the leaves are constantly in contact with water, in the water there are bacteria.
2. The stems need to be cut at an angle. Then the cut surface will be larger, and so the flowers will absorb more water. To produce a crop of better stems under running water.
3. The water should be clean. Chlorinated tap water is very quickly ruining these delicate flowers like roses. It is better to use filtered water.
4. To water there is bacteria, it is recommended to dissolve a tablet of aspirin. Acid suppresses the reproduction of microorganisms.
5. Flowers need nutrients. Add the water, 20 grams of sugar.
6. Change water in vase every day.
7. The flower vase should be placed in a cool place (optimum temperature +18...+22 °C). Direct sunlight is not recommended for roses. Also roses wilt from drafts.


What if roses wilt in one day?


If you cut the roses begin to fade, you can revive it by putting in a tub or basin with cold water for a few hours. Try to put the roses in water so that the water was only stems and leaves, and the buds remained on the surface. Buds long water treatments only hurt.

You can also put a bouquet in a bath of cold water overnight. But since tap water contains chlorine and many other impurities, then into the bath it is desirable to put 10 tablets of activated charcoal. And in the morning rose pruning and again to put in a vase. Sometimes such manipulations help to extend the life of roses for up to two weeks. But if roses were originally stale, then the above actions is unlikely to help them to revive.