You will need
sunflower oil - 2 tbsp;
salt - to taste
seasonings.
Instruction
Slice the bread cubes or slices. On crackers, as a rule, goes stale bread, but make sure that it was moldy or had a rancid smell from storage in the package. Crackers can be dry and fresh bread. The bread is finely cut for salads, large – for soups.
Place the sliced bread on a flat dish, designed for microwave ovens. Drizzle with vegetable oil, sprinkle with your favorite seasoning and season generously with salt. You can add dry or fresh crushed garlic and goat cheese. Crackers work well with paprika, with burning red pepper, croutons for salads, you can sprinkle with seasoning for grilled chicken.
Preferably the plate cover special cover for microwave ovens or a simple paper towel. Put the plate with the bread in the microwave and turn it on maximum power mode of cooking (900 watts). After 2 minutes, flip the crackers and turn for another 2 minutes.
Remove from heat and allow the crackers to cool. Fast food is ready.
Crackers should be stored in the package. If you did a oil crackers, pour them in a glass jar, close the lid and put in the fridge. Dried breadcrumbs (practically no oil) can be stored in a wooden Cup with a wooden lid. Store the crackers more than 1 month. Like bread, they can become rancid or mold.
Crackers is recommended to serve instead of bread for soups and sauces. This snack is ideal for tea instead of cakes. Quite convenient to take crackers on a hike, an expedition, a flight or long journey. And dried bread indispensable for therapeutic purposes, for example, in disorders of the stomach. Crispy crackers help a weak stomach to work again as usual and recover after poisoning.
Note
Keep in mind the crackers – roughage, drink that on an empty stomach is not recommended. Moreover, bread is bread, and calorie content they have no less than ordinary bread.
Advice 2: How to make croutons with garlic
Delicious
crackers
with garlic is not difficult to prepare at home.
Croutons
can be made as from rye and wheat bread. Ways of making crackers several. To prepare this snack in the oven, or outdoors on the stove, then have to fry in the pan. Flavor your croutons will get if you will use olive oil. Garlic croutons, cooked in a special process, made from rye bread, called "topinky" and are the perfect complement to beer.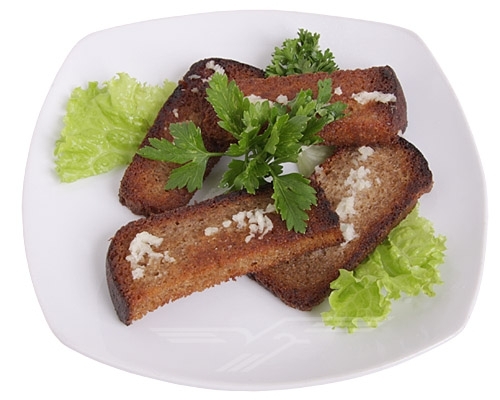 You will need
½ Tsp salt
3 tbsp olive oil
4-5 cloves of garlic
Instruction
The first method.

Garlic is clean and skip through the press.
Pour olive oil into a large bowl.
Add the oil, garlic and salt, whisk with a whisk or just a fork.
Put the mixture to infuse for 15-20 minutes.
Cut the bread cubes the size of about half an inch.
Release the crackers in a bowl with olive oil and quickly toss so that the oil gets evenly distributed.
Lay out crackers on a baking sheet and toast them in the oven at 100 degrees for 2-2.5 hours.
Periodically remove the pan and stir the croutons.
The second method. This method is used for preparing "topinky".

Bread cut into wedges 6 inches in length, 2 cm width and 1.5 cm in height.
Fry the cubes in oil in a hot pan.
Roasted Topinka RUB on all sides with a clove of garlic.
Sprinkle crackers with salt.
The third way.

Garlic is clean and skip through the press.
Add the garlic to the oil, stir and let stand while preparing the croutons.
Bread cut into cubes half a centimeter.
Place on a baking sheet and toast them in the oven at a temperature of 160-170 degrees for 30-40 minutes.
Crackers need to stir constantly, to not burnt.
Heat the oil in a frying pan and pour there hot crackers.
Stir quickly so that the oil is absorbed evenly.
Warm the croutons for another 3-5 minutes on low heat. Salt.
To remove excess oil place the croutons on a paper towel. .
Useful advice
The bread did not crumble when cutting, take a sharp knife, and bread beforehand, you can hold 1-1. 5 hours in the refrigerator.
Advice 3: How to cook soup in the microwave
In the microwave not only reheat food, but cook. For example, in the microwave, you can cook a variety of soups. Moreover, the cooking time will need quite a bit.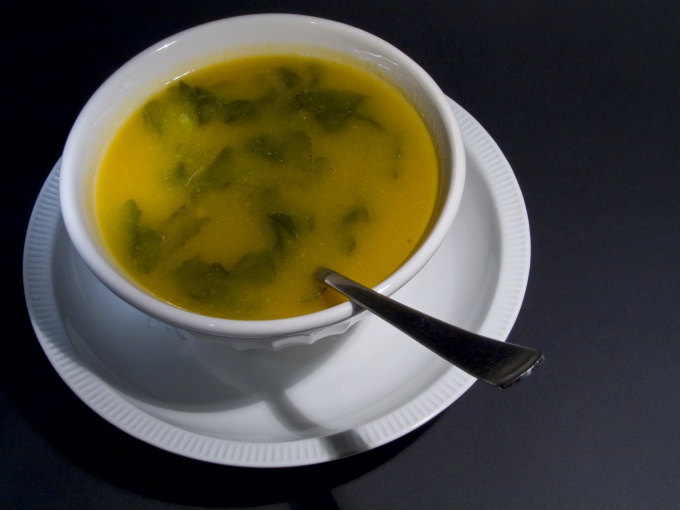 You will need
750 g fresh mushrooms;
1 Cup chicken (or vegetable) broth;
2 tbsp. vegetable oil;
1 onion;
1 Cup milk;
0.5 cups of cream;
1 tbsp flour;
2 egg yolks;
salt
pepper to taste.
For fish soup:
200 g fish fillet (e.g.
cod);
1 glass of water;
1 carrot;
1 onion;
1 teaspoon tomato paste;
0.5 cups white wine;
0,5 tbsp. butter;
1 tbsp flour;
1 Bay leaf;
salt
pepper
greens-to taste.
To meat soup:
150 g of pork and beef;
1 carrot;
3 potatoes;
1 onion;
1 Bay leaf;
1 cloves;
salt
pepper
cumin to taste.
Instruction
Prepare, for example, mushroom soup. Cut mushrooms into slices, onion half-rings. In a deep bowl, put the mushrooms, onions and vegetable oil, cover and place in microwave for 3 minutes on maximum power. Then add the chicken or vegetable broth and milk, stir. Cook for another 5 minutes. Flour mix with water. Should get a homogeneous mass without lumps. Pour this mixture into the bowl with the soup and stir. Leave in oven for another 2 minutes.
Whisk the egg yolks with cream. In hot soup pour in the yolk mixture and stir quickly, add salt and spices as desired. Heat mushroom soup in the microwave for 3-5 minutes.
For fish soup carrots and onions finely chop. A bowl of carrots, onions, Bay leaf, 2 tablespoons of water and tomato paste cover and cook in microwave 5 minutes on full power. Add to vegetables fish fillet, cut into small pieces, water and wine. Cook for about 6 minutes.
Add the flour a little water, butter and stir to avoid lumps. Pour flour mixture into soup and mix thoroughly. Season with salt and add the spices. Simmer the soup for another 5 minutes. Before serving, sprinkle the fish soup with chopped parsley.
Boil in the microwave meat soup. Grate carrot on large grater, potatoes cut into cubes. Pork and beef cut into small pieces. Pour into a deep container with 1 Cup of water and add the meat, carrots and potatoes. Add salt, pepper, put cloves and Bay leaf. Cover the bowl with a lid and cook in the microwave for 10-12 minutes on full power.
Add to the broth the chopped onions, pour in another pint of water and sprinkle with cumin. Put in the oven for 5 minutes. Then mix meat soup and simmer another 5-10 minutes at maximum power until tender.
Useful advice
For soups in the microwave, use a deep bowl so that the liquid from boiling over. Preferably, the lid with hole for steam output. If such cover is not, when cooking, do not cover the dishes tightly, leave a small gap.
Advice 4: How to make crackers in the oven
Croutons, croutons, croutons and other products made from dried bread can be bought at any kiosk. However, sometimes you want to try to make tasty crackers yourself. They are healthier and tastier than many store-bought kind. Besides, home cooking crackers – a great and very economical way to use the dried bread.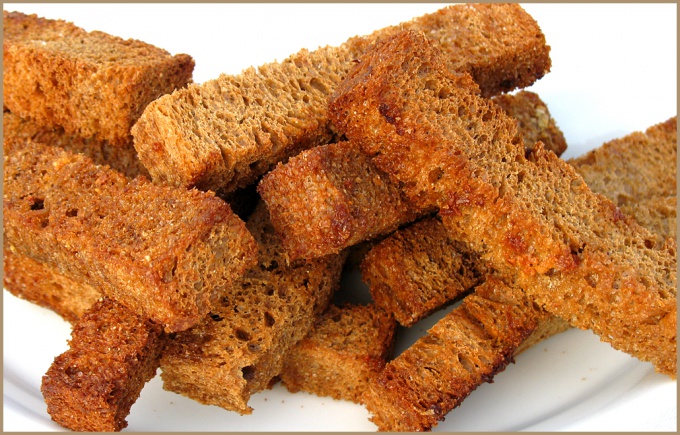 You will need
salt;
sugar or sugar powder;
cinnamon;
garlic;
unrefined sunflower oil;
butter.
Instruction
At home easy to make any kinds of crackers – salted, sweet, fresh, with and without supplements. Finally, from the remaining bread to make breadcrumbs, necessary for the preparation of many dishes.In industrial conditions, the crackers are made exclusively from fresh, specially baked bread. Homemade croutons can be made from stale bread or fresh. Slightly dried bread easier to cut. But if you want to prepare crackers soft bread, cut them with a knife warmed slices will be smooth and will not be superfluous crumbs.
Rye bread can be cooked
pretzels
. Cut bread with crust into slices the thickness of a little finger. RUB it with the cut clove of garlic. Cut the slices into narrow strips. The future lay croutons on sheet, drizzle with sunflower oil and sprinkle salt finely. Bake in a preheated 200 degree
oven for
about 10 minutes.
Interesting option – sweet crackers. Slice a small loaf or baguette into slices with a thickness of a centimeter. Lay the slices on a baking sheet, sprinkle with mixture of brown sugar and cinnamon and place in the oven, preheated to 200 degrees. Bake crackers for 10-15 minutes until Golden brown. You can add sugar and cinnamon before baking. In this case, a ready-made croutons lightly dusted with powder sugar.
For soup or broth will be useful for the croutons-croutons or toasts. Cut white or rye bread crust, slice it into thin slices, put the slices one on another and cut them into cubes. Fold the cubes into the pan, drizzle with melted butter and bake in preheated oven until Golden brown.
And finally, breadcrumbs. For them the remnants of white bread. Slice the bread randomly, not too large chunks and place in the oven heated to a low temperature (about 150 degrees). Not podrumyanivaya crackers, they need only to dry well. It will take about 20 minutes.Ready biscuits to cool and turn into fine crumbs using a blender or mortar. Breadcrumbs come in handy for making schnitzels, cutlets, casseroles, and other dishes.
Note
If you cooked the biscuits for future use, keep them in a tightly sealed container. Best of all, they are stored in canvas bags or jars for bulk products for ventilation. Biscuits made with oil added, stored for long periods is not recommended.
Useful advice
When cooking, breadcrumbs should not be used instead of spices bouillon cubes and compounds in MSG. Try natural supplements.
Advice 5: How to make biscuits in the microwave
Often in salads, you need to use crackers as one of the components. Crispy, flavorful crackers will also be a great addition to the soup, making it taste more spicy and interesting. Try making the croutons yourself.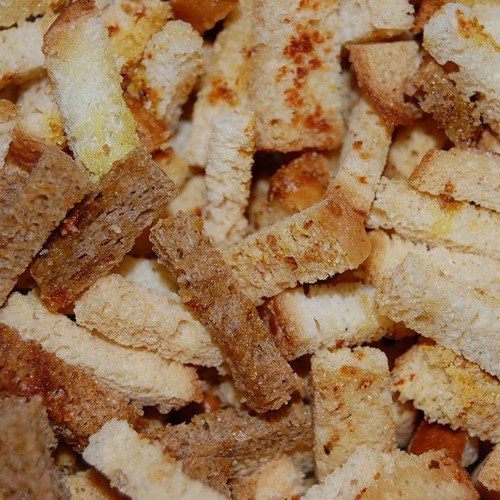 Instruction
Prepare the bread, from which you will prepare the croutons. A well-sharpened knife to slice it into as equal as possible pieces of rectangular, square or any other shape. It is important that the pieces were the same size, otherwise you risk getting part of the crackers burnt.
Lay the sliced bread on the dish for microwave ovens. Lay out the prepared slices in a single layer. Add salt to taste and sprinkle with spices like black pepper or paprika. Place in the microwave.
Select the mode for drying. It should be done very carefully. If you decide to choose more power, select the drying time 2-3 minutes. After this time, open the microwave, flip the crackers to the other side. Close the microwave and dry bread for another 2-3 minutes on the same capacity.
Remove the dish from the microwave oven. Wait for the crackers to cool a bit and place them on a plate. Your crackers ready.
Note
Ensure that your crackers are not burned. Better install less drying time, and then add another minute if the need arises. The fact that burned inside of bread, the microwave oven will acquire a lemon yellow shade, which is very difficult to clean. And the smell of burnt food will be long enough to erode out of the room.
Useful advice
If you refuse from eating fresh bread in favor of his figures, do not deny yourself the crackers. Toasted bread is very good for the body, supplies it with fiber and micronutrients. In this case it is not deposited in fat, and, consequently, does not harm the figure. To crackers bought every time a new taste and flavor, experiment with spices and bread. Try to dry black, rye and white bread, and will surely find your favorite flavor.
Advice 6: How to dry the crackers in the oven
Croutons cooked in order not to throw out stale bread or for adding to salads and soups. In this form they can be stored for a long time.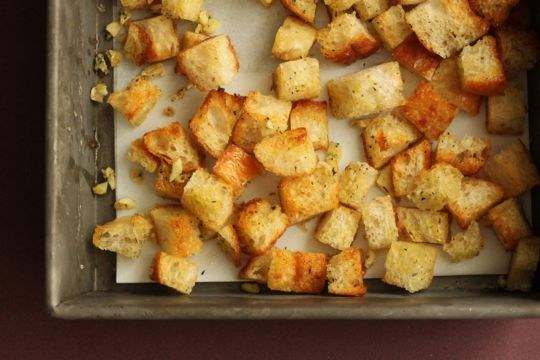 Crackers is ordinary bread or bakery product, dried in the oven. Croutons can be prepared salty or sweet with various spices. Then they are added to salads, soups or eat as a snack. In addition, the breadcrumbs help if you have problems with the intestines.

Store the crackers long enough due to the fact that bread drying out all moisture and does not deteriorate. To prepare the croutons is easy, but you need to know a few nuances that they turned out delicious and crispy.


How to dry sweet crackers


Typically, sweet biscuits needed white bread, you can still use rolls or buns. But it is important that the baked product was not very fresh, otherwise the crackers can inside stay moist. The loaf should be cut with a sharp knife into small pieces so they cook faster and probably dry from all sides. Before drying they should be sprinkled with powdered sugar. Doing it in process is not recommended, otherwise the dust just won't stick.

Sliced crackers spread on cookie sheet or pan without oil. The oven should be heated to a maximum of 100C, otherwise the bread just fry on top, and inside will remain raw. Dry the crackers for 20 minutes, then turn off the oven and leave them on the baking sheet for another 20-30 minutes so they turned crispy. Now sweet croutons are ready, they can be eaten just with tea or add to fruit salads.


How to dry salty crackers


For the preparation of savoury crackers will suit black or grey bread. With a sharp knife cut into small pieces, previously sprinkled with salt or spices, you can also RUB the bread with garlic to enhance the taste. The bread should be spread on a baking sheet or pan and dry using the same technology, and sweet crackers. These crackers will be an excellent addition to soups and salads.

Useful tips:

- it is best to dry the breadcrumbs out of stale bread, so they are more tasty and crunchy;
- additions to the breadcrumbs can be anything – garlic, cinnamon, hops-suneli, curry, greens, cheese and so on;
the remaining when cutting crumbs can be dried and used as breadcrumbs, or add to burgers;
- the smaller the particles, the better the quality and taste of the breadcrumbs;
you don't have to use only bread, dry can any sweet bakery products with different additives.