Instruction
The ideal solution is of course, dry cleaning. Here spotted doing in most cases, but the high cost, the chemicals, the loss of time also play an important role. So try to clean the clothes on their own.
Remember that a fresh stain is much easier to remove than old. So try to do all the manipulation to remove immediately.
Pollution should be treated from the edge to the center, and not Vice versa. Otherwise, you will have a halo around the spot. In any case it is not necessary to RUB the fabric, just to saturate the material.
Pre-test in an inconspicuous spot or spare piece of cloth from the trousers used means. This will allow you to avoid damage clothing if in the composition of the stainremover are of potent substances.
In most cases, the pants appear greasy stains from milk, butter, blood, meat, fish. They immediately needed sprinkle with salt and lightly RUB. Repeat this several times, changing the salt. You can make a paste of salt and a small amount of water that you apply on the stain, wait until fully dry and repeat several times. Good to cope with fatty stains talc and chalk.
Another way to get rid of oily stains. For him, we need sugar, dark soap and hot water. Soak the stain in hot water, soap, top, sprinkle with sugar and leave for 15 minutes. Then wash the thing in the usual way. If the stain has not disappeared, try again.
Ordinary salt can do wonders for spotm from the fault. Sprinkle a fresh stain from red wine with salt, leave for a few minutes, and then rinse with warm water. If contamination is chronic, will help citric acid. Wet pants in her solution and then wash.
Grass stains wash off with soap or a good detergent. But if that fails, use ammonia, which is necessary to blot the stainand then wash. Will also remove the contamination of ammonia (you can substitute with vodka).
From spots and stains can be removed by using kerosene or turpentine. They wipe the stain, then blot with ammonia or baking soda.
Gum on pants can save the ice. Frozen gum is easily removed, and the remaining stain wipe gasoline.
Very often the pants appear scorch mark from the iron. Wipe such a stain with hydrogen peroxide and iron to dry. Also sometimes burns moistened with boric acid solution and wash in the usual way. To get rid of this trouble will also help the bulb – wipe it with a half of onion and soak for several hours in cold water.
Advice 2: How to withdraw stain from wine
If stains are not removed on time, they can get stuck and become fatal. So you need to take action immediately, and not allow the stain to penetrate deeply into the fibers and spread. Then the stain removal will be not so difficult.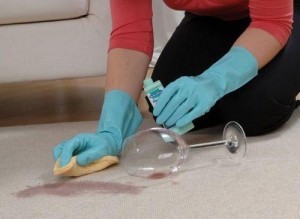 You will need
Sol
- lemon juice
- milk
- denatured alcohol
- glycerin
egg - raw egg yolk
- potassium permanganate
hydrogen peroxide
Instruction
On a fresh
stain
from red
wine
, apply a paste of wetted salt, rinse after 30 minutes with soapy water. Then rinse with warm water.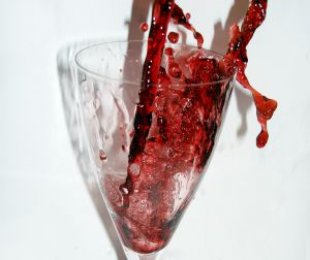 Spot cotton tablecloths can be withdrawn if you RUB it with lemon juice and leave to dry in the sun. Then rinse in water.
Also take a stain from red wine you can use milk. Soak the fabric in boiling milk and leave it for 40-50 minutes. Wash in soapy water, rinse.
If the stain is old, you can get it out with denatured alcohol. Then rinse with water and wash with soap and water.
If colored tissue has formed a stain from wine, there is one simple way that will help him out. Mix equal quantities of raw egg yolk and glycerol. This mixture spread tough stains. Leave for a few hours, then wash with soap and water.
Stains from red wine can be displayed with potassium permanganate. Moisten the stained spot with a weak solution of potassium permanganate, and in a few minutes the stain wipe clean with a hydrogen peroxide solution (dissolve one teaspoon of hydrogen peroxide to one Cup of warm water).
Note
Before you use any recipe for removing stains, especially colored fabrics, you need to test it on any inconspicuous place things – the seam, the wrong side, the ACC. Before you try to bring a red wine stain, it is necessary to enclose under the product paper napkin or a little plate, wrapped in a white cloth. Tips on how to bring a stain of red wine at home.
Useful advice
How to get the beer stain. Use a bit of concentrated glycerin, then treat as for soaking before the wash. Sometimes it is sufficient just to soak in weak vinegar solution. Red wine stains you need to sprinkle regular salt, then with a stiff brush to scrape off the mixture of wine with salt and blot the spot clean with a damp cloth. Or put on the spot with cool water, you should always work from the edges of the stain to its middle, so that it does not spread.
Advice 3: How to remove stains on the pants
From unpleasant surprises with clothes no one is immune. Most often suffer a article of clothing as pants. Tea or coffee, spilled juice stains from grass, paint and ink can ruin the mood for a long time. How to remove stains on the pants?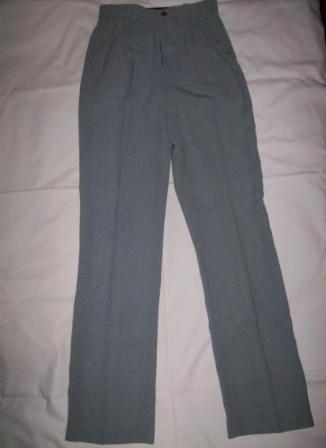 You will need
Water, soap, washing powder, ammonia, lemon juice, vinegar, alcohol swab
Instruction
The easiest, but costly option is to turn to a specialized dry cleaner. However, in some cases to cope with stainson the pants and on their own at home.
The main rule - removal of stains should be done immediately, if possible. A fresh stain is much easier to withdraw, and lost time will make the job more time-consuming.
Clean the contaminated area from dust. Then on the back seam or the cloth attached to the pants, check how the tissue carries cleaner, which you intend to apply. Treatment spots you need to carry out from the edges to the centre and then should be processed and the material around the spot. You can't RUB the fabric, it should be easy to impregnate with the desired solution.
Ink stains can be removed with a swab dipped in alcohol, lemon juice or citric acid solution. You can also use a mixture of ammonia and ethyl alcohol, if you take them in equal proportions.
Grass stains wash out well a simple powder or soap while they're still fresh. To improve the efficiency of cleaning old stains , add a tablespoon of ammonia in a liter of water, this composition, blot the stain, then asterite pants.
Stain from oil paint to remove from the pants is not easy without damaging the product. It is recommended to wipe the stain with kerosene or turpentine, and then use ammonia or bicarbonate of soda to the disappearance of the spots.
A red wine stain sprinkle with salt and leave for half an hour then rinse with warm water. Old spot treat with a weak solution of citric acid. The stain of white wine will help to remove ice or very cold water.
The stain from grease as soon as possible, sprinkle with salt, RUB, and then change the salt a few times until the stain is gone. You can use talcum powder. Greasy stains from wool pants you can try to remove the gasoline.
Chewing gum from pants treated with ice. Frozen gum is removed relatively easily, and then the stain should be cleaned with gasoline.
Fresh stains from coffee and tea will help to remove the soap solution with the addition of soda or ammonia. After processing, the pants rinse at first warm, then cold water with vinegar.
Advice 4: How to clean gum from pants
To clean gum from clothes is difficult but nothing is impossible. If you find an unfortunate misunderstanding on the pants, do not worry, even if they were bought recently. All of the following cleaning agents will not spoil the color of things, because they do not contain acids and other particularly corrosive substances.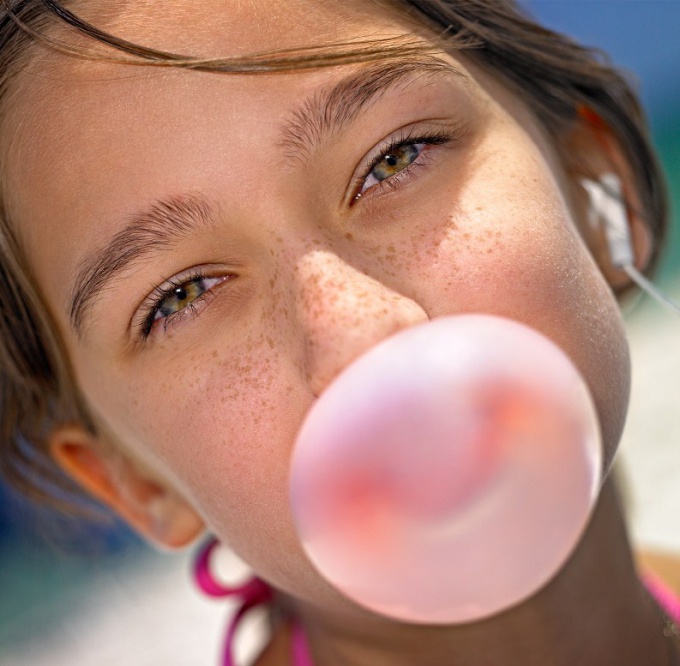 Instruction
The easiest and most affordable way to remove gum from things freezer. Put things in the freezer for about one hour. Then remove the pants and quickly RUB the place of formation of stains from
chewing gum
. It should crumble, but do not hesitate if you long to shorcut, the gum will start to heat up from heat and remove her will be difficult. If the gum is not fully removed, then repeat the procedure for the freezing of his pants and carefully RUB the problematic area.
Gum can be easily removed conventional gasoline, though this substance does not corrode the color. RUB the soaked in gasoline with a cloth the spot that the gum should begin to gradually separate from the fabric. But after using gasoline often, there are greasy stains on things that are easily removed with stain remover or detergent for dishes. Apply a little detergent on the stain, RUB and wash the thing. From chewing gum and grease stains will not remain and a trace.
It happens that the children's gum such methods just can't win. Use the combined method, first, freeze, then pochakaite and at the end of the procedure, wipe with gasoline. Before washing, remember to apply a tool for the work place, to avoid surprises after the complete drying of things.
If you have leather pants, then remove the gum with them at all easy. Just wipe the stain with sunflower or olive oil. You can also use gasoline, which the gum well is removed. You can't even wash the item after processing, and wipe it with a soapy cloth, then with a sponge dipped in clean water.
Useful advice
When the gum is not removed, there remains only one thing – beautiful to sew a patch yourself, or in any Studio. Look it would be quite beautiful and stylish, because a lot of modern pants are sold with these elements.