You will need
measurements;
needles;
scissors;
paper;
pencil;
chalk
Instruction
The first step to the ability to cut should be the build step patterns. It needs to be able to take basic measurements and know how to apply them to the type of clothing that you want to create. The main pattern is made on paper. It should outline where to tuck, and to transfer the real dimensions. And then get to work with fabric.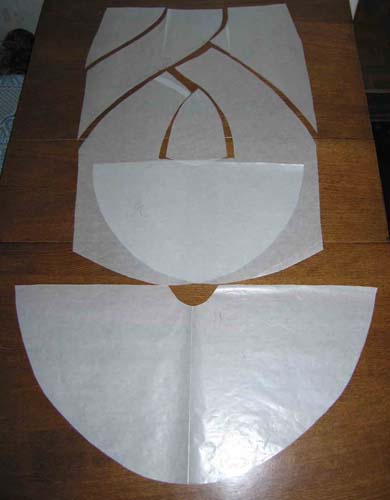 Before experts recommend cut fabric to decativate. That is, pre-process it wet-heat method. We need this in order to give the fabric shrinkage even during the cut, rather than in the finished product. It must be so. If the finished product is supposed to wash, then the fabric should be pre-washed at the same temperature and in the same mode in which it will happen later. The dried fabric needs to be ironed.
Now start cutting the desired things. As a rule, cut, fabric is usually folded in half lengthwise wrong side out. Edge should be up against the edge. Especially good this way when you need to get a symmetrical part.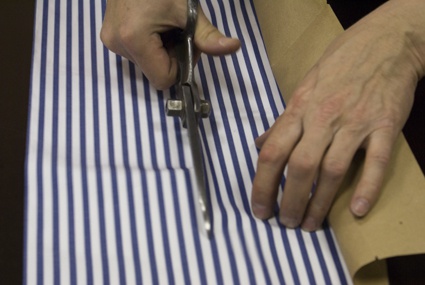 On the prepared cloth, lay your paper pattern, pin it with pins. Small guide lines on which you cut. Don't forget to leave room for bleed of approximately 1.5 cm (for thin fabrics can be smaller for thick - more).
Don't forget about the tools that will carry out the cutting work. Need for this well-sharpened tailor's scissors, not crushed, not torn and not warp the fabric. Crushed? You can now start sewing.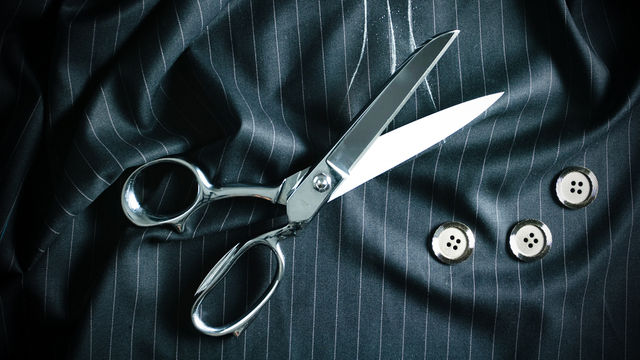 Note
To learn how to sew and cut, you must first learn the basics of sewing, that is, to know the theory - what are hand stitches and machine stitches, what are the ways of processing of fabrics, kinds of fabrics and features of working with them. Theoretical knowledge about sewing can be obtained from specialized books, thematic web-sites or in special courses on cutting and sewing.
Useful advice
Learn to sew from scratch can person patient, careful, attentive to detail and have well developed fine motor skills. To understand how to learn to sew and cut under the force every woman would desire. To have an idea about building a complex, simulated things, to begin to learn the history of fashion and style, to understand the description of the creation of products from simple to complex.
Advice 2 : How to learn to sew clothes
Even on the red carpet and had a few embarrassments when they faced the stars in the same dress. This is despite the fact that the outfits they were made to order by famous designers. Every woman wants to wear clothesno one else. And not just clothes, but something exclusive, stunning, causing envious sighs. If you have a positive attitude towards crafts, you can learn the art of sewing and to itself to create a unique dress and to impress others.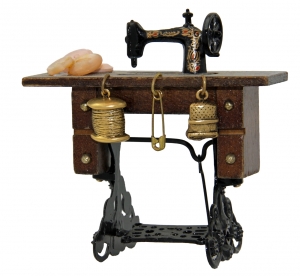 You will need
fabric, pattern, perseverance
Instruction
In order to learn how to sew, you can go to the courses of cutting and sewing. If this is not possible, you can try to master sewing on their own. On the Internet you will find build instructions patterns and step-by-step story of the creation of specific things. In specialized magazines are also a lot of similar information. Better to start with the simplest things. It is not accidental that the lessons of labor in school girls are taught to sew first the apron, then a skirt, and then the robe. You can go in the same sequence.
If you do not want to learn to build their own pattern, you can use ready-made, good to find them is not difficult. Put the pattern on tracing paper or any other paper, mark the points of Darts, armholes, zippers. Thin pins pin the pattern to the folded in half fabric, gently draw a small. Don't forget the seam! Now big sharp (check in advance! the fabric should be cut and not to tear) with a pair of scissors, cut out pattern pieces. Engage the details, use a bright thread to make it easier to then remove it. The time of first fitting. Look closely, perhaps, the thing requires you to adjust the length or depth of the Darts. Correct if necessary. Now you can sew. Try to make the line smooth. Don't forget to neaten the seams and hinges. Carefully follow the collar, pockets, zipper, handle armhole and hem. Of course, your first thing will not work immediately perfect. Do not despair! Practice, practice and more practice and who knows, maybe you'll make a new Coco Chanel.
Note
Where and how to learn to sew yourself? Many people ask this question, because learning to sew myself clothes, not only profitable, and the opportunity to earn clothes for others. Even if you will not use the knowledge, giving courses of cutting and sewing for a living, will always be able to be creative and to sew yourself clothes: skirts, blouses, pants, dresses, etc.
Useful advice
The most important thing is practice. The theory is good, but takes practice. From the theory the most important is the beginning, i.e. concepts and definitions. Not knowing the basics, continue to learn something pointless.
Advice 3 : How to learn to sew
The best way to learn how to sew well undergo the cutting and sewing in special training centres. You can take the help of private masters, pass the Internet courses, buy and study the specialized literature. Without the advice of professionals the learning process is also possible, but it will take longer and you will have to learn from their mistakes.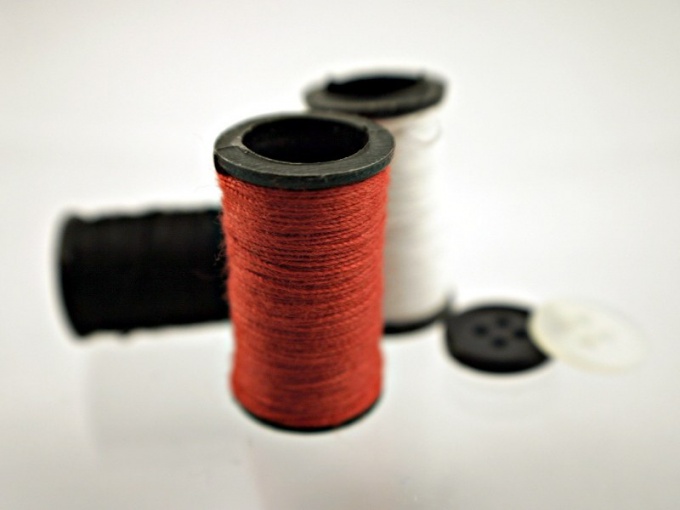 Instruction
If you want to learn to sew by yourself, the first thing you need to buy quality tools. At first you can do with measuring tape, a ruler with a right angle metal sewing scissors, thread and needles of different thickness. Of course, the most important is the availability of the sewing machine. To start with a simple machine for home use, which is a function of simple straight lines and processing loops. Other devices and more complex mechanisms you will discover in the process of sewing.
An important step in the process of creating garments is cut. Repeating, we note that the self-understanding of how to properly take measurements and to cut the product according to your figure is very difficult. But this will help the logs with a detailed description, instructional videos that you can find on the Internet.
Remember that to properly take your measurements alone is not possible, therefore, at this stage better to ask for help from a friend. Because it is often incorrectly taken measurements cause too tight or loose sewing, and as a consequence spent time and money on clothes you can't wear. Obmenka should be tried on over underwear, in a free, natural posture without stress or strain. A-line straps must be strictly horizontal, and the line length is vertical.
Initially, it's best to sew the product according to the example, substituting your details in the pattern. Gain experience, you will be able to simulate and assemble the items of clothing themselves.
For quick cutting and sewing of shoulder products are indispensable is pattern-based. You will spend time on accurate measurements and build the perfect for your figure of the pattern only the first time. Then, experimenting with the width and length of the product, the appearance of the shoulder at the arm openings and neckline, you will be able to create an original product that no one else has, and which, moreover, fits you.
The model you have chosen, it is necessary initially to cut out on tracing paper (it can be replaced newsprint), and then transferred to the fabric. Cut-out details, you need to sweep manually with thread or with pins. Further, the product should be to try and adjust according to your body. You can then process the edges of the parts and to connect them with machine stitch.
If you want to learn to sew, the main thing is your desire to learn and improve, despite mistakes and failures. Remember that initially you need to understand the peculiarities of the sewing, and not strive to make a product as quickly as possible.