You will need
chicken
a sharp knife
oil
bow
garlic
carrots
salt
pepper
Instruction
If you want to cook the chicken in the pan, it is best to pre-cut into small pieces. Washed and dried with paper towels bird cut with a large knife. Set aside for now. Now we need to decide what you want to do with it – simmer or
fry
.
If you want to put out, then proceed in the following way: in a pan with high sides (this is important!) pour a couple of tablespoons of vegetable oil and place it over high heat. While pan heats, RUB the chicken with a mixture of salt, black pepper and curry. Very helpful here is some kind of dried spice (Basil, marjoram, thyme, tarragon), it is also add to the rubbing. Lay the chicken into the pan and fry on strong fire from all sides.
While the chicken is Golden, quickly slice onions, grate carrots. Tomatoes pour over boiling water and remove the skins, finely chop them. In a deep container, combine 2 cups water, tomatoes, onions, carrots, a half Cup of tomato juice. It is not forbidden to add crushed Bay leaf. Reduce under a hen the fire, fill the future with sauce, cover. Let them stew gently for an hour. If you forget about the contents of the pan for half an hour – anything terrible, the main thing – do not forget to check for fluid, it should not evaporate.
If you want to roast the bird, then there is much easier. It also should be pre-cut into wings, legs, and breast. Every part of the chicken to RUB
the following
mixture: coarse sea salt, finely chopped garlic (2 cloves), black pepper, paprika (for frying will give amazing color). On a well heated pan spread the chicken and not covering it with a lid, fry from all sides.
Fried chicken put in a container. The juice from the meat left in the pan, pour in the package of yogurt, add a tablespoon of tomato juice and a teaspoon of flour. Stirring occasionally, cook over medium heat until thick. Pour into a gravy boat and serve with chicken. This dish goes well with a light salad.
Useful advice
Don't forget to reduce the fire while stewing chicken and ensure that the pan has always been fairly fluid. If you see that it's reduced, pour.
Advice 2 : How to cook chicken legs
From
chicken legs
to cook the first dish. Soups with chicken are of excellent taste, and the Supplement can be pasta or vegetables.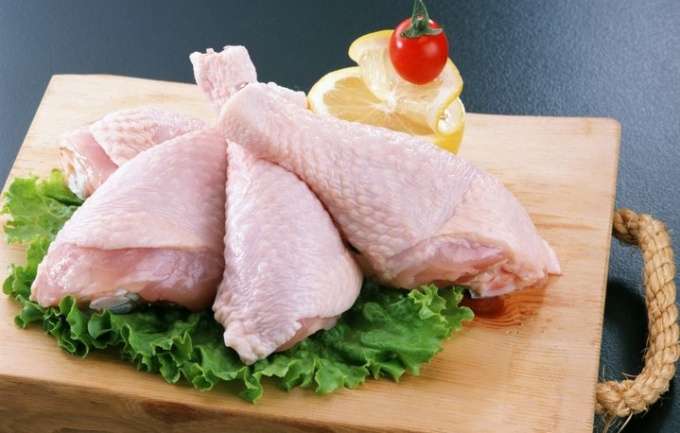 You will need
Soup from chicken feet and noodles:

chicken legs – 3 PCs.;
carrots – 2 PCs.;
potatoes – 4 PCs.;
thin vermicelli – 150 g;
dill;
black pepper;
salt.
Soup with chicken feet:
chicken legs – 3 PCs.;
potatoes – 5 PCs.;
fresh cabbage – 300 g;
carrot – 1 PC.;
onion – 1 PC.;
tomatoes – 2 PCs.;
Bulgarian pepper – 1 PC.;
green peas – 3 tbsp;
sunflower oil – 2 tbsp;
Bay leaf – 2 PCs.;
salt and pepper – to taste;
sour cream – to taste;
greens;
garlic.
Instruction
Soup from chicken feet and vermiculate cold water washed the chicken legs and place on high heat. Bring the water to a boil and reduce heat. Put in a pan the washed unpeeled onion and salt, it will add to the broth flavor and a nice Golden color. Cook legs and bow under the lid after half an hour, remove the onion from the soup, it is no longer needed.
Peel the carrots and grate it on a coarse grater, potatoes cut into cubes. Send the vegetables in the broth from the chicken legs. They should be boiled for 10 minutes, then pour in the soup noodles and cook for another 15 minutes.
Turn off the heat and season soup with chicken legs chopped dill. After 5 minutes, pour into soup bowls and place each on the half boiled eggs. Serve with white bread.
Soup with chicken nochevieja chicken legs, cover with water and bring to a boil over high heat. When the water boils, add salt and reduce heat to simmer, cook the chicken on medium heat for another 30 minutes. Then remove the legs of the chicken from the broth and separate the meat from skin and bones. Cut the processed meat into small pieces.
Cut potatoes into cubes, finely shred the cabbage, finely chop the tomatoes. Add the broth to the potatoes and boil for 15 minutes. Then send in a pot of cabbage, tomatoes and green peas.
Will peel onion and cut into thin half-rings. Carrots grate on a coarse grater, bell pepper cut into small cubes.
Add sauteed vegetables to chicken broth, toss the sliced meat and the Bay leaf. Simmer for 10 minutes, then pepper and salt the soup and turn off after 5 minutes. Leave the soup to stand 10 minutes.
Pour the finished dish bowls, each add sour cream and herbs and serve the soup with black bread and garlic.
Useful advice
When buying chicken, make sure the freshness of meat. Just press down on it with your finger - quality product should not remain dented.