Instruction
Try pressing a combination like "Ctrl+Alt+Del". After this should appear in the task Manager. Select the tab "File" and "New task". Enter the command "regedit". Go to "HKLM", select "Software" and "Microsoft". Next Winows NT" and "winlogon". Try to find a section that has a reference to "userinit". Delete all after "system32userinit.exe". Then restart the computer. The result of this operation recovers all the lost.
Is there any other way to restore panel control. Press the key combination "crtl-shift-esc. See the task Manager. Click "File" "New task" and "Run". Type in the word "explorer". Then click OK. Can you do all this differently. Restart the computer and press "F8" until then, until you see the boot menu. At the command prompt type "%systemroot%system32 estore strui.exe". Press "Enter". Will appear on your screen instructions. Reading it, follow all the necessary steps.
You can try another way. Run "Start". On empty space hit right mouse button. Will Be "Property". Click it. A window will appear. Select " Menu", then "start". Select the tab "Customize" and go there. At the top turn on the "Advanced" tab. You will see the "menu Items "start". Scroll. Locate the "Panel control" and tick "Display as a link". Click "OK".
You can still click the right mouse button on the tab "start". Select "Properties". Go to the tab called "start" and "Settings". Select the box "Manually". Next, locate the "Panel control" and add it to the menu.
If no action is made to return the Panel control, then you need to reinstall Windows software.
Recovery methods are different. Are selected individually in each case. Don't forget to scan with antivirus system of your computer. Perhaps somewhere there is a spy program.
Advice 2: How to restore the task bar
Completely remove
the panel
tasks
from the desktop is impossible. It can automatically disappear can be occluded by other Windows or are not located in their usual place at the bottom of the screen, and, for example, at the top. So she always was visible, and returned to his seat, follow these steps.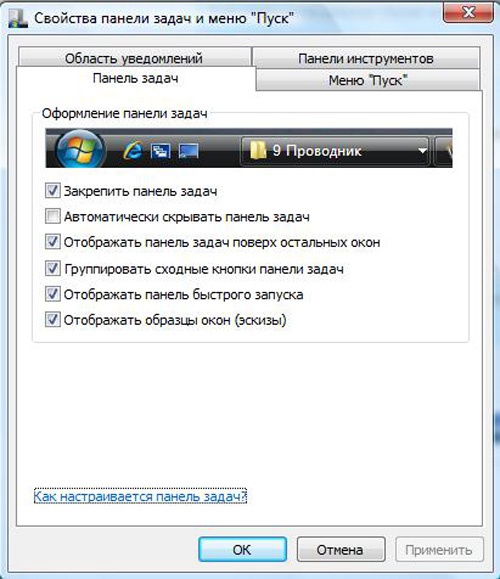 Instruction
Find panel tasks. To do this, minimize all Windows and move the mouse cursor to each edge of the screen panel task should appear.
Click the right mouse button and in the popup menu select "Properties".
In the opened window put a tick in the line "Display panel task on top of other Windows".
Uncheck the line "Automatically hide the bar of tasks".
Click "OK" to save the changes.
Move bar task down the screen. To do this, click the right mouse button and uncheck the line to "Fix panel of the task".
Click an empty area of the panel task with the left mouse button and drag the panel task to the bottom edge of the desktop. Release the mouse button.
Tick "Lock panel tasks" back.