Instruction
The selection of tights is a science, which a woman needs to learn sooner the better. This will help her better navigate in the model and the size ofMr. a number of the proposed models and never make a mistake in choosing the right pair. First you need to know your height and weight (+/- 5 kg does not matter). These are the two main indicator when choosing tights.
To determine your size, you need in the "growth" to find your rate. Do the same with the field "weight". The point where to connect these two indicators will indicate the necessary size.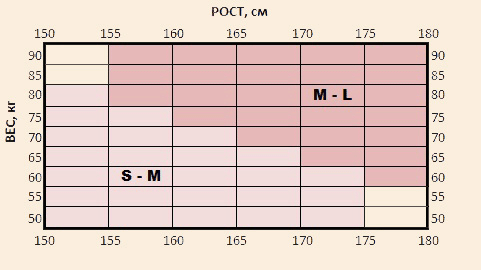 Additionally you need to consider the features of your figure. Conditionally divide the shape according to this classification, a banana, Apple, pear. A girl with a figure like "banana" - tall and petite with narrow hips and small Breasts. Girl, are generated by the type "Apple" - the winner of the medium height, broad hips, a small tummy and bust. The girl-pears to be wide hips, curvy butt, narrow shoulders and small Breasts. If when choosing tights to use these definitions, then the girl with the banana, follow the standard tables of sizes, shown on the reverse side of the package with the tights. If the table is shortened, you have to choose growth. Girl-Apple should choose tights with back panel, which increases the amount of tights on the thighs and abdomen, leaving his feet with the usual volume. Such a size will indicate the letter XL written additionally. Girl pear choose your size you need, focusing all on the same table sizes. If it is reduced, by category "weight".
From any rule there are exceptions (there are only 10% of the total). If a woman of small stature, but very tiny, its the size of pantyhose is 1. And if a woman is high and full, her suit tights with insert for the butt sizeand 6-7.