You will need
A grill pan, meat, vegetables, salt, spices, lemon and oil.
Instruction
To cook on the grill pan various products. It can be: fish, vegetables, meat, poultry. The advantage of frying is that the oil it is possible to use a minimal amount or not used at all.
For cooking meat, it is desirable to take pieces of the same thickness and pre-marinate them. To ensure that meat has become tender, only two or three hours in lemon juice. The marinade can be different and depends on the taste preferences, salt and spices can be added directly to it or separately.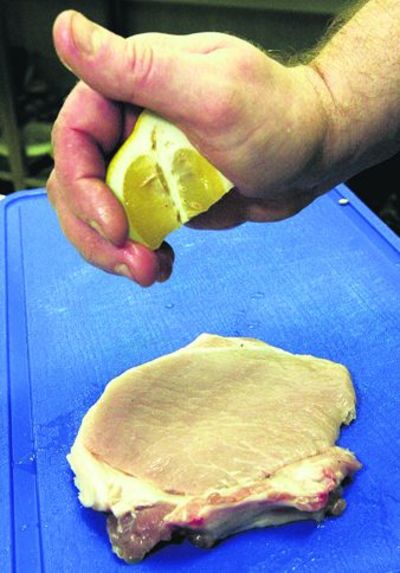 When the meat is marinated, the pan must be well heated. Meals can be prepared in two ways, or directly to lubricate the surface of the pan with butter or a piece of product. As a grill pan, recipes for which are diverse, allows you to evenly warm up the meat, the crust it formed very quickly. Due to the ribbed surface crust on the meat is too ridged and very beautiful. That meat came until cooked uniformly at a small thickness of the piece, it is enough roasting for 10 minutes.
Vegetables are prepared faster in order to get ready a dish of eggplant or peppers, enough for 5-7 minutes.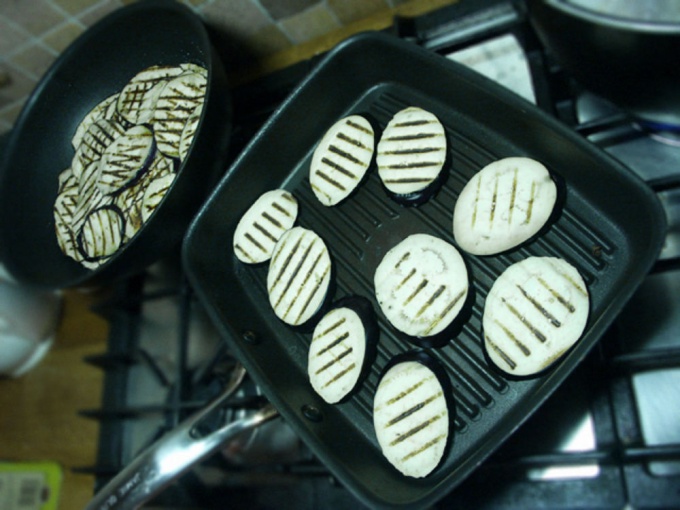 Useful advice
Not less tasty on the grill turns out the fish is, however, preferable to choose steaks from oily fish such as salmon or salmon. Fillet of hake, flounder or halibut is too delicate when you flip to roast on the other hand, the meat may lose shape and break.
Advice 2: How to cook mushrooms on the grill
Mushrooms are often used in cooking various delicacies. They can be baked, dried, canned, and cook on the grill. There are many original, at the same time, no complicated recipes.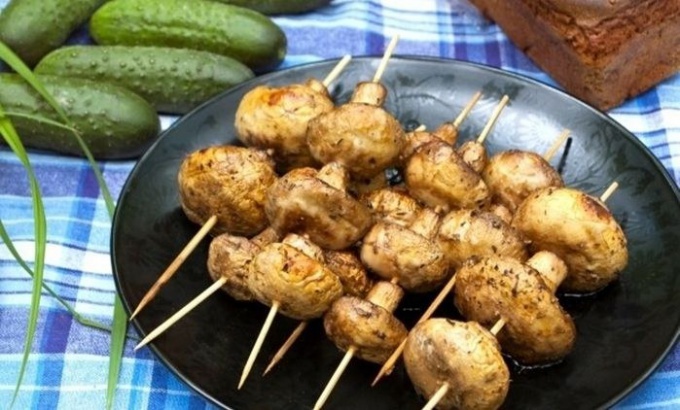 Grilled mushrooms

Ingredients:
- 320 g of mushrooms;
- 3 PCs of garlic cloves;
- 6 tbsp vegetable oil;
- any greens;
dry rosemary, salt and pepper to taste.

Take the garlic, peel and chop carefully, mix it with salt, fragrant rosemary and pepper until blended. Then add vegetable oil, all mix thoroughly. Mushrooms wash, slightly dry, cut off the legs, and hats, place in a bowl with the mixture. Leave the mushrooms for 45 minutes. Then fry them on the grill for 6 minutes on each side. Before serving, sprinkle the dish with chopped greens.


Grilled mushrooms with mayonnaise

Ingredients:
- 330 g of fresh field mushrooms;
- 330 ml mayonnaise;
- 4 heads of garlic;
- a little dill or parsley;
- salt, pepper to taste.

Mushrooms thoroughly wash, dry and clean. Make a marinade. In a deep bowl, combine mayonnaise, ground black pepper and salt. Then put the prepared mushrooms in the mixture. Domainwide them about 35 minutes. Put the mushrooms in skewers and bake for 25 minutes.

Prepare the sauce. In mayonnaise squeeze the peeled garlic, add salt pepper and chopped parsley. The resulting mushrooms will transfer to a separate plate lined with lettuce leaves, top, pour all the sauce.


Mushrooms on the grill pan

Ingredients:
- 520 g of fresh field mushrooms;
- 3 PCs of garlic cloves;
- 120 g parsley or dill;
- 4 tbsp vegetable oil;
- salt, pepper and fragrant rosemary to taste.

Wash the mushrooms, place on paper towel to drain. they are a little. Slice the mushrooms to a small plate. Then, peel garlic, squeeze it through a press, mix with salt, rosemary and pepper. In the mixture put the mushrooms, stir, leave on for 10-15 minutes, so that it is marinated. The grill pan thoroughly grease with vegetable oil, put back the mushrooms and fry them for 15 minutes. The resulting dish, sprinkle with chopped herbs.


Stuffed mushrooms, grilled

Ingredients:
15 large mushrooms;
- 120 g of whipped cream;
2 heads of garlic;
- 3 PCs. fresh tomatoes;
- 90 g of cheese;
- 3 sprigs of thyme;
- some bacon;
- a little olive oil;
- a mixture of spices: paprika, turmeric and ginger in equal parts 1/ 2 tbsp;
- pepper, salt to taste.

Wash and clean mushrooms. Separate the stalk with a part of gentle flesh from the cap. Make the stuffing. Peel the onions, chop. Rinse tomatoes and cut into small slices. All this mix. Then add chopped pieces of cheese, turmeric powder, whipped cream, ginger, paprika and garlic. Add salt and pepper to taste, and stir. Then fry the pieces of bacon in olive oil. Connect the filling with the bacon and gently fill the mushroom caps. Received the mushrooms cook on the grill approximately 15 minutes until fully cooked. Decorate the finished dish with sprigs of fragrant thyme.