You will need
Tablecloth
Ammonia
Glycerin
Powder bleach
Washing powder
Hard brush
Blotting paper
Iron
Gasoline
Instruction
Shake the tablecloth. If possible, you should go outside and beat it clean with a brush. Plain weave is quite loose, between the fibers of the fabric can remain the smallest dust and food debris, which over time will ruin the whiteness of your tablecloth.
Spread the tablecloth on a flat surface and carefully inspect it. Do not overlook anything. Be sure to check the seams, hems, there also can be traces of food. The main problem is that, no matter how careful your guests to put a stain on the cloth very easily. And the traces of food are difficult to wash with normal Laundry detergent.
Before I put the tablecloth in the washing machine, print the remaining spots. Should do this as quickly as possible. Not only because fresh stains appear lighter, but also because you still remember the menu and easily identify each spot.
Grease is removed with a hot iron and blotting paper. Put several layers on the stain and under it, and iron. Traces of sauces and mayonnaise can be removed using gasoline. Tea stains are removed with a cotton swab dipped in mixture of 2 tablespoons of glycerin and half tablespoon of 10% ammonia. If the tablecloth got fruit juice, it can be washed off with cold water with addition of ammonia. Stains from coffee and cocoa and remove with cold water and glycerin (1 tablespoon to 1 liter of water). Spilled red spot is immediately sprinkle with salt, but not to RUB. Then rinse the spot with warm water. If it is a little dry, and you found him after the end of the evening, wipe it with a 5% solution of ammonia. Then rinse with warm water. There are General rules for removing all stains: to remove starting from the edges to the center, be sure to moisten the cloth around the spot to after the removal of formed "halo", any means for removing stains, factory or home, be sure to test on fabric in an inconspicuous place.
After you remove the stains, wash
the cloth
in a regular washing machine. Use wash cycle appropriate to fabric from which to sew your
tablecloth
. When
washing
add to the washing medium a little powdered bleach.
To iron a tablecloth should be a little wet. But don't take it to the store immediately. Leave to dry in the folded form. A damp cloth on the shelf of the Cabinet can "choke" and acquire an unpleasant odor.
Note
Tablecloth fabric with Teflon coating not pressing in the car. It is better to hang outstretched over the bath so that water could drain freely. Also they cannot be ironed.
Useful advice
For embroidered tablecloths and tablecloths with lace inserts, choose a delicate wash cycle. Iron these tablecloths only from the inside.
Advice 2: How to wash Teflon tablecloth
Teflon tablecloth is quite popular among Housewives, and not only because of its practicality but also due to the visual appeal. It is typically used as a table covering – his special impregnation resistant to moisture and dirt. Teflon is applied on a colored woven base (linen, polyester, cotton, etc.), which did not lose richness of color. The product is easy to care for, and often you can do wet cleaning. Sometimes, however, cloths may need washing.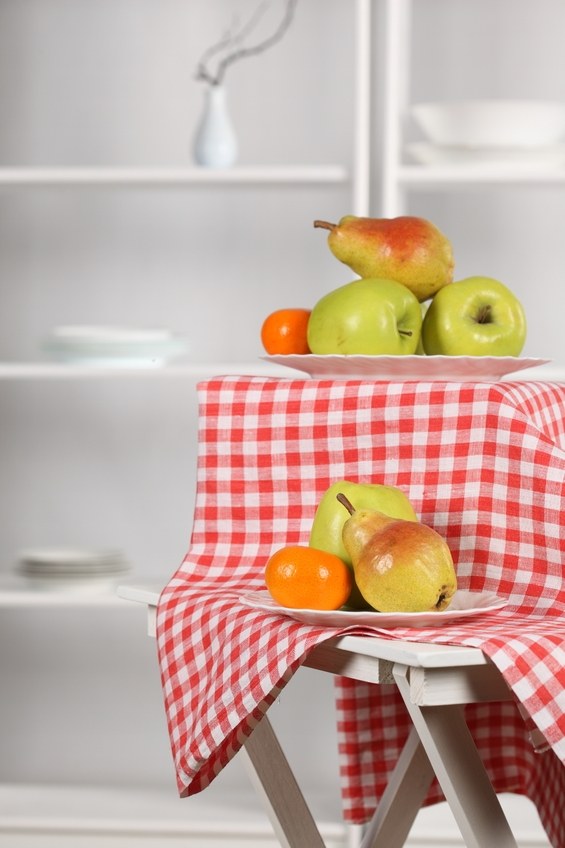 You will need
- a sponge or a rag;
- wooden spatula;
- Laundry soap;
all - purpose cleanser;
- washing machine;
- washing powder;
- iron (in extreme cases).
Instruction
Try to clean stained Teflon tablecloth without removing it from the countertop. Carefully wipe it with a damp sponge or cloth; if necessary you can use soap or detergent. Remove all traces of soap scum, regularly moistening the sponge in clean water.
Soak the dried dirt, then carefully scrape them from the surface of the tablecloth with a wooden spatula. Muddy puddles pre-blot with a tissue and finished cleaning the table.
If, after a damp cleaning cloth on the surface remained stubborn stains, wash the product by hand in a solution of detergent or soap. Such things are generally well satisfied with this content. Ensure that the temperature of the liquid was not higher than 30-40 degrees!
To wash Teflon tablecloth should carefully, trying not to make creases on it. Cleaning products all the spots, in no case do not remove it before drying. Enough shake table cover over the bath – this will help to smooth out wrinkles and remove excess moisture.
For washing tablecloths with Teflon impregnation in an automatic washing machine you should choose gentle treatment; the optimum temperature of water when hand-washing. Spin must be disconnected.
Hang the washed product over the bath to drain the water, and dry it in the expanded state at room temperature.
Try not to iron the tablecloth, so as not to damage the Teflon. To achieve this pretty simple, because with proper care, these products almost does not crumple. Nevertheless, if the need arises, walk on the wrong side of the table cover is not very hot iron. It should not be too strongly pressed a heated sole to the fabric surface.
Note
New woven cloth with PTFE impregnation after washing can give a little shrinkage. More risk that the product will sit, with linen or cotton. Keep a good shape things of poly-cotton (mixture of cotton and polyester), 100% polyester and acrylic fibers. Keep this in mind when choosing a table cover – choose cheap synthetic products; more prestigious natural fabrics must initially have the stock length.
Useful advice
Usually manufacturers Teflon tablecloths give a guarantee on the quality of the product up to five years. Over time, the impregnator wears out and loses its qualities. The old thing will be faster to get dirty and will require frequent washings (according to the peculiarities of care for the cloth-based). In this case, it is recommended to replace it with a new one.