Instruction
Try to use special spray for synthetic leather which is sold at Shoe and hardware stores. It will soften the surface of the Shoe and will help to stretch it. Just sprinkle spray your newly purchased shoes or boots.
Quickly stretch imitation leather shoes at home, and one of people ways. For example, it is believed that it helps in processing alcohol. Purchase alcohol from a pharmacy, or use Cologne or vodka, sprinkle a new house shoes and walk around in it for a while to dry. It is better to put on foot thick cotton socks. The convenience of this method of rassasyvaniya shoes is that to put alcohol on certain parts of artificial leather, which bring you inconvenience.
If you are still concerned about how to stretch faux shoes, you can use a very simple and proven method: tight fill the shoes of damp newspaper and leave to dry. Of course, this procedure should be repeated several times, but you will be able to stretch shoes at home without having to wear it.
Use a Hairdryer to stretch shoes made of artificial leather. Turn it on strong mode and aim at the footwear, you have to heat it until it will become warm and even a little hot to the touch. Now, put on your feet and walk around the house. Try not to overdo it with the heat, as the imitation leather quality may crack or even melt.
Apply another well-known method that solves the problem of how to stretch new shoes at home. It is the use of water and the freezer. Type water in suitable size plastic bag, put it into the shoes and place everything in the freezer. Remove shoes when water will freeze in the package. With this method, it is not difficult to stretch suede shoes, however, leather may crack from low temperature, so be extremely careful.
Advice 2: How to stretch suede shoes
Suede shoes - one of the most capricious. In addition to the careful maintenance in the form of special brushes and sprays, it will require a lot of patience from the owners at the beginning of the socks. If the new suede shoes shake, you should try a few methods of stretching.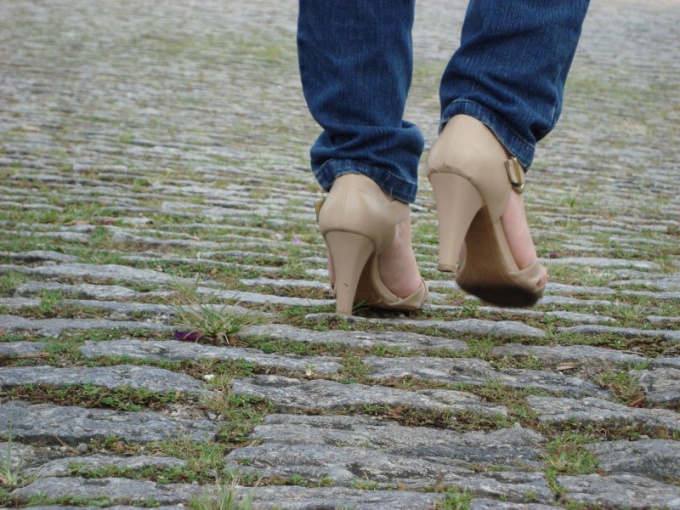 Instruction
Get a special spray-stretching in a Shoe store. Developed by experts formula helps the skin to stretch and to sit exactly on the leg. Splash spray inside the shoes and slide it onto the leg. So like a couple of hours, and shoes will cease to be a nuisance.
Take advantage of the popular method of struggle against tight shoes. Cotton socks soak with warm water, put on them shoes and wear for hours. If the socks are dry, soak again.
Widely known method for stretching suede shoes is the use of alcohol. Make a solution in alcohol or take vodka, soak cotton wool inside shoes and put her bare foot. Walk in the shoes at least an hour. If you can't wear a Shoe without a sock, do the following: wet the sock with vodka, slightly wring out, and put it on top of the shoes. Most importantly, do not wear shoes with alcohol more than 2-3 hours, otherwise the suede will stretch too much.
Use the newspaper. For footwear, try a newspaper, moisten it, it should be wet, and fill her shoes. Leave overnight - in the morning you will get a stretched shoes.
Boil water, soak in it a cotton cloth. Each Shoe, wrap a cloth and leave until cool and dry. Do not put shoes to the heaters and batteries to speed up the process, the effect of this stretching is reduced or even missing. After drying Melo wear shoes, they seem much freer.
Use the services of professionals. Almost any repair shop eats Shoe service Shoe stretching. Contact the nearest item to you quickly and efficiently pull huddling shoes.
Note
Suede tends to stretch yourself. Do not rush to apply methods to increase the size of the Shoe from the inside first, wear shoes a week (at home if too much rubbing). May shoes sit on the leg without assistance.