You will need
2 zucchini;
2 eggs;
100 g flour;
3 tomatoes;
2 cloves of garlic;
100 g of mayonnaise;
vegetable oil;
dill;
black pepper
Recipe No. 2:
1 zucchini;
1 tbsp. flour;
6 tbsp sour cream;
2 eggs;
1 tsp salt;
dill
cilantro;
salt
pepper
Recipe No. 3:
2 zucchini;
2 eggs;
1 tbsp of flour;
0,5 article flour;
0.5 PT sour cream;
4 garlic cloves;
4 tbsp sesame seeds;
ground black pepper;
salt;
Basil.
Recipe No. 4:
2 zucchini;
300 g of pork;
1 onion;
1 slice white bread;
3 eggs;
2 tbsp flour;
0.5 PT milk;
salt;
pepper ground;
garlic.
Instruction
Recipe No. 1

Mix the eggs and flour. Add to the mixture salt and pepper. Slice the zucchini into thin slices, dip in batter and fry in very hot vegetable oil for 2-3 minutes on each side.
Chop the garlic, finely macrosite dill and mix with mayonnaise. Tomatoes cut into thin layers. Coat zucchini, fried in batter with mayonnaise, lay on top of tomatoes.
Recipe No. 2

Mix in a deep Cup of flour, eggs, sour cream, salt and chopped parsley. The batter for the zucchini should be thick as sour cream. Zucchini peel and seeds, cut into thin rings. Roll the zucchini in the batter, fry on a well-heated vegetable oil, place on a plate .
Recipe No. 3

Wash the zucchini, clean them from seeds and peel and slice into rounds, sprinkle with salt and pepper. Whisk eggs with milk, then gently combine with the flour. In the finished batter, dip the zucchini, then roll them in sesame seeds and fry for 8-10 in a deep fryer at 180oC.
Peel garlic and pass it through chesnokodavilku, then mix with sour cream. Pour the prepared courgettes in batter, creamy garlic sauce and sprinkle with chopped Basil.
Recipe No. 4

Soak a slice of white bread in milk, when it swells, press it. Scroll down the bread, onions and pork through a meat grinder. Beat into the mixture one egg, add a little salt, pepper and all mix well. Ready stuffing put on 30 minutes in the refrigerator.
Whisk 2 eggs with milk, in which was kept the bread, add salt and pepper.
Clean the squash from skin and seeds, cut into rings 1.5 - 2 cm thick. Midway squash rings fill with stuffing. Roll zucchini in flour, then dip in egg-milk mixture. In a deep skillet heat vegetable oil, fry the courgettes until tender. You should fry on medium heat so the meat is well cooked.
Advice 2: How to fry zucchini
Autumn is the season of vegetables. Nature gives us many tasty and healthy. Zucchini - a good excuse to experiment in the kitchen. They can be fried in different ways. These dishes are mouthwatering, delicious, and most importantly, useful.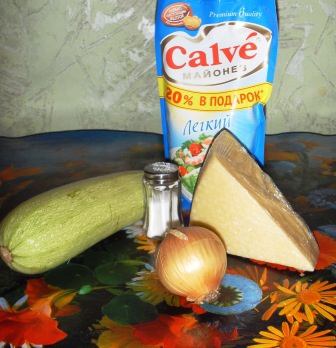 You will need
sour cream (mayonnaise);
spices
garlic
bow
tomato;
cheese
egg;
frying pan (the grill).
Instruction
The easiest way of cooking zucchini. Take the zucchini, wash it. If the peel is already rough, then cut it. Cut the zucchini slices. Preheat a frying pan on fire, add a little oil (olive or vegetable) and put the slices on the bottom. Salt. Flip the zucchini and fry second side.
Garlic grate and mix with mayonnaise. Slightly cooled zucchini on top spread the mixture. Tasty, simple and fast. You can pre-roll the zucchini in flour on both sides.
For a more refined way of cooking, prepare the squash as in the first case. Pre-prepare the batter with flour and eggs, adding a spoonful of mayonnaise or sour cream. Sprinkle with salt and pepper. The pan heat and add oil, dip slices
in batter
and fry from both sides.
Courgettes
are more hearty and crunchy.
Cook zucchini with tomato and onion. To do this, prepare the squash as in the first case. Tomato cut into slices. Garlic grate and mix with mayonnaise. Onions finely chop.
Zucchini fry in the pan on both sides (and in the flour without it). When turned the slices on top sprinkle with onion and cover for a few minutes. Meanwhile, grate cheese on a grater. On top of the onions sprinkle with cheese, top off with a slice of tomato and again cover. Let it cook gently for 10-15 minutes. Then remove the zucchini carefully with a spatula and add on top a spoonful of the mixture of mayonnaise with garlic. Very tasty.
Prepare the zucchini with the previous ingredients in the convection oven. This mug zucchini salt and pepper, place on the grill. On each circle put shinkovanny onion, slice of tomato. Cheese can be mixed with mayonnaise and garlic and add on top of zucchini. All bake in the convection oven for 20 minutes, watching the degree of readiness. The dishes are very beautiful and crisp.
Note
Don't be afraid to experiment and add different ingredients. Not necessary to strictly follow the recipes.
Useful advice
Very tasty young zucchini without seeds.