You will need
1 tbsp. oatmeal;
2 tbsp of yogurt;
1 tsp sugar;
2 eggs;
salt;
soda.
Recipe No. 2
2 tbsp. of oatmeal;
1 tbsp. flour;
1 tbsp. cottage cheese;
1 tbsp. yogurt;
1 tbsp lemon peel;
1 teaspoon baking powder;
3 tbsp. sugar;
1 egg;
salt.
Recipe No. 3:
1 tbsp. oatmeal;
100 g low-fat cottage cheese;
100 ml kefir;
2 eggs;
1 Cup blueberries;
¾ Tbsp. yogurt;
1 tsp. honey.
Recipe No. 4:
100 grams of pumpkin;
100 g carrots;
200 g of oatmeal;
2 eggs;
100 g flour;
1 tbsp. of milk;
salt
sugar to taste;
vegetable oil.
Instruction
Recipe No. 1

Brew oatmeal with boiling water and leave to swell. After 2 hours, add in oatmeal, salt, soda, buttermilk and beat in eggs. Thoroughly mix all ingredients, then fry pancakes of oatmeal without fat in a pan made of Teflon. Serve with yogurt or low-fat cream.
Recipe No. 2
Pour oat flakes with boiling water and let them steep for 30 minutes. Egg whisk and connect with cottage cheese and yogurt, add lemon zest. In the remaining oatmeal, flour, sugar, salt and baking powder, mix gently. To the resulting mixture, attach
cheese
-yogurty mass, again all thoroughly.
Grease the pan with vegetable oil over medium heat and cook the oat pancakes until Golden brown. Serve with jam, marmalade or honey.
Recipe No. 3

Grind oatmeal in a blender and pour kefir. RUB the curds with eggs, connect it to the swollen flakes, stir. Add to the dough blueberries and leave it for 20 minutes.
Preheat non-stick pan and fry pancakes on medium heat under the lid. Combine the yogurt and honey and serve with ready-made pancakes.
Recipe No. 4

Heat the milk and pour over oats, leave it for an hour so they are well softened. Peel the carrots, pumpkin, slice off the peel and remove the middle, RUB on a small grater. Separate the yolks from the whites. Beat whites in resistant foam. Swollen cereal mix with egg yolks, sugar and salt.
Connect with them the grated carrots and pumpkin, add the flour and stir everything well. Then pour in the batter whites and again mix well. Heat the pan vegetable oil, lay out the dough using a tablespoon and fry until Golden brown. Ready pancakes sprinkle with powdered sugar or cinnamon and serve with sour cream, honey, jam.
Advice 2: How to cook pancakes with cheese
Hot pancakes from the cottage cheese are great for Breakfast and perfect for an evening tea party. Pancakes with Golden crust and juicy filling, with raisins and nuts, is a favorite treat even for those who don't like cheese in its purest form.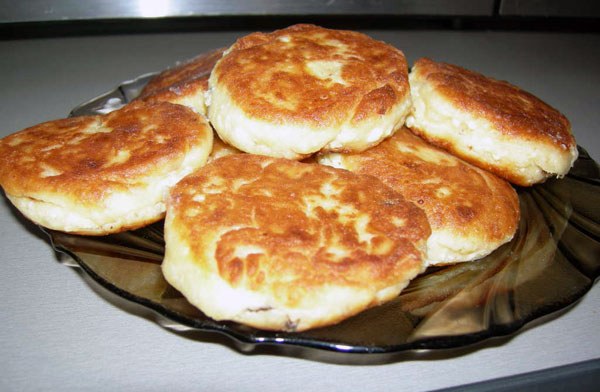 You will need
Sour milk – 200 ml.
Eggs – 2 PCs.
Flour – 1.5 cups
Sugar – 5 spoons
Sour cream – 2 tablespoons
Vegetable oil – 2 tablespoons
Salt – pinch
Soda – 0.5 teaspoon
Baking powder – a pinch
Instruction
To obtain a homogeneous cheese mass, wipe the cheese through a fine sieve, or mash thoroughly with a fork. To make the pancakes turned out fluffy, you can scroll through the cottage cheese through a meat grinder. After that it is smooth without large lumps.
Put dry dishes raw eggs, add the vanilla and sour milk. Carefully whisk the mixture, then add grated cheese and mix well. To obtain a uniform consistency of cottage cheese can be mixed with a mixer. In the process of kneading add the sugar and a little salt. If you don't like sour milk, you can substitute another milk product. Fit yogurt, fermented baked milk or yogurt drink.
In a separate bowl, mix the flour with the baking powder and sour cream. Put the cottage cheese into the dry mixture and mix thoroughly. Optional cooked cottage cheese, you can add walnuts, raisins or chopped dried apricots.
When the curd is smooth, you can begin to bake pancakes. To do this, preheat the pan with vegetable oil over high heat. The finished dough spread on a heated pan by tablespoon. As cheese fritters during frying can stick to the pan, first they need to flour them, and then start grilling.
Do this as follows: on the one hand pour the flour, scoop the dough and place it in the hand with flour. Then take the flour with your free hand and sprinkle on preparation for my pancake. Make a few moves from hand to hand, easily and without any pressure. Thus, each dumpling is sprinkled with flour, which will provide crisp and will not stick to the pan.
Cooked cottage cheese pancakes can be served for tea with jam or sour cream. You can also sprinkle them with powdered sugar.
Advice 3: How to make fluffy pancakes
Browns get a lush, if the dough is cooked on kefir, yogurt, fermented baked milk, with the addition of soda or yeast. Muffins, like pancakes, you can prepare the dough. After the dough came, it should not be mixed. Carefully take a spoon on top of the porous dough and lay out on the pan, then your
pancakes
will always be soft and lush.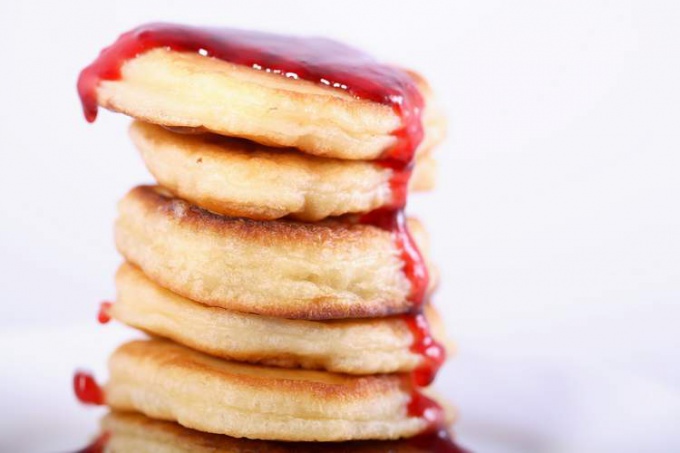 You will need
flour
fresh yeast
soda
yogurt
yogurt
sugar
salt
eggs
cereal
carrots
Instruction
Pancakes on the dough.

Heat 2 tbsp. of milk and dissolved therein 25 g of fresh yeast. While stirring sprinkle in the flour (500 g). Cover the bowl with the dough with a cloth and put in a warm place for 1 hour.
Whisk 2 eggs with two tablespoons of sugar. Pour the eggs into the risen dough. Add a pinch of salt, 3 tbsp oil or melted butter. Allow the dough to rise again and immediately bake pancakes.
Pancakes on sour milk.

Pour into a bowl 3 cups of flour. Pour in 2 cups yogurt and mix well with a whisk. Add in the dough 3 eggs, ½ Cup of sand, soda on a knife tip. Again stir and fry pancakes.
Pancakes on kefir.

Whisk 3 eggs with 1 tbsp. of sugar. Pour in 3 cups of liquid yogurt, gradually add the 2 cups of flour. Mix thoroughly until the dough is homogeneous. Add ½ tsp soda, salt to taste. Let the dough stand for 10 minutes, then bake pancakes.
Pancakes with carrots.

RUB on a small grater raw carrots (300 g). Mix in a bowl 2 cups flour and ½ Cup yogurt. Add in the dough 3 eggs 10 g baking powder, 2 tbsp. of sand, and grated carrots. Mix well and spread a deep spoon into the heated oil. Pancakes are fluffy and vitamin.
Instead of carrots you can take the grated raw potatoes.
Pancakes with oat flakes

Pour 1 tbsp. fine oatmeal 3 tbsp. of yogurt. Let the oatmeal to swell. Mash 3 yolks with 1 tbsp. of sugar, add the cereal. Stir in 2 cups flour, ½ tsp soda, 2 tbsp. tablespoons vegetable oil. Proteins whisk and gently enter into the dough, just bake muffins.
Note
The dough was well behind the spoon, the spoon, rinse with water, and then spoon the dough.
Useful advice
Fluffy pancakes you can bake immediately with the filling. Pour a spoonful of the dough in the pan, immediately add a spoonful of the filling and fill it with the dough. You get plump pancakes with fillings like pies.