Meatballs with rice
Cook half a Cup of washed rice krugloozernoe, then begin to cook the minced meat. It is recommended to take 0.5 kg of pork and the same quantity of beef. Slice the meat and a little fat into small pieces, and then scroll through a meat grinder together with the chopped onions (1 large head).
Ready stuffing put the rice, salt and pepper to taste, then carefully stir – groats should be distributed evenly throughout the mass. Now you can form the meatballs and roll them in sifted wheat flour. In skillet good heat sunflower oil, make a small fire and fry the meat balls from both sides until light Golden brown.
Put the fried meatballs in a clean bowl or pan. In fat remaining after cooking 5-7 minutes fry the vegetables for the sauce: 1 large grated carrots and 2 finely chopped onions. Then mix them with a glass of boiled water and 1 tablespoon of tomato paste. Bring the sauce to a boil, stir and pour over the meatballs. The dish simmer under the lid for half an hour.
Vegetable gravy to the
rice
Hot thick
gravy
will give the rice to the softness, juiciness and rich flavor. First prepare the garnish – boiled rice or steam (to be placed in a special bowl of a double boiler). While grits comes until fully cooked, take the ingredients for gravy. Cut into thin half-rings onions, and large peeled carrots, and 3 bell peppers of different colors will cut into strips.
Put the vegetables in a deep frying pan, add 2 tablespoons of tomato paste and a Cup of meat broth. Bring the gravy to a boil, then make a little fire and spice the dish to taste with salt, Bay leaves, dry grass, parsley, dill and Basil. When the vegetables are soft, dilute with cool boiled water 2 tablespoons of cornstarch or flour and thicken the resulting slurry the prepared sauce. Pour evenly over rice and serve with chopped fresh herbs.
Berry sauce for rice dessert
Berry sauce will go well with rice porridge, cooked in milk. Mix it with washed and otvarennym raisins (0.5 Cup), to taste sweeten and add vanilla at the tip of the knife. Season with cream or melted butter.
Take any fresh and ripe berries (3 cups) and grind them in a blender to obtain a homogeneous puree mass. Then RUB through a fine sieve, if you want to get rid of the seeds.
Add in berry puree sugar to taste and 2 tablespoons of fresh lemon juice. Finished filling can be stirred to cool in the fridge. Before serving, put it in a sauceboat and serve separately.
Advice 2: What to cook with pork
Pork
– meat with a sweet, delicate taste. It goes well with sour, salty and even sweet ingredients. Pork carcass can be cooked as a whole or divided into parts. In "business" goes from the snout to hoof. Depending on what cut you make, you should choose the dish you will serve.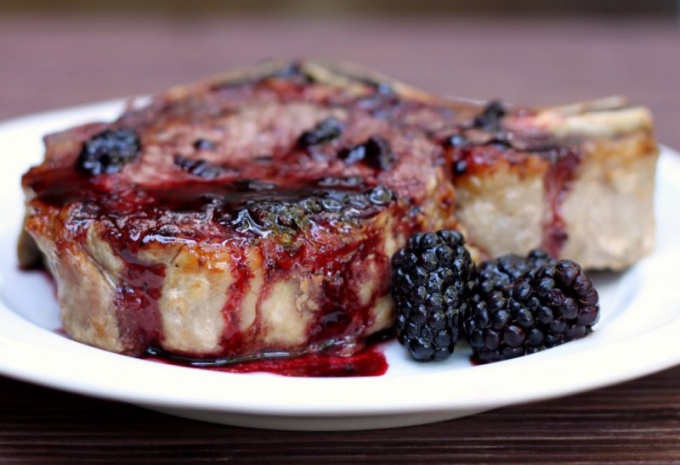 How to cook pork chops
Chops is probably the most popular part of the pig carcasses. They are prepared from the lumbar part of the animal. The larger and medium-sized chops, sold on the bone, represent only a small flesh framed by fat. They make pork chops, beat them and get the scallops, they put different toppings and fold in roulette. If desired, you can saute the chops, pre-fry until Golden brown. Often cook chops on the grill. To chops, cooked in a pan, often served with a sauce obtained by it easier to stir the dish in which roasted meat, wine, balsamic vinegar, Apple cider. In this gravy you can put a little sour cream or butter to enhance the flavor of mustard or herbs.
Dishes from pork fillet
Pork fillet, like many Housewives. Cooking this cut requires minimal effort, though it's a bit to overdo it, the meat becomes juicy and soft, but dry and hard. To avoid this, fillet before heat treatment is marinated using various types of acid – lemon juice, wine, flavored vinegars. Another way to save juice is to seal the fillet, that is, pre-fry it in a hot pan on all sides until Golden brown. Thus prepared meat baked in the oven entirely. You can also slice the fillet into small slices – these are called medallions and fry them as small chops, within a few minutes.
What to cook from a leg
Ham – impressive part of the carcass. It is prepared with ham, casaliva, otvarivaya and bloating over fragrant wood chips. It can be baked whole, pre-pickling, and then spigot pieces such aromatic vegetables like carrots or garlic. Handsome baked ham is a common ornament of a celebratory table.
What to make with pork belly
Pork
belly is one of the most inexpensive parts of the carcass. Chopped into pieces put it in a stew, cook it from the broth, which are particularly suitable for cabbage or soups from legumes. Stew on a slow fire, the breast turns out flavorful and lean, because during this time, you can melt all the fat. Bacon –the ingredient of many delicious dishes. The Italians cook pork belly delicious dish – porchetta for him they thickly strew the cut chopped herbs, rolled into a tight roll, tie with string and leave overnight in a warm oven.
How to prepare blade
Meat from the shoulder part of the carcass contains as much fat as necessary for good meat. It is from ground blades also serves a range of burgers, meatballs, organic sausages and terrines, pie fillings. Cut that meat into pieces, you can put it in stews, casseroles, and various dishes of Asian and Mexican cuisine. Bake the shovel and as a whole, generously pre-lubricated with oil, salt and pepper.
Dishes from other parts of the carcass
Biggest demand is for pork ribs. They are boiled, then pickled, and then roasted on the grill. Sometimes the ribs are fried in a pan or stew, chop into pieces, with various vegetables. Delicious, but the bold part is the neck. This is the perfect meat for barbecue. Pork legs obtained from the nourishing jelly. Especially tasty and roasted pig's head, but this dish is not each owner.
Advice 3: What can you make out the children's rice porridge
Remnants of baby food can be the basis for delicious and healthy meals: casseroles, biscuits, pancakes. Such cakes would love to try the grown up kids, and the parents will love it too. Meals from the children's rice porridge have a very delicate texture and pleasant taste.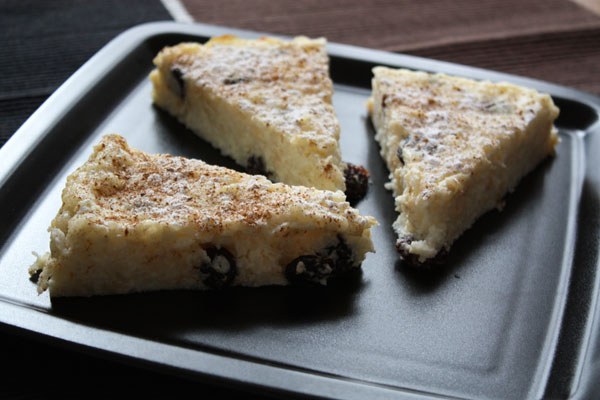 Short cakes with strawberries


For making pastries suitable dairy and dairy-free rice porridge. So the cakes became more intense taste, use a sweet and sour thick jam, fresh or frozen berries. If you like less sweet cakes, don't add to the dough the sugar, a certain amount of the sweetener is already included in the dry infant cereal.

You will need:

- 3 cups of powdered rice porridge;
- 200 g of butter;
- 2 eggs;
- 1 tbsp of sugar;
- 1 teaspoon of baking powder;
2 tbsp wheat flour;
- 0.25 Cup of sweet jam;
- 1 Cup of frozen strawberries.
- 1,5 tablespoons of starch;
- powdered sugar for sprinkling.

Eggs RUB with sugar and softened butter. Add the dry rice and sifted flour mixed with baking powder. Knead the soft homogeneous dough. Wrap it in cling film and refrigerate for 1 hour. Slightly defrost the strawberries, sprinkle with 1 tbsp. spoon of starch and mix gently.

Chilled dough divide into balls, then flatten each into a pancake with sides. You can use a shallow round molds and fill them the batter and rethrownew on the walls with your fingers. The surface of the blanks from the dough and spread with jam, lightly sprinkle with starch. Nicely on top place the strawberries.

Place product on a baking sheet, greased. Place it in the oven, preheated to 220оС, and bake until Golden brown. Finished cakes remove from the pan and cool on Board. Then, sprinkle with powder sugar and serve.


Casserole with cheese and raisins


This dish is best served with sour cream or sweet fruit sauce. Instead of raisins you can use dried apricots, dried cherries, pitted, finely chopped peeled apples or frozen berries.

You will need:

- 300 g children's rice porridge;
- 200 g soft cheese;
- 1 tbsp of sugar;
- 0,5 tbsp. seedless raisins;
- 1 egg;
- a pinch of salt;
- 1 tablespoon wheat flour;
- 1 tablespoon of sour cream.

Raisins rinse and soak for half an hour. Drain the water, raisins dry. Curd grind with sugar, salt and egg, add baby rice cereal mixed with wheat flour, and mix thoroughly. Add raisins. Grease the form with butter and put in her cottage cheese mixture. Smooth the surface with a knife and brush it with sour cream. Put the form in the oven preheated to 200oC, and bake until Golden brown. Cool the casserole in the baking pan, slice into pieces and serve warm.
Advice 4: What to cook for dinner fast and delicious
After a hard day's work not every woman will find the strength to cook a complicated dinner. However, if desired, a family to feed delicious dishes, spending minimum time.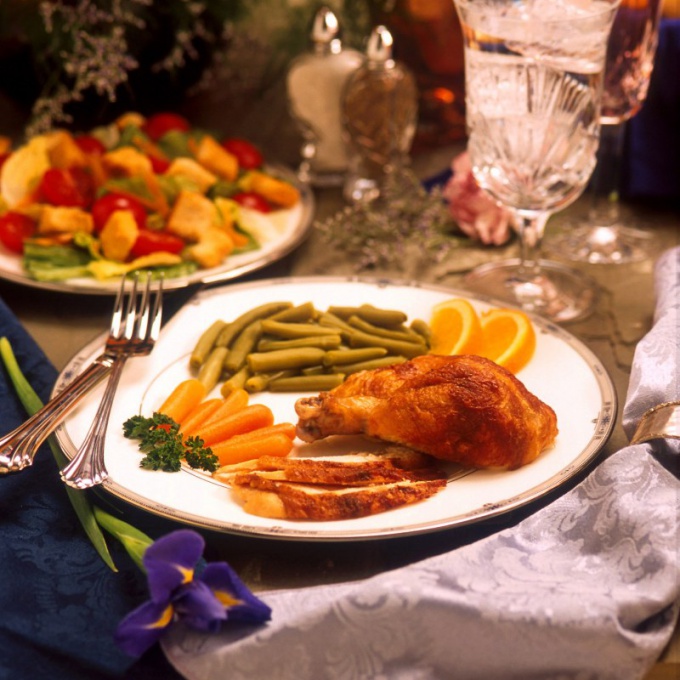 They meal best with a light snack. Make a simple and delicious warm carrot salad. Peel 2 large carrots, cut them in thin slices and fry in a pan with hot oil for 7-9 minutes. Meanwhile, chop 3-4 tomatoes diced, 150 g olives, pitted cut into rings. Add the tomatoes and olives in a bowl. 150 g smoked cheese grate on a coarse grater. Stir in the grated cheese to the pan, where roasted carrots, and mix thoroughly. Salt and pepper the mixture. Put it in a bowl to the tomatoes and olives, stir. Serve immediately, while cheese is not frozen. This salad is best suited fresh Armenian lavash.

Make a main dish. To save time, cook it in the microwave. Take a salmon steak, wash in cold water, dry. Salt and pepper the fish, then pour a small amount of lemon juice. Cook in a microwave oven at maximum power for 6-10 minutes, depending on the weight of the steak. If you prefer the chicken, remove the fillet from all the veins and excess fat. Sprinkle meat with your favorite spices - curry powder, or a mixture of Provencal herbs. Bake in microwave oven until tender.

For the garnish, boil in salted water rice, and when serving add a little butter. Also, quick side dish can be sliced frozen vegetable mixes. Cook in a double boiler or pan with a small amount of vegetable oil. Don't forget to add salt.

For dessert, serve a fruit salad. Oranges peel and films, from the grapes, remove seeds. Also, the salad can be put peeled and sliced kiwi, apples, peaches. If you have no fresh fruit, use canned. Serve the salad in portions of the plates, decorating it with whipped cream and sprinkled with peeled pine nuts.
Advice 5: How to cook rolls at home
Japanese cuisine never ceases to gain popularity in Russia, so the desire to cook rolls at home occurs more and more often. The most delicious and simple cooking are "Philadelphia", "California", as well as fried rolls.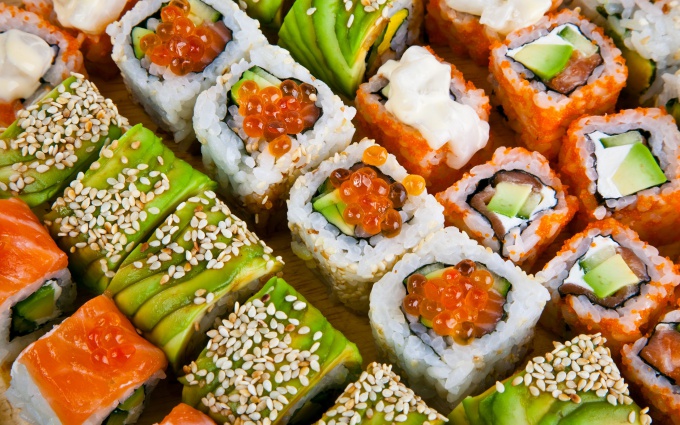 How to cook rolls "Philadelphia"
Try to cook spring rolls "Philadelphia" at home. For this you will need the following ingredients:
- 100 g of rice;
- teaspoon rice vinegar;
- a glass of water;
- the nori sheet;
- 200 g salted salmon;
- avocado;
- cucumber;
- Apple;
- 100-150 g of cheese "Philadelphia";
- Mat.
Boil the rice on medium heat for 10 minutes. It is important that it not dissolve and was slightly hard. Wash and peel the Apple, avocado and cucumber. Cut into thin bars. Put on the table plastic wrap and turn the Mat so that the rolls were rice on the film side. Put the filling on the nori sheets. A thin layer of spread cheese "Philadelphia". Lay out the slices of fruit and vegetable toppings. In one roll it is recommended to place two products, for example, Apple and avocado, cucumber, and Apple or avocado and cucumber.
Roll up the Mat and gently shape into a loaf. Cut it into equal pieces and place on top of a slice of salmon. Serve on a large platter, garnish with wasabi sauce and pickled ginger.
How to make California rolls at home
To prepare these rolls at home, you will need:
- 100 g of rice for sushi;
- the nori sheet;
- a teaspoon of caviar of flying fish;
- a teaspoon of mayonnaise
- 2 slices of avocado;
- 50 g crab meat;
- food film;
- Mat;
- a bowl of water.
Put the Mat on the work surface Mat on top of the film. Wetting the hands in water, take rice. Shape the sausage, then spread evenly on the foil in the shape of a rectangle so that the far edge was more sheet nori 1 cm and the other side repeated the outlines of algae. The nori sheet will nearly cover the entire rice harvesting, but one inch of the far edge Express openly.
Gently squeeze the mayonnaise onto the Central portion of the sheet of nori. Put the meat on it of a crab, placing it on the same line. Place on top of two slices of avocado. Wrap the Mat, moving from yourself to make the roll square shaped. Rice should be on top. Sprinkle the loaf top with tobiko, again prokatov through the Mat. Dipping a knife in water, slice the resulting roll into six equal pieces. Serve with ginger, wasabi and soy sauce.
How to cook fried rolls at home
You will need:
- Cup of rice for sushi;
- 1.5 cups of water;
- 3 tablespoons of vinegar;
- a small cucumber;
- avocado;
- 100 g salted salmon;
- sheet of nori.
To prepare batter:
- the egg;
- a glass of water;
- Cup of flour tempura.
Place in a saucepan the rice, cover with water and put on fire. After boiling, reduce the heat and cook for 12-15 minutes. Do not stir the rice or remove from the pan cover. The cooked rice cool a little. It should be warm but not hot. Add the vinegar and mix well.
Peel avocado and cut into long slices. Thinly slice the cucumber and fish. Wrap the foil Mat for sushi. Place it on the nori. Moistened hands, spread on the surface of the nori rice. Stepping back 2-3 cm from the edge, place the rice stuffing. Place the fish, cucumber and avocado as tightly as possible. Lifting the edge of the Mat and holding the filling with your fingers, gently roll the roll. Condense its contents by pressing slightly on the Mat.
Proceed to the preparation of the dough for batter. Break the egg into a glass, add water and whisk the mixture. Pour into a bowl the sifted flour, then start to add the egg mixture and knead the dough. The consistency of the batter should resemble liquid sour cream.
Heat the vegetable oil in a saucepan. Roll in flour roll, dip in batter and drop in oil. Cook for 1-2 minutes until Golden. Slice the roll into several pieces and serve hot to the table. The dish is also served with wasabi, soy sauce and pickled ginger.
Advice 6: What to cook for a side dish to the liver
Novice mistress often confused when you need to cook a side dish to the liver. In fact, there is nothing complicated: the liver is perfectly combined with such usual side dishes like potatoes in any form, vegetable salads, cereal, pasta and spinach.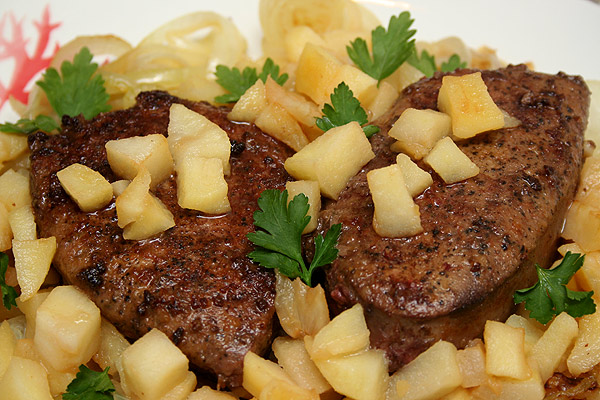 What side dishes come to the liver
1. Potatoes
The best garnish to the liver – is, of course, potatoes in any form: fried, boiled, baked. If you want to make a side dish of something healthy and delicious, cook the potato and celery puree.
2. Cereals
Liver with crumbly buckwheat porridge was a specialty of the Soviet canteens. But as a garnish to the liver can also opt for rice (the ideal solution would be basmati) or wheat porridge. Especially good grains combined with a liver Stroganoff.
3. Green salad
Light vegetable salads, dressed with olive oil, perfectly complement the liver. They are easy to prepare, healthy and not overload the stomach.
4. Braised spinach
Liver and spinach – the perfect combination. Saute spinach in butter, arrange on a plate, then put small pieces of fried liver and sprinkle with parsley – you will get a delicious dish.
5. Pasta
Liver with pasta – a classic of the genre. Best pasta and spaghetti combined with a sauce of liver.
6. Legumes
You can apply the liver with a small amount of pea puree or baked beans. It is important to remember that the dishes of beans is very filling so do not eat them in large portions.
Advice 7: What to cook pork quickly
Of
pork
can be cooked a huge number of dishes. Almost all parts of the carcass are cooked quickly, the meat is soft and juicy. Just 20 minutes from a piece of lean pork you can cook mouth-watering fried with the addition of sauce or vegetables. Cut the meat thinner so it will be ready faster.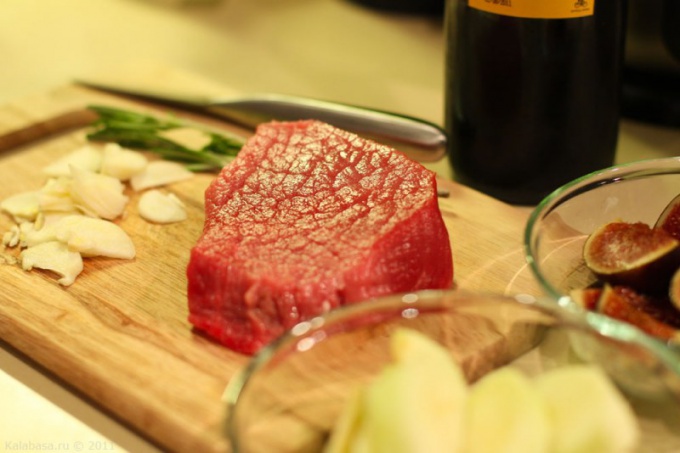 Pork with apples
As a main dish for dinner, cook pork with apples their sour taste successfully set off the delicate meat. Pork can be cooked on the stove or bake in the oven.
You will need:
- 1 kg lean pork (ham or shoulder);
- 3 bulbs;
- 3 apples;
- olive oil;
Sol;
- ground red pepper;
- 1 teaspoon of sugar.
For this dish suitable aromatic sour-sweet apples late varieties, for example, Antonovka.
Meat wash, dry paper towel, cut the fat and films. Heat in a pan with olive oil. Pork cut into cubes and fry until Golden brown. Salt and pepper the meat, pour in the pan a little water and simmer the dish for 10 minutes.
While preparing the pork, make apples. Wash them, peel them from the skin and seeds, then slice into rounds. Onion chopped thick rings. Put in a pan the onion, and after 5 minutes, add the apples and sugar. Mix all and close the lid. Simmer pork until tender. As a side dish to feed her boiled rice.
Pork in a spicy sauce
One of the quick dishes of meat - pork, stewed with vegetables. The tomatoes will add acidity to the dish, garlic - spice and sweet peppers, capers and olives make a delicious sauce especially spicy. This recipe can be cooked the pork chops.
For the preparation you will need:
- 500 g lean pork fillet;
- 2 bulbs;
- black pepper;
- 3 cloves of garlic;
- 2 tomatoes;
- 2 sweet pepper (green and yellow);
- Bay leaf;
- a handful of olives, pitted;
- 1 tablespoon capers;
Sol;
- freshly ground black pepper;
- olive oil for frying.
Fresh tomatoes you can substitute canned in their own juice.
Pork wash, dry and cut into cubes. Put the meat in a deep pan, add a little cold water, put pepper, a Bay leaf and a little finely chopped onion. Simmer pork until tender.
The second onion and garlic finely chop and sauté in hot olive oil in a separate pan. Tomatoes scald with boiling water, remove the skin, remove the seeds, pulp, finely chop, and add to the pan to the onions and garlic. Pour in the broth from the pork.
Pepper clean from seeds, cut into large squares, put it to the vegetables along with the capers. Add salt, pepper sauce, and then simmer it for 10 minutes. In the vegetable mix put the pork, add whole pitted olives, stir, bring to a boil and remove from heat. Arrange meat and vegetables on plates and serve with toasted multi-grain bread.
Advice 8: How to cook drumstick
Chicken meat is one of the most popular and favorite products. Easy to prepare and delicious - those are its main advantages. Chicken diet product, but at the same time it is a rich source of protein. Chicken drumsticks can be rightly called the most delicious part of the chicken, because the preparation is obtained in moderately fat and very juicy.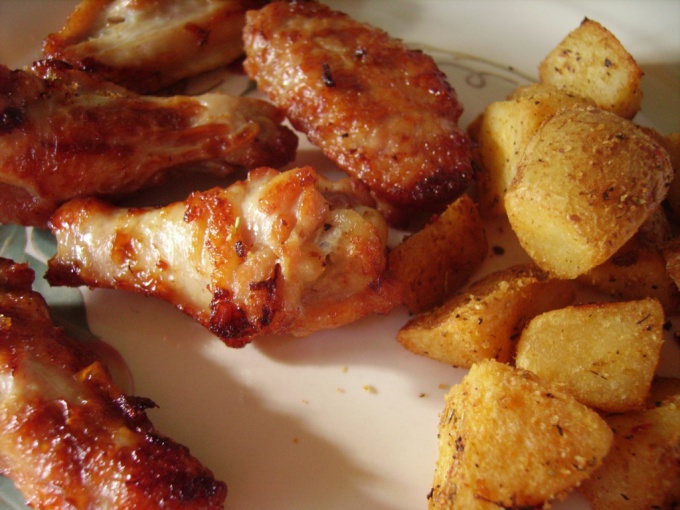 You will need
soy sauce;
lime juice;
dried herbs;
vegetable oil.
Instruction
Wash the chicken drumsticks under running cool water. For cooking it is best to use fresh chilled meat, the dish will be more juicy. If you are using frozen drumsticks, before washing them must be defrosted at room temperature.
Prepare the sauce. In a small bowl pour the soy sauce and lime juice, add dried herbs to taste. 5 chicken drumsticks you'll need 5-7 tbsp of soy sauce, 2-3 tablespoons of lime juice.
Place drumsticks on the preheated pan. It is best to use cookware with non-stick coating, which enables you to fry without oil. If you use an ordinary frying pan, pre-heat it a little vegetable oil (1-2 tablespoons), then put the meat. The tibia is most convenient to arrange, flesh at the same time to position closer to the edge of the pan, so they can be more fit.
Calf fry on strong fire within minutes, then flip each piece and fry again for a minute. Reduce heat to medium.
Pour over drumsticks cooked sauce. Add boiling water so that the liquid reached the middle of the thickness of the meat. When the liquid boils, reduce the heat to low and continue to simmer the chicken for about 40 minutes. Don't forget to rotate the lower leg from time to time. This will allow them to soak up the sauce.
Serve chicken drumsticks with a side dish. Best with chicken meat goes well with boiled or roasted potatoes. As a side dish well suited to the rice when serving it, you can pour the sauce in which meat was extinguished.
Note
Take chicken drumsticks, coated them with mustard, mayonnaise and spices (oregano, Basil, garlic, sesame seed, etc., more like) wrap in foil and into the oven for half an hour. Very tasty and quick.
Useful advice
You can put chicken legs in a mild creamy sauce or fry them, pre-zamarinovat in a spicy spicy marinade, you can bake drumsticks in culinary sleeve, adding to them the tender juicy vegetables and then chicken legs with buckwheat porridge, cooked a delicious dish in old Russian style.