You will need
300 g cooked sausage or ham;

5 eggs;
4 potatoes;
200 g of radishes;
4 cucumber;
green onions
dill;
yogurt;
salt.
Instruction
Take a pan or any deep container. Prepare the ice in the molds. To do this, rinse the dill and divide into small tassels. In shape put one twig and pour them in the water. Put containers in the freezer.
Potatoes wash thoroughly, then boil it in their skins until fully cooked. The lid of the pan open and cool vegetables. Next, clean them from the skin. Boiled potatoes cut into small cubes and add into the container. Cucumbers rinse well, dry. Then clean their skin. If you take small cucumbers with thin skin, peeling them is not necessary. First, slice vegetables into long strips and then small cubes. Add to the pan.
The eggs hard boil. Then cool them under cold running water. Drain and peel off the shell. Sausage or ham cut into dice. Thoroughly wash radishes, trim ends on both sides. Then Pat dry with paper towels and slice into strips or grate.
Green onions and dill wash, dry and finely chop. All the prepared ingredients put in a pot. Then add the chopped greens and salt. Mix well. Pour into the soup cold yogurt. Stir and pour the finished soup into bowls. If its consistency is very thick, you can add some boiled water.
The ice from the molds, remove, and add 2-3 slices on each serving of hash. Remaining in the soup pot, close the lid and store in the refrigerator.
Advice 2 : How to make okroshka with kefir
Hash is one of the popular cold soups, which just fits in with the menu for hot summer days. There are many recipes for this dish. One of them - refreshing and delicious okroshka on kefir.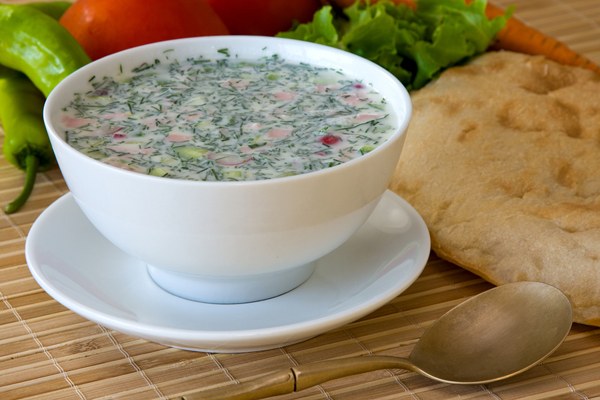 You will need
- 2 potatoes; - 2 cucumbers; - 400 g of ham; - 2 eggs; - 5 radishes; - a liter of kefir; - salt; - water; - green onions, dill and parsley.
Instruction
Prepare in advance the ice. He'll need to hash was really cold. To do this, rinse dill under running water. Disassemble it on a small brush or chop with a knife. Lay greens on a special baking dish and pour the dill water. The forms, put in the freezer.
Wash potatoes, do not clean it from the rind, and boil them directly in their skins until tender. Let it cool slightly and peel off the skins.
Wash the radishes and cucumbers. If you use overripe cucumbers, clean them from the skin. Cut the vegetables into small pieces, also chop the ham and boiled potatoes. Instead of ham you can use boiled chicken breast. So it will be even tastier and healthier. Put all the ingredients in a bowl.
Boil eggs and cut them into small pieces. Chop the parsley and green onions. Send greens and eggs in a bowl with the remaining ingredients. Add salt to taste and mix everything well. A great diet soup is ready!
Lay the hash on plates, pour kefir, stir and enjoy a unique taste! To hash on the yogurt was colder, don't forget to add a pre-prepared ice cubes. You can use yogurt with any fat content. Those who are on a diet, you can dilute it with water.