You will need
500 g young beets with tops;
liter of kefir;
2 fresh cucumber;
75 g green onions;
2 eggs;
2 tablespoons of sour cream;
a teaspoon of sugar.
For kholodnyk with lemon juice:
2-3 beets;
2 large cucumber;
0.5 liters kefir;
medium onions;
a small bunch of green onions;
2 eggs;
4 tablespoons fat sour cream;
dill;
the juice of a lemon;
sugar;
salt.
For kholodnyk ham:
one large beet;
4 eggs;
6 pieces medium size potatoes;
4 fresh cucumber;
300 grams ham (smoked meat or sausage);
yogurt;
unsalted carbonated mineral water;
green onions;
dill;
table horseradish;
salt.
Instruction
Friedge with tops

Rinse well under running water young beets with tops. Then cut the tops and peel the beets. Put in a saucepan beets, cover with water and put on the stove to boil. Ten minutes before ready, put in a saucepan tops. When beetroot is cooked, drain it along with the greens in a colander and let the water drain out. Beets with tops finely chop and place in a clean pot.
Boil eggs, peel and cut into cubes. Fresh cucumber grate or cut into thin strips. Wash, dry and slice green onions. Put all in a pan to beets. Add the sour cream and sugar, stir and pour with kefir. Put in refrigerator to cool. Before serving, sprinkle with finely chopped parsley and dill.
Friedge with lemon juice

Wash and boil beets, then peel, grate on a coarse grater, place in a deep bowl and pour cold boiled water so that it covered the roots. Onion peel and chop as small as possible. Cucumbers, dill and green onion, wash and dry. Grate the cucumber on a grater, dill and green onions chop with a knife. Add all the beets and cover with yogurt. Add the sugar, salt and season kholodnyk a squeeze of lemon juice. Sour cream served separately.
Friedge with ham

Wash and boil the beets and potatoes. Then peel and cut into small cubes. Boil eggs, peel and finely chop. Cucumbers and dill wash and dry. Grate the cucumbers on a coarse grater, dill and finely chop. Ham or smoked meat cut into thin strips.
All the ingredients place in a deep bowl or pan, mix thoroughly, cover the bowl with a lid and refrigerate. Before serving, put the prepared ingredients of kholodnyk on plates, pour yogurt and chilled mineral water (ratio 1:1), salt and season with butter horseradish to taste.
Note
Vegetable dishes are recommended to prepare in a glass or enamel pot (if the enamel is not damaged).
Useful advice
Friedge is traditionally eaten with sour cream and no bread. It replaces the baked or boiled potatoes, seasoned with butter, which is usually served to holodnyak cooked without potatoes.
Advice 2: How to make cold cucumber soup
Cold cucumber soup – a dish popular in many cuisines of the world. The most famous kind of soup is a famous Spanish white gazpacho, but similar recipes are in "cooking the books" of the British, French, Greeks and many other peoples.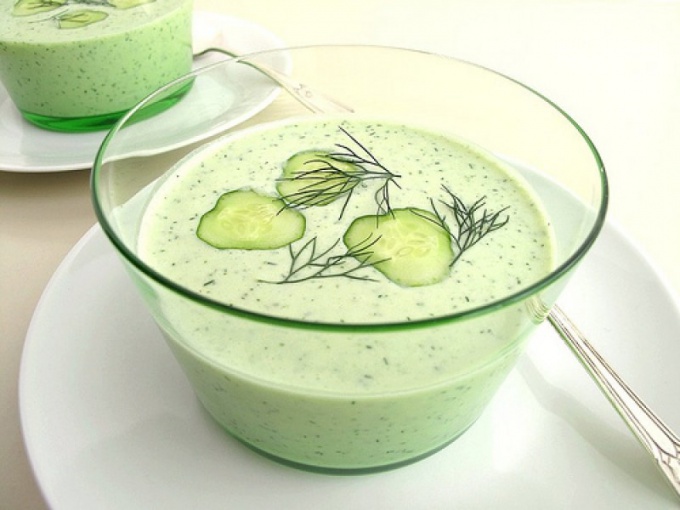 White gazpacho with cucumbers
Gazpacho is a famous Spanish soup that is usually prepared based on tomatoes, and on, it is painted in red tones. However, there are many recipes for white gazpacho, is no less traditional. For its production using garlic, white bread, almonds, cauliflower and, very often, cucumber. Try
to cook
this soup took:
- 2 dlinnoplodnye cucumber;
- 2 cloves of garlic;
- 300 ml of chicken broth;
- 100 grams of sour cream;
- 100 GMS thick yoghurt;
- 3 tablespoons sherry vinegar;
- salt and freshly ground white pepper;
- 3 pen green onions.
Clean the cucumbers from the skin, using a peeler. Cut the vegetables in half lengthways and remove the seeds. Cut cucumbers in small dice, peel garlic and pass it through the press. Put in a blender the cucumber and garlic, pour half of the broth and preroute into a homogeneous mass. Add the sour cream, yogurt, vinegar and the remaining broth, season with salt and pepper. Stir, cover and put in refrigerator. Serve sprinkled with chopped green onions.
Cold Greek cucumber soup
It turns out delicious and refreshing cucumber soup, prepared according to the Greek recipe. You will need:
- 2 dlinnoplodnye cucumber;
- 200 ml vegetable broth;
400 ml thick Greek yogurt;
- 2 tablespoons chopped dill;
- 2 tablespoons chopped parsley;
- 2 tablespoons chopped green mint;
- 3 tablespoons of lemon juice;
Sol.
Peel and chop cucumbers in small dice. Mix yogurt and vegetable broth, pour into blender, add the cucumber and herbs and preroute. Season the lemon juice and salt. Let cool and serve.
Korean cucumber soup
Asian soups are one of the most unusual dishes for European tastes. Try to cook cucumber soup as it is prepared in Korea. Take:
- 3 short cucumber;
- 1 teaspoon minced chili pepper;
- ¼ Cup Apple cider vinegar;
- 1 tablespoon of sugar;
- 2 tablespoons of soy sauce;
- 1 tablespoon of sesame oil;
- 4 cups of filtered water;
- 2 teaspoons of sesame seeds;
the ice - cubes.
Cucumbers cut into strips. Mix with pepper, vinegar, sugar, soy sauce and sesame oil. Leave on for 10-15 minutes so that the vegetables gave the juice. Pour in water and put in the refrigerator for 20-30 minutes. Before serving, add the sesame seeds and ice.