Instruction
If you have long hair, a topical easiest option: drop-down on the shoulders in light waves, slightly disheveled locks parted down the middle. But do not confuse this hairstyle with a wild unkempt space. The undone look is achieved here with the help of styling products. Hair rolled on large rollers or Curling tongs, then gently comb. Streaked or bleached strands of hair look in this hair style is especially impressive, visually creating additional volume.
You can emphasize the curls, if your the type of person suitable for them. In this case, wrap the curls into thin curlers or use the services of a hairdresser. But keep in mind that cool curly hair eliminate romantic, Flirty lace and ruffles in holiday attire.
Ideal for prom will be the high ponytail. Make it very simple: pull the back of her hair and carefully comb. This hairstyle is convenient that will not lose shape until the end of the ball. If you decide to convert the tail into a modest beam, a creative approach to its decoration. Satin ribbon, fancy hair bow, bright bow, flower – choose what suits you best and like.
Very romantic and attractive is the variety of braids, from French to African. It is important not to overdo it with their number and intricate. Practice, try different options: on the Internet you can find plenty of instructions on braiding.
Short hair can be curled and lay in neat waves or comb to side part in retro style. Looks interesting haircut cascade or tier. But if nature demands the unusual, the violence and make a hairstyle with the effect of restrainest with out strands, lush, long bangs. But again – keep a sense of proportion, do not go on unnecessary risk, in advance of experiment with their hair.
Advice 2 : Stylish hairstyles for prom be the center of attention
Prom for many young fashionistas - as the Royal ball Cinderella. For this event to buy the most elegant dresses and sophisticated accessories. However, the beautiful clothes is only half the battle. In creating the bright image is not the last role is played by the hairstyle for prom. Well-chosen and artfully embodied on hair it is able to add in the way of flavor and color.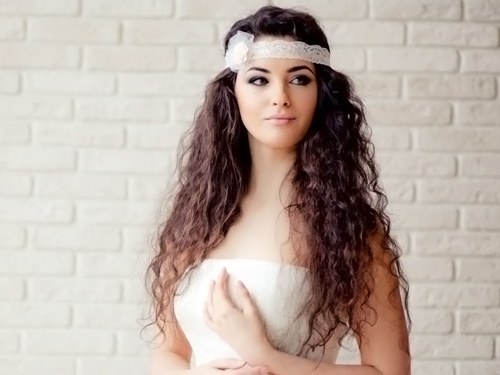 Bundles and fleece

Graphic bundles for perfectly smooth hair is one of the striking trends of recent seasons. Such bundles stylists compared to origami. Fantasinia than the beam, the better. To make this look easy. For this pitch the tail at the base of the neck or on the nape of the neck, secure strands around the tail as you wish. Then secure the hair with lacquer. The final touch will be the decoration in the form of beautiful hair clips, live flower or a wrap. This hairstyle will be a perfect match to the dress to the floor.

It is not necessary to write off the fleece, the more they are again at the peak of popularity. Quite stylish this hairstyle will look great on smooth hair. Than the fleece the higher the better. Lush styling in the spirit of Brigitte Bardot looks really luxurious, stylish and bright.


Prom hairstyles in a retro style

Soft waves, glossy waves in the Hollywood spirit, Babette, Kok - all this will be very important to the prom. These hairstyles will make the girl a lady, an adult, but not vulgar.


Hairstyles for prom with weave

Weaving hair always looks very gentle and original. This is a great choice for prom and even for the reason that these hairstyles long retain its shape. Not the last role is played by accessories. These hairstyles always can be decorated with fresh and artificial flowers, ribbon, veil.


Prom hairstyles in the Greek style

To be like a real goddess at your prom, you will need a residence on mount Olympus, and only hair in an antique style. Lovely and romantic image of the Greek goddess is popular not only among brides but also graduates. Cascading curls, ponytail of small braids, elegant beam-node - selection just for you. These hairstyles will suit everyone, regardless of texture, length and shade of hair.


Tails

High sleek ponytail - a win-win for hairstyles for prom. It is for those who want to add an image of chic elegance. To this hairstyle looked too boring, decorate the tail of some bright detail, for example, ribbon or beads.


Long hair at prom

Who said that on prom night you don't come with your hair down? It's time to break this ridiculous stereotype. If your hair is picture of health, flowing hair - your ideal option. To add to the image of the flavor, make the hair unusual hairline. Recently the stylists favor the part in the form of English letters "V": it is made directly at the hairline and slightly above her and turned sideways letters. If you decide to confine her hair, make bright makeup. Juicy strokes on the eyelids or the scarlet lipstick, the right end of this way.
Advice 3 : How to choose a hairstyle for prom dress
Prom is a wonderful event that happens only once in life. You will symbolically be placed with the child and move to a new standard of living. In this moment some girls like to remember my childhood, and others to look more adult. As a result, hairstyles are chosen by intuition and, at times, make the whole image some imbalance. It's late, seen the pictures, you will understand that it is better to stay as another embodiment, however, memory will remain what is...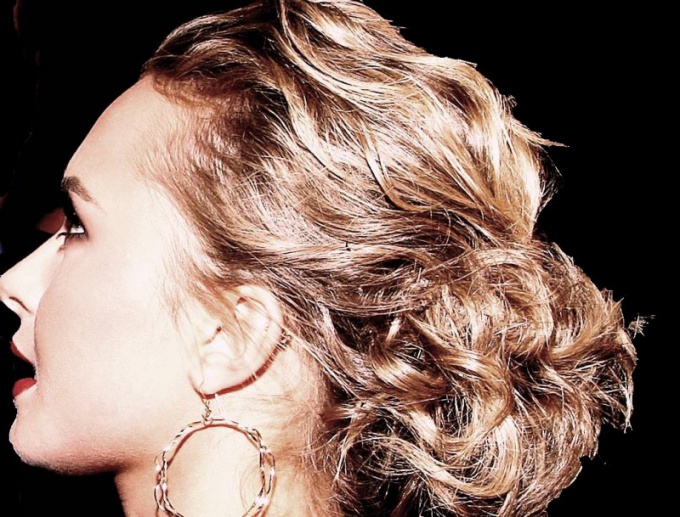 No, no, no! You're not going to be a dumb persistence and you will ruin an important photo shoot in life, selecting the wrong packing. Moreover, pick a hairstyle for the prom dress can be in accordance with the leading fashion trends.

If you decided to stay on the straight and elegant long dress to the floor, select the same styling: calm and aristocratic. For example, ask the master to collapse of hair "shell" or unusual fashion beam. Shocking addition can serve as a beautiful decorative barrette.

In the presence of long hair and want to be more original, simple dress of any length, you can create a hairstyle-a cascade. It is made of two tails assembled one above the other (the first one is very high on the top, the second below). Then the strands are twisted shipname and fixed by small pins. Curls-tips gently down on the shoulders.

To the prom dress "a La the '60s" (a corset and full skirt knee-length) it is best to choose a hairstyle with curls. If your hair is not very long, focused on Marilyn Monroe. This image will not leave indifferent any of your classmate. Also perfect updo in the style of Audrey Hepburn.

Extravagant mini best complements hair "good-girl": a braid wrapped around her head. After weaving a little puff on it, giving the image a kind of Bohemian. You can also choose this hairstyle, along with her hair) if you plan to wear a dress in Grecian style or a wide sleeveless "like a hippie".

The most difficult hairstyle for prom dress, oddly enough, flowing hair. It will combine well with a floral dress in the style of "baby doll". But even in this situation it is better to abandon them, because prom is quite a long event. Flowing hair will quickly lose the beautiful appearance will start to tangle and will look unpresentable. To keep them in their original state, often raschesyvaemost and apply a bit of thermal water. As an alternative to this perfect addition variations Babette (like Brigitte Bardot).