You will need
potatoes;
carrots;
bow;
garlic;
olive oil;
sugar;
white wine;
dill;
curry;
black pepper;
coriander;
turmeric;
salt;
sugar.
Instruction
Take a chicken carcass weighing 1.5 kilos. Incise the knee joint, then cut in half along the breast. Now make the brine: in a liter of water dissolve 70 grams of salt, and 140 grams of sugar. Prepared chicken carcass down in the prepared brine for half an hour. Cover with a lid.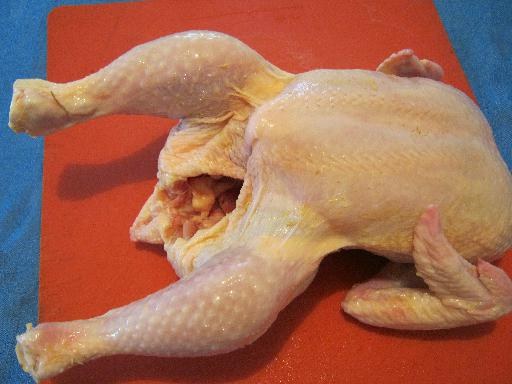 Wash, clean and cut into 4-5 large slices of potatoes. The same manipulations do with one carrot. Lightly boil the vegetables in salted water. They should be almost soft.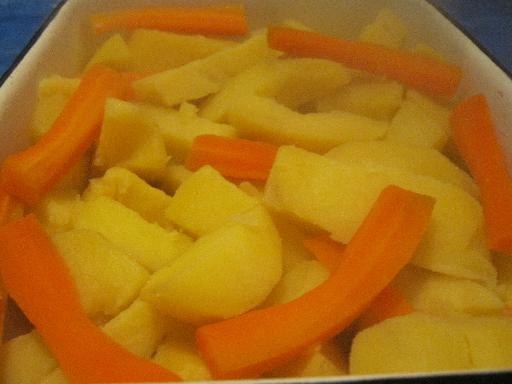 Peel one large onion and chop it into 4-6 pieces. Preheat the pan, pour into it 2 tablespoons of olive oil. Upservice onions until Golden brown, then add 4 small cloves garlic, lightly crushed with a knife. Simmer for about a minute. Add 1 tablespoon of sugar and continue to simmer for a minute. Now pour in the onion-garlic mixture a quarter Cup of wine. Wait until it evaporated. Top up with still the same fault, again evaporate on high flame.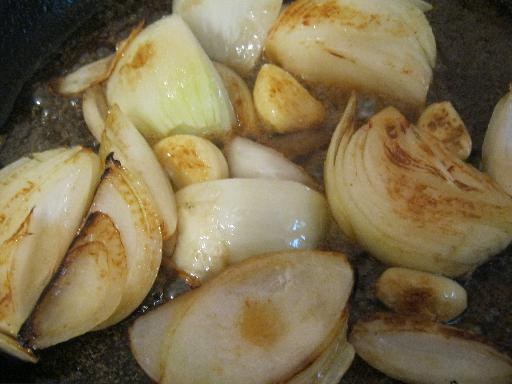 Metal or ceramic grease the form with olive oil (1 tablespoon), place it in boiled potatoes and carrots. Lightly season with salt and pepper on top of vegetables put the onion and garlic a lot.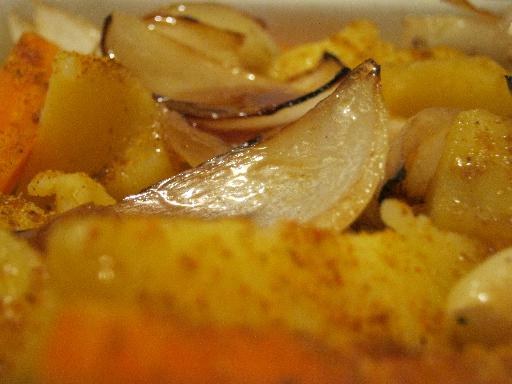 Remove the chicken from the brine, rinse, gently blot with a towel. Season the bird inside with a mixture of spices: a pinch of black pepper, turmeric, coriander, curry. Put the chicken on top of vegetables and onions with garlic, brush with 1 tablespoon olive oil, sprinkle with dill.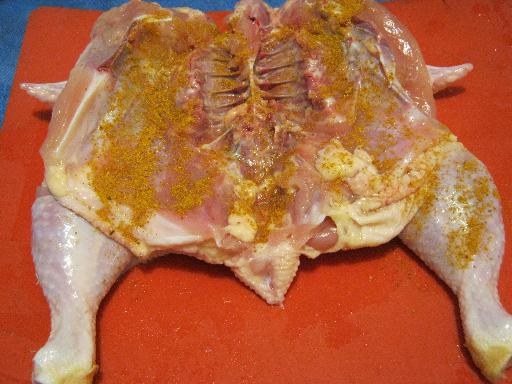 Submit the form with chicken with potatoes in the oven, preheated to 200oC. Leave it there for half an hour. Remove the finished chicken from the pan to a hot dish and serve.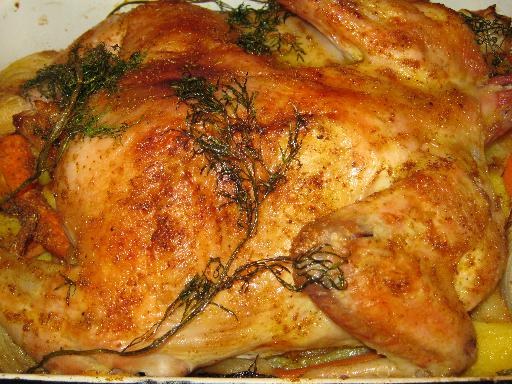 Note
The younger and fresher the chicken is, the tastier and juicier it will dish.
Useful advice
To give the chicken a Golden crust, coat it before baking with honey. Instead of dill you can put a few fragrant sprigs of thyme.