You will need
Potatoes
Cast iron skillet with lid
Salt
Instruction
Wash and peel the potato from the skin. The potatoes must be fresh, not soft and not small.
Slice potatoes thin into strips 5 mm in width. If you cut it to cubes, like the fryer, it can not fry and soften in the roasting process.
Lay out sliced potatoes on a towel on top and blot with another towel to remove moisture. Again, this is done in order for the potatoes not softened in hot oil.
Put the frying pan on a medium heat, after heating, pour vegetable oil in a thin layer on the bottom. Hold on heat until the butter is heating up.
Put the potatoes in the hot oil, spread with a spatula into a single layer to cover the bottom. Potatoes should sasquatching.
Cover for 5-10 minutes. Fire is better to keep the average below it is roasted. Periodically check to see if a crust.
Once the potatoes are browned on one side, it should be very carefully wide spatula to flip. It is important not to break the straw and turn it to mush.
The other party can not close the lid so that the potatoes become crispier. Leave to dogadivaetsya for 5-10 minutes. You can upload.
Only after the fried potatoes on a plate it is recommended to add salt. If you do it before the potatoes get too soft, and the perfect crunch you simply will not succeed.
Useful advice
• Cast iron skillet should always be preheated before you add any type of liquids, including vegetable oil.
• For frying you need to cut chips of equal thickness and size to roast it evenly.
Advice 2 : How to fry potatoes in the microwave
Microwave has become an indispensable tool in the household. It is very convenient to bake, to heat, even cooking food. But can it fry? A favorite side dish, fried potatoes, can be cooked in a microwave oven using the grill mode.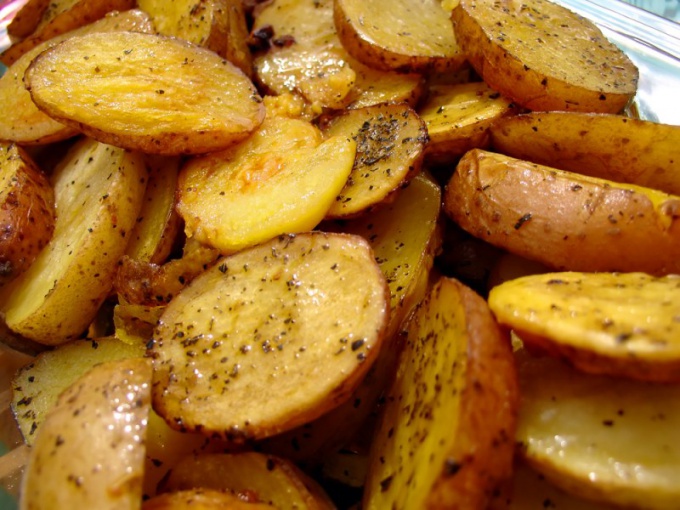 You will need
For potato in the microwave

5 potatoes;
2 tbsp vegetable oil;
spices.
For potatoes and carrots:
1 kg of potatoes;
1 onions;
1 small carrot;
1 tablespoon vegetable oil;
seasoning
spices
salt.
For potatoes in the "grill":
4 potatoes;
1 clove of garlic;
salt
pepper;
olive oil;
Italian herb.
Kebab of potatoes with bacon:
1 kg of potatoes;
300 g of fat;
rosemary or dried herbs;
foil
skewers.
Instruction
Potatoes in mikrovolnovaya potatoes, cut into thin circles, vegetable oil, mix with your favorite spices (seasoning for potatoes, black and red pepper, dry broth or bouillon cube, seasoning "Little bow", "the Mixture of peppers", salt). Thoroughly mix the potatoes with a mixture of butter and spices, put in a glass Cup in the microwave, tighten with cling film and place in the microwave for 15 minutes on high power.
Potatoes maravilhosamente potatoes, cut into cubes of medium size (not very finely), onion - half rings, carrots — straws. Mix the vegetables, add a tablespoon of oil, salt and spices that you normally add to fried potatoes. Stir, put in a sleeve for baking and put in the microwave for 20-30 minutes.
Potatoes in the "grill"Put the microwave on a grill mode and preheat to a temperature of 180 degrees. Then boil the potatoes in "uniform", remove from it a peel, cut in half lengthwise, place on grill.
Salt potatoes, pepper, drizzle with olive oil and bake on the grill. From time to time his turn, sbryzgivaja olive oil. Cook potatoes until Golden brown. When the potatoes on the grill is ready, sprinkle Italian herbs and RUB crushed garlic.
Siding with slambovia potatoes thoroughly and cut into slices with a thickness of 4-5 mm. lard cut into thin crowbar. If the fat is quite salty, additional salt is not necessary.
Nanizhite on skewers potato slices and bacon, sprinkle with rosemary or dried herbs to taste. Wrap in foil, secure the ends to not fat. Cook in the microwave mode grill for about 20 minutes. The fat should melt, and potatoes become soft. Remove the foil and cook until Golden brown.